I remain bullish on King Coal in the long term, as higher natural gas prices will prompt electricity generators to use more coal for power generation instead of natural gas. Also, better coal supply management will lead to a recovery in coal prices and improving economic conditions in developed markets, including the Eurozone, will portend well for coal demand. Also, leading coal companies are curtailing costs, reducing CAPEX and extending debt maturities to support bottom-line results, improve financial flexibilities and survive through the difficult industry conditions. However, in the short term, coal markets, especially the met coal market, might remain soft and volatile due to excess coal supply.
Since 2011, the Coal Industry has been going through a difficult time and coal companies lost a significant amount of their market capitalization, as lower natural gas prices, weak economic conditions and excess coal supply adversely affected the industry's performance. The graph below shows the stock price performances of Peabody Energy (NYSE:BTU), Walter Energy (NYSE:WLT), Arch Coal (ACI), Alpha Natural Resources (ANR) and coal ETF (NYSEARCA:KOL) since 2011.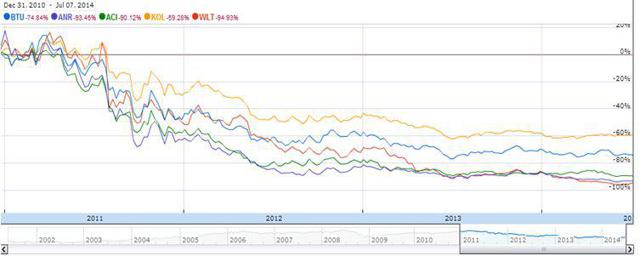 Source: googlefinance.com
Production Cuts
Coal companies have been cutting their production to address the concerns of excess coal supply. ACI and ANR lowered their met coal guidance by 1.2 million tons each for 2014. Also, WLT reduced its met coal sales guidance from 11-12 million tons to 10.5-11.5 million tons for 2014. The met coal market is believed to be 15-20 million tons oversupplied, according to ANR's CEO. So far in 2014, approximately 10 million tons of coal production cuts have been announced by the companies, and I believe more production cuts will be announced by the companies in the upcoming earnings release.
Recently, the EIA published its quarterly coal report, which showed coal production in the U.S. had been decreasing over the recent quarters. Coal production in the U.S. during 1Q14 totaled 242.3 million short tons, down 1.1% as compared to the corresponding period last year. I believe that consistent and sustainable production cuts need to be observed in the industry, which will result in a coal price recovery. The following chart shows quarterly U.S. coal production.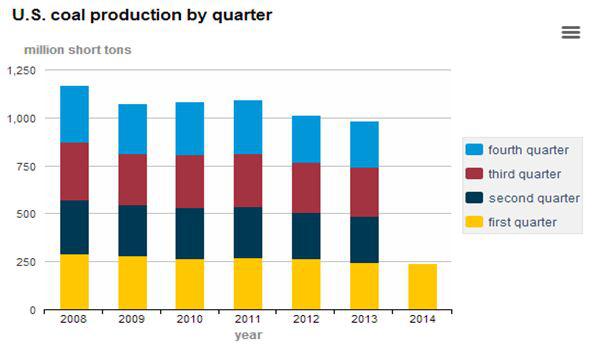 Source: eia.gov
Coal Consumption
Due to an increase in natural gas prices, coal consumption in the recent past has been on the rise. Coal consumption in the U.S. increased by 8.5% year-on-year to 248.6 million tons in 1Q14, which was also 10% higher as compared to 4Q13. Natural gas prices are expected to stay above $4mmBtu in the future, according to the EIA, which will prompt electricity producers to use more coal instead of natural gas for power generation. Also, coal-fired electricity generation has increased by approximately 5.5% in 2014 and is expected to increase by 2% year-on-year.
Moreover, U.S. coal stocks fell to 165.4 million short tons in 1Q14, down 16.2% quarter-on-quarter, as a result of stockpiles drawdown by electricity generators. Also, coal stockpiles at electricity generators have dropped to 118 million tons, down from 148 million tons at the end of 4Q13. The following graphs show U.S. coal consumption by end user and the U.S. coal stocks level, according to the EIA quarterly coal report.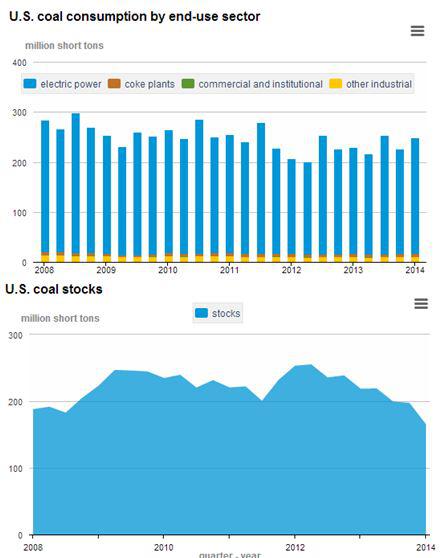 Source: EIA Quarterly Coal Report
Coal Exports
Coal exports have remained an important part of coal demand. U.S. coal exports have increased from 59.1 million tons in 2009 to 117.7 million tons in 2013. However, due to soft economic conditions in Europe, coal exports in recent quarters have stayed weak. U.S. coal exports in 1Q14 totaled 27.7 million tons, flat quarter-on-quarter, but down 12.9% year-on-year. U.S. coal exports for 2014 are expected to be 98.8 million tons. I believe U.S. coal exports will benefit from an improvement in economic conditions of the Eurozone and other key markets.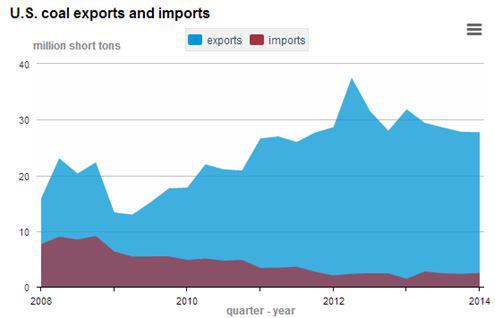 Source: EIA Quarterly Coal Report
Conclusion
The Coal Industry has been going through difficult times, which has taken a toll on stock prices of coal companies; however, I believe better coal supply management, higher natural gas prices, and a recovery in economic conditions in key global markets will portend well for the Coal Industry in the long term. Also, coal stocks are trading at depressed valuations, which support my long-term bullish thesis on the Coal Industry. As coal demand and prices recover in the future, coal companies will experience valuation multiple expansion, which will lead to stock price appreciation. The following table shows depressed valuations for coal stocks.
| | | | | |
| --- | --- | --- | --- | --- |
| | BTU | ACI | ANR | WLT |
| Price/Book Value | | | | |
| Price/Sales | 0.65x | 0.25x | 0.18x | 0.24x |
Source: Yahoo Finance
Disclosure: The author has no positions in any stocks mentioned, and no plans to initiate any positions within the next 72 hours. The author wrote this article themselves, and it expresses their own opinions. The author is not receiving compensation for it (other than from Seeking Alpha). The author has no business relationship with any company whose stock is mentioned in this article.