Las Vegas Sands (NYSE:LVS) has recently seen a slight rebound in its stock price, gaining approximately four percent in the past month, as shown in Figure 1. LVS is the largest US-based integrated resort developer and operator. The company's main operations occur in Macao, Singapore, and the United States. However, Macao alone provides LVS with just over 80% of its overall sales and is one of the world's fastest growing consumer and gaming markets. Macao is constantly evolving as income levels rise, more hotels are created, and more transportation infrastructure is built. Projects such as the bridge between Macau and Hong Kong and the high speed rail connection to the mainland will ensure that China's ascending middle class can go to Macao and play in the future.
The stock is up 48.5% during the last year and has been recognized as a buying opportunity by the I Know First self-learning algorithm.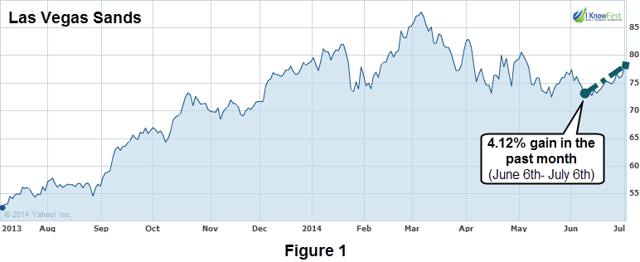 Macau
LVS has firmly established itself in Macao's market, with its portfolio consisting of the Venetian Macau, the Sands Cotai Central, the Plaza Casino (Four Seasons), Total Cotai Strip, and Sands Macau (Peninsula).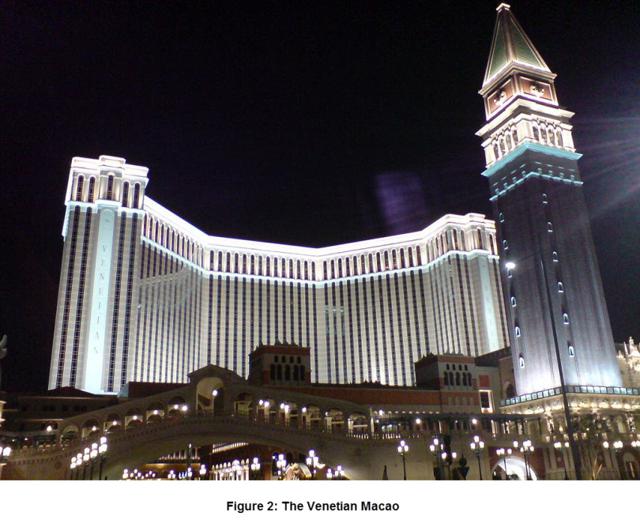 LVS continues to experience accelerated growth in the mass table games, the most important gaming segment. The company's mass table wins increased to reach a record of $1.34 billion for the first quarter of 2014, with a growth trade 40 percent faster than the rest of the Macao market as a whole. The first quarter of 2013 generated roughly $867 million in mass table game revenues and this number has subsequently increased each quarter to $930 million, $1.06 billion, $1.22 billion, and finally $1.34 billion for the first quarter of 2014. Las Vegas Sands has also been meaningfully returning capital back to its shareholders through the form of increased dividends and share buybacks.
Japan
The most promising catalyst on the horizon seems to be Japan. Union Gaming Group estimates Japan's casino market could generate $10 billion in annual revenue; making it Asia's second biggest behind Macao. In an official interview with Bloomberg News on June 24th, 2014, Japanese Prime Minister, Shinzo Abe, said his ruling party will seek to pass new legislation in the next session of parliament to legalize casinos. This is part of Shinzo's plan to boost tourism before the 2020 Tokyo Olympics. However, Masakuzu Hamachi, a junior member of the Liberal Democratic Party (LDP) explained that there are a number of other government-backed bills competing for priority. Mr. Hamachi has voiced his support for the bill and holds the position of chair in the committee that discusses gambling legislation. Despite his public support, he still thinks it's highly improbable to pass the bill before the end of the current Diet session. The Diet session begins each year with a 150 day meeting spanning from January to the end of June. The bill will most likely be passed during the Extraordinary Diet session, which typically convenes in late September. Japanese legislators are starting to feel the fire under their feet, as developers need enough time to develop casino resorts in time for the 2020 Olympics.
What does this mean for LVS?
With a market cap of over $60 billion, Las Vegas Sands Corp is by far the world's largest gambling company. Japan Officials have looked at Singapore as a model of how they would like to operate resorts in their country, which is great for Sands, as they are the only US-based casino to win a bid in Singapore. Sheldon Adelson, LVS Chairman and CEO, stated "We will spend whatever it takes" at a media briefing in Tokyo. Japan would without a doubt require a significant capital investment, but Las Vegas Sands has a proven track record of obtaining high ROIs in the Asian markets. The company currently takes 88 percent of its revenue from Asia, while their prime competitor, MGM Resorts, only generates 37 percent from Asia. As a result, LVS reported annual net revenue growth of 21.4 percent for the first quarter of 2014, while MGM only reported 12 percent. Outside of Japan, Sands is looking to increase their Asian market share even more with a new development coming to the Cotai strip next summer.
Concerns
According to Macao's Gaming Inspection and Coordination Bureau, gross gaming revenue in Macao declined 3.7 percent to $3.4 billion for the month of June, making it the first decline since June 2009. While many attribute this to the World Cup diverting some gamblers, the domestic market has also become more sluggish as a result of China's crackdown on illegal money transfers and credit concerns. As a result of the squeeze on mainland credit, revenue from VIP baccarat, the game of choice for Asian high rollers, has cooled down. These issues could all adversely affect Macao's casino market in the near term. However, I'm still bullish on growth in Asia, as the mass market will help Macao's revenues and Japan has the potential to become the world's second largest gaming market.
Another concern is Las Vegas' slow down. Las Vegas Casinos made $37.34 billion in revenue in 2012, just under the $37.52 billion they made in 2007. Profits are even lower, as retaining players is growing increasingly more expensive. These profits will soon take another hit, as Malaysia's Genting Group is preparing to develop a Resorts World resort on the Las Vegas strip. While this is terrible news for casino operators that rely on the US for the majority of their sales, such as Caesars Entertainment and Boyd Gaming, Las Vegas Sands only receives 12% of its revenue from the United States, according to their 2014, Q1 earnings report.
Algorithm Prediction Based On Predictive Analytics
I Know First utilizes an advanced self-learning algorithm based on Artificial Intelligence (AI), Machine Learning (ML), and incorporates elements of Artificial Neural Networks and Genetic Algorithms in order to model and predict the flow of money in almost 2,000 markets from 3 days to a year. The market prediction system is entirely empirical and not based on human-derived assumptions. The human factor is limited to building the mathematical framework and initially presenting the system with the "starting set" of inputs and outputs, which is also utilized for recognizing every other market opportunity. The algorithm then repetitively proposes "theories" and recurrently tests them automatically on years of daily market data. It then validates them on the most recent data, which prevents over-fitting. By separating the predictable part from stochastic (random) noise, the algorithm is able to create a model that projects the future trajectory of the given market in the multi-dimensional space of other markets. The output of the predicted trend is a number, known as the signal, which is used by traders to identify entry and exit points in the market. While the algorithm can be used for intra-day trading, the predictability tends to become stronger over longer time horizons, such as the 1-month, 3-month and 1-year forecasts, making this market prediction system ideal for longer-term trading.
The color-coded forecast is very easy to read, where green indicates a bullish signal and red indicates a bearish signal. Deeper greens signify that the algorithm is very bullish, and vice-versa for deeper reds. The signal is the number flush right in the middle of the box and the predicted direction (not a specific number or target price) for that asset, while the predictability is the historical correlation between the prediction and the actual market movements. In other words, the signal represents the forecasted strength of the prediction, while the predictability represents the level of confidence. Ticker symbols for other assets have been removed; however, you can still see their signal and predictability.
LVS is recommended in the July 4th 2014 Top 20 stock picks. Figure 3 shows the algorithmic prediction for LVS in the 3-month and 1-year time horizons. The current Top 20 forecast is filled with assets that the algorithm is very bullish about, including LVS, which is demonstrated by the deeper green of the heat map. The general coloring of the heat map helps give algorithmic traders another indicator of confidence in the forecast. For instance, a heat map that is predominantly green should give supplementary assurance in the top forecasted assets.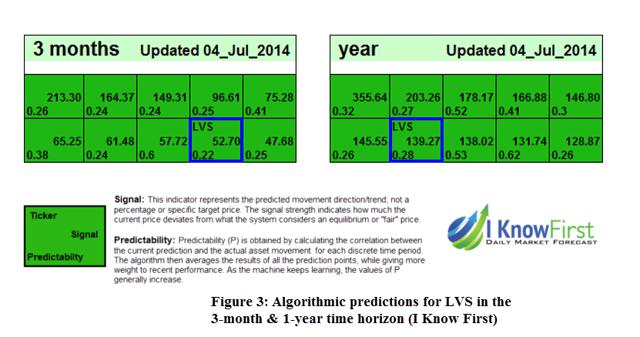 The signal increases from 52.70 in the 3-month time horizon to 139.27 in the 1-year time horizon, showing consistent growth in the predicted magnitude of the asset. The predictability indicator also increases from 0.22 to 0.28, which signifies increased confidence over the stated time horizons. Predictability ranges from positive 1 to negative 1. This metric is an adaptation of the Pearson correlation coefficient. A higher predictability is better, but generally, a predictability of 0.2 is preferable.
These bullish signals should give investors some assurance that LVS shares will rise further over the stated time horizons. Algorithmic traders utilize these daily forecasts as a tool to enhance portfolio performance, verify their own analysis and act on market opportunities faster. We never recommend blindly purchasing assets that are endorsed by the algorithm without your own additional analysis.
Word on the Street
According to 12 Analyst Firms, including Goldman Sachs, Morgan Stanley, and J.P. Morgan, the consensus is that Las Vegas Sands is a "strong buy." Looking at figure 4, eight firms recommend a "strong buy", four firms recommend a "hold," and not a single one recommends a "sell." These ratings are a result of each firm's deep, fundamental analysis, which is independent from the forecast generated by I Know First's algorithm. While these are two drastically different types of analysis, it is important to note that they both reached the same conclusion. Typically, when two autonomous indicators are pointing in the same direction, the confidence level among investors is higher.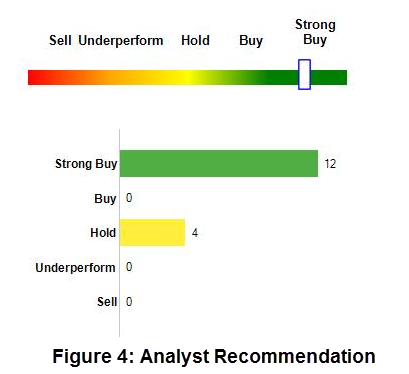 Conclusion
Las Vegas Sands' strengths can be seen in several areas, such as its rising revenues in Macao, large market share in Asia, and strong net revenues. Although growth rates in Macao are starting to slow down, Japan looks like it may be the next frontier for casinos. No other US-based gaming company has had more success in the Asian market than LVS, and management has made it clear that they are ready to heavily invest in Japan. While the Las Vegas profits are disappointing, it's important to keep in mind that only 12 percent of Sands' revenue comes from the United States. In addition to the company's stock performing exceedingly well in the past year, dividends have also increased annually. Our algorithmic forecast is extremely bullish on Las Vegas Sands in the 3-month and 1-year time frame. Whether or not you have any position in LVS, it is still worth following in the next few months, as Japan passing legislation legalizing casinos could provide Sands with early Macao levels of growth.
Business disclosure: I Know First Research is the analytic branch of I Know First, a financial startup company that specializes in quantitatively predicting the stock market. Joe Stempel, an I Know First intern wrote this article. We did not receive compensation for this article (other than from Seeking Alpha), and we have no business relationship with any company whose stock is mentioned in this article.
Disclosure: The author has no positions in any stocks mentioned, and no plans to initiate any positions within the next 72 hours. The author wrote this article themselves, and it expresses their own opinions. The author is not receiving compensation for it (other than from Seeking Alpha). The author has no business relationship with any company whose stock is mentioned in this article.