Has it really been almost 3 years? I can remember that just around 34 months ago, I wrote my first article on American Realty Capital Properties (ARCP) as the New York-based REIT entered publicly-traded REIT-dom. If you read that article back then, you would've recognized that I was completely against ARCP and the legacy community bank portfolio that the REIT was formed around.
With 62 bank branches and 1 Home Depot (NYSE:HD) distribution center, it seems to reason that ARCP's legacy portfolio was extremely risky given the high levels of revenue concentration with Citizens Financial Group. My biggest concern with the IPO was that the sponsors seemed to be focused on unloading the bank branches for personal gain, not so much for benefits of the new investors. I concluded that:
... the biggest issue that I have with the IPO is that the assets are highly concentrated with just two tenants, and one of the two tenants is a troubled bank with minimum lease term remaining. Furthermore, like many banks, branches are being reduced in size and, as a result, the "brick and mortar" model is becoming less important (to the banking model).
Any investor should recognize whether or not his or her goals are aligned with the management team, and in the case of ARCP, I was not satisfied that my interests (as a potential investor) were aligned with the new REIT's interests. I explained:
In the case of the new IPO, management appears to be solely focused on paying off (or bailing out) its previously arranged secured debt and not on providing a diverse, long-term triple net lease portfolio for investors.
Now, I didn't write this article to provide you with a "play by play" on the evolution of ARCP, as that would take a few days to write; instead, I wanted to update you on my feelings, as it relates to the ARCP management team and the more recent news that impacts shareholders (of which I'm one).
However, let's first take a look at the historical stock price: ARCP listed at $12.50, and on May 17, 2013, the shares hit an all-time high of $17.81. Today, you can see that (after 34 months) Mr. Market gives the company less credit than it did with the IPO.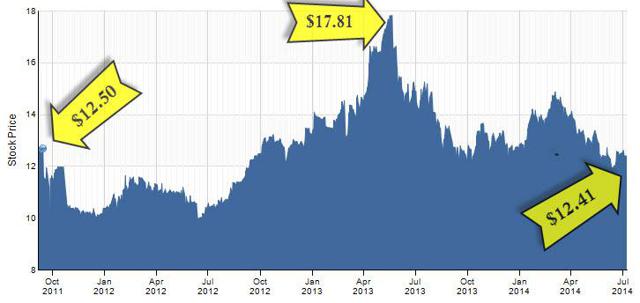 Now remember, I'm not a hedge fund investor. I'm just a simple value investor, and the reason that I purchased shares in this REIT was for income. What's interesting is that ARCP's dividend yield is higher today than it has been since August 2012, while the quality of the income has increased substantially. In other words, as ARCP has reduced credit risk (by diversification), balance sheet risk (now BBB-rated), and integration risk (selling of the multi-tenant to Blackstone/DDR), the dividend has increased by 300 bps. What am I missing?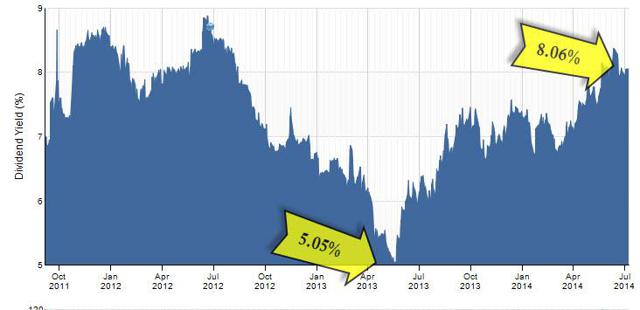 To better illustrate the point, let's take a look at the historical dividend yield of ARCP and a few recognizable peers from May 15, 2013 through today.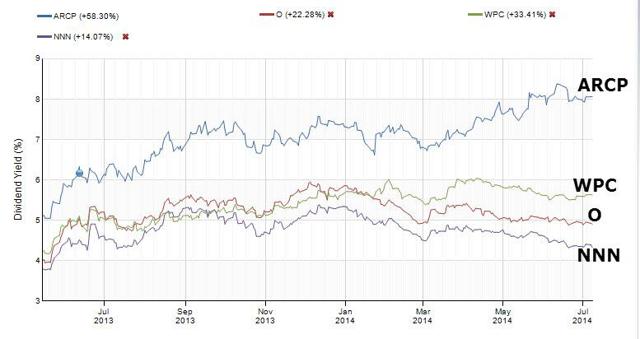 This snapshot below illustrates the difference better: ARCP's dividend yield has increased by more than 3x that of Realty Income in just 14 months. Wow. What does that tell you?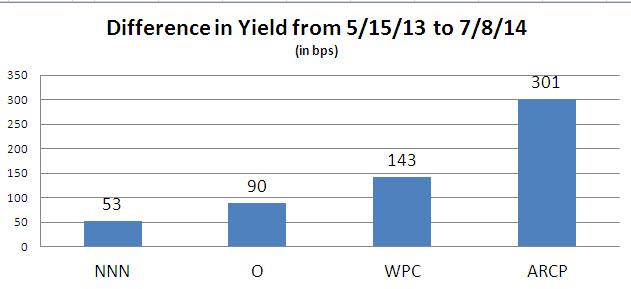 Are ARCP Shares Mispriced?
First off, I'll remind you that I work hard to get my research right. Sometimes I'm wrong, but as I learned when I was a boy scout, I'm always prepared.
As I ponder ARCP today, I'm seeing noticeable evidence that the shares are mispriced. In other words, I believe that the market has given ARCP muted credit for the improved fundamentals and tactful risk management practices. It's clear to me that this company should be trading at a higher multiple, and more importantly, there are recognizable indicators that should spark that flame.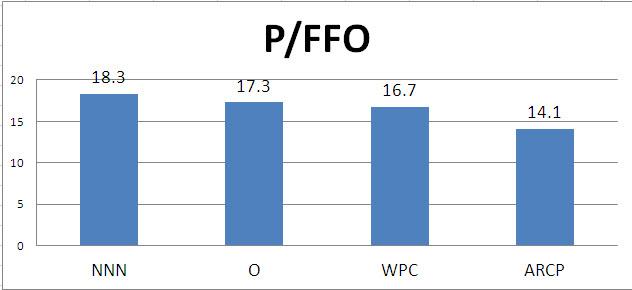 As I said at the outset, ARCP commenced as a REIT with one primary source of income, a bank. It took ARCP less than a few months to grow in size such that the risk of tenant concentration was less of a concern.
Today, ARCP has the same issue in Red Lobster - a struggling seafood chain with declining store sales and traffic counts. Here's what Darden Restaurants' (NYSE:DRI) CEO had to say about Red Lobster on the latest earnings call:
With the sale (of Red Lobster) we'll have less volatility in our quarterly sales and earnings, so sale that was unanimously approved by our Board and the $2.1 billion sale price is a premium multiple compared to comparable restaurant deals and we're able to secure that despite the fact that Red Lobster has some meaningfully declining operating trends and you can see that from a same restaurant sales perspective and an EBITDA perspective in the two charts at the bottom of this slide.
What's interesting about the Red Lobster transaction is the fact that Darden is boasting that its divestiture of Red Lobster is the miraculous cure for the Orlando-based conglomerate's losses. Darden insists that by moving Red Lobster off its balance sheet, the enterprise will benefit from the massive Red Lobster red ink.

When you flip the coin, ARCP and its operating partner, Golden Gate, offer a completely different theory - Darden did not know how to run Red Lobster, and by organizing a new entity with a focused business model, the seafood brand will succeed. As a real estate investor, it's important to recognize the "wheat from the chaff" and determine if there is adequate return for the risk. I have already written an article on the Red Lobster deal, so there's no reason to go into here; however, it's interesting to see that ARCP shares are trading at almost the same price today as they did when I voiced the concern with the bank concentration (34 months ago).
Clearly, Red Lobster is a concern, and that's one of the reasons that ARCP shares are trading on the weakness.
Another issue, already discussed in length (article here) is the Cole Capital business model. As ARCP announced today, Cole Capital has raised $1.1 billion (as of June 30, 2014), and the fees earned provide a valuable source of income. However, ARCP investors could benefit from the spin-off of Cole Capital (generates around $140 million after-tax), and that could boost ARCP's bottom line (AFFO) by around $3.00 per share.
Focus on One Business Model
Today, ARCP said that it had recently negotiated a termination of its investment banking relationship with RCS Capital Corp. (NYSE:RCS), in view of the company's decision to cease executing further merger deals and equity raises for the remainder of 2014,. Nicholas Schorsch, CEO of ARCP, said that it was a cost-free arrangement for both entities and there are no "tails" attached to a Form 8-K. Schorsch also detailed a couple of new board appointments in his letter. Notably, president and CEO-to-be David Kay will join the company's board when he takes the helm on Oct. 1. Additionally, Bruce Frank, a former senior partner in Ernst & Young LLP's real estate group, will serve as an independent director.
Schorsch also said that several of ARCP's independent directors resigned from the boards of American Realty Capital-sponsored non-traded REITs, consistent with the company's corporate governance standards and to "enhance their focus" on ARCP. Leslie Michelson, ARCP's lead independent director, resigned from the board of ARC Realty Finance Trust, but will stay on the board of American Realty Capital Healthcare Trust (NASDAQ:HCT) until its merger deal with Ventas Inc. (NYSE:VTR) closes. Scott Bowman resigned from the boards of American Realty Capital Global Trust and New York REIT (NYSE:NYRT), William Stanley stepped down from the boards of American Realty Capital Retail Centers of America, but will remain an independent direct of New York REIT in view of the company's different investment strategy, Schorsch said. Edward Rendell resigned from the board of American Realty Capital - Retail Centers of America and American Realty Capital Global Trust. Also, ARCP's CFO Brian Block stepped down from the board of RCS Capital.
With the closing of the Red Lobster deals days away, ARCP also announced today that it had closed over $834 million of new deals in the second quarter, and including deals closed in the first quarter ($1.03 billion), ARCP has acquired almost $1.9 million year-to-date. With $2.36 billion under contract (includes Red Lobster), ARCP is only approximately $300 million away from meeting its $4.5 billion annual target.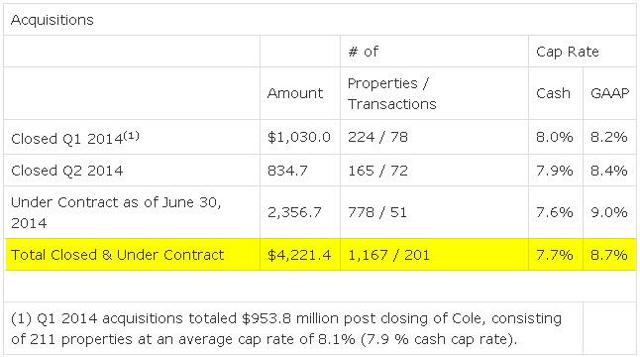 ARCP's assets will likely reach $23.95 billion this year:

There is no doubt that ARCP is an aggregator. The question remains: is ARCP a risk manager? There's a reason that ARCP pays an 8% dividend yield and Realty Income pays a 4.9% yield. That difference is summed up in the words of Howard Marks:
Outstanding investors, in my opinion, are distinguished at least as much for their ability to control risk as they are for generating return.
As ARCP continues to demonstrate a successful track record of risk control, the share price should follow. In the words of Marks, "skillful risk control is the mark of a superior investor". We are starting to see the next chapter unfold and we know that this company can grow a portfolio, now it's time to watch how it's managed. There is risk in owning this REIT, and the market has rewarded investors with an 8% yield in return. I consider the current price of $12.41 to be attractive, and as always, I caution investors to maintain a reasonable level of diversification.
ARCP will be hosting its second-quarter 2014 conference call on Tuesday, July 29, 2014 at 11:00 a.m. ET.
To learn more about intelligent REIT investing, check out my newsletter HERE.
Sources: SNL Financial
Disclaimer: This article is intended to provide information to interested parties. As I have no knowledge of individual investor circumstances, goals, and/or portfolio concentration or diversification, readers are expected to complete their own due diligence before purchasing any stocks mentioned or recommended.
Disclosure: The author is long O, DLR, VTR, HTA, STAG, UMH, CSG, GPT, ARCP, ROIC, HCN, OHI, LXP, KIM, WPC, DOC, UDF. The author wrote this article themselves, and it expresses their own opinions. The author is not receiving compensation for it (other than from Seeking Alpha). The author has no business relationship with any company whose stock is mentioned in this article.