With the recent decline in its shares, Pengrowth Energy (NYSE:PGH) seems to be a clear buying opportunity. The stock is down as of late thanks to a technical breakdown. However, fundamentals remain strong. Among the reasons to own Pengrowth are its robust dividend yield of 6.50%, upcoming Lindbergh production growth, and large discount to NAV.
Why has Pengrowth declined?
It seems as if shares of Pengrowth rise slowly only to give back the gains in a few volatile trading days. So far in 2014, Pengrowth has suffered several large 5 to 10% pullbacks. However, each one has proven to be a buying opportunity. I believe there are several reasons which explain these move lower.
Technical
As shown below, Pengrowth is no stranger to large price swings: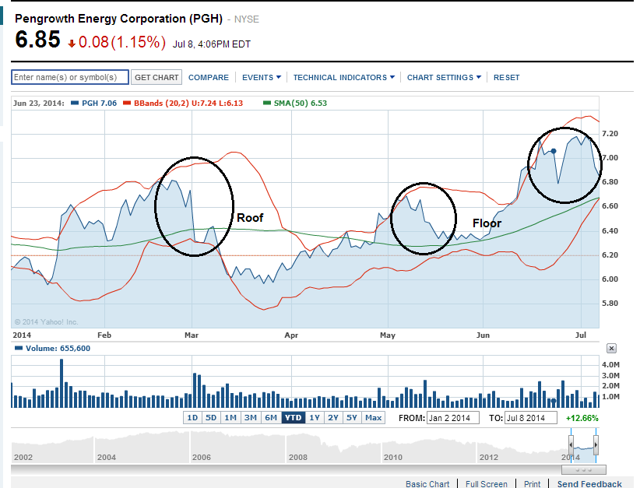 Each of the circled declines has been in response to Pengrowth failing to break above the trend. Simply put, Pengrowth stumbles as it reaches the top of the range set by the Bollinger bands.
However, there is some very good news hidden in the chart. The 50-day moving average which previously acted as resistance, or a "roof," or Pengrowth, now appears to act as support, or a "floor." As a result, I believe shares of Pengrowth should not break below $6.75 based on technicals alone.
Canadian dollar
Pengrowth, as a Canadian energy stock, is highly tied to moves in its native currency. So far in 2014, the Canadian dollar has mostly depreciated against the US dollar, hitting a low of $0.88 USD back in March. However, the loonie has staged a recovery, rising to $0.94 USD in July.
A weaker loonie had been serving as a tailwind for Pengrowth's stock. Now that it is showing strength versus the US dollar, the reverse should be true.
Long-time shareholders selling out
Pengrowth's stock trading in the single digits is a recent phenomenon. While I personally bought into Pengrowth in the $4 range, some owners of Pengrowth are not that lucky.
For much of the past decade, the stock was trading much higher, well into the double digits. As a result, there are a number of long-term shareholders that are underwater, down as much as 50% if they bought in 2011. It stands to reason therefore that a portion of these long-term shareholders may want to jump ship now that the stock has recovered.
Is Pengrowth Energy still a buy?
Heading into earnings, I believe Pengrowth's stock should drift higher. The company likely saw much improved prices for its production in Q2. Light and heavy oil prices in the US have remained elevated. In addition, the discounts applied to the Canadian production have moderated due to improved transportation bottlenecks.
As a result, Pengrowth may see an above average quarter in terms of FFO generation. My estimate is for FFO to come in above $0.30 per share. Do note that this assumes flat Q/Q expenses (operating, transportation, etc.), production in line with guidance, and a similar production mix.
Furthermore, Pengrowth should report more news regarding its Lindbergh project. Last month, the company announced a major reclassification of its Lindbergh 2P reserves, more than doubling the NAV from $1.95 to $4.20.
Lindbergh is by far Pengrowth's best prospect for growth, estimated to grow FFO by at least 30% next year. Phase I of the Lindbergh will add around 12,500 BPD of high margin thermal crude production, expandable up to 50,000 BPD.
Conclusion
Considering the recent news events, there is no reason for Pengrowth to be trading below $7 per share. The stock remains undervalued, with the market clearly not factoring in the expected production growth coming online from Lindbergh starting in Q1 2015.
With its nearly 6.50% yield, Pengrowth is paying you to wait. I have been taking advantage of the pullback and adding to my position via call options.
Disclaimer: The opinions in this article are for informational purposes only and should not be construed as a recommendation to buy or sell the stocks mentioned. Please do your own due diligence before making any investment decision.
Disclosure: The author is long PGH. The author wrote this article themselves, and it expresses their own opinions. The author is not receiving compensation for it (other than from Seeking Alpha). The author has no business relationship with any company whose stock is mentioned in this article.