The bulls had their way again last week - the second in a row, and the sixth of the last seven. It was a struggle though, with the only meaningful progress being made with Wednesday's jump; even solid earnings news from Google (NASDAQ:GOOG) couldn't light a real fire (except for the NASDAQ Composite, but even that was a bit of an unhealthy move - see below) (QQQQ).
So are the bulls finally at the end of the road, even if only temporarily? That's the million dollar question, which we attack below. We'll just preface our take with this.... what "is" and what "should be" can be two different things for quite some time. We'll assess the tide as well as the undertow, but first let's start at the top - the economy.
Economic Calendar
While stocks finished the week higher, it wasn't because the economy was impressive; we saw far more negatives than positives. The market advanced largely because the economic snapshot was so weak, the Fed voiced (again) a willingness and desire to stoke the economic engine.
As for what was wrong....
Unemployment claims: New claims were up to 462K from 449K; continuing claims fell from 4511K to 4399K, though bear in mind this number is a week behind the new claims data.
Inflation: While we've yet to see the deflation that was so alarming three months ago, the lack of inflation - given all the reasons it should be running rampant - is still troubling. The current inflation rate is running around 1.15%. Producer prices are rising a little more firmly though.
Trade balance: Despite a weaker dollar, the trade deficit actually went up, to -$46B.
Sentiment: Despite decent economic news and a record-breaking gain for the market in September, the Michigan Sentiment Index (prelim) sank from 68.2 to 67.9 this month.
On the other hand, we did see a couple of bright spots...
Manufacturing: The NY Fed's 'Empire' Manufacturing Index jumped from 4.1 to 15.7, versus estimates of only 5.75.
Retail sales: With or without autos, consumers are still shelling out a few more shopping dollars. In this case, 0.4% more when excluding autos, or 0.6% more when adding autos to the mix.
Here's the whole economic report card.
Economic Calendar

As for the coming week, less is in store, but what's on tap is big.
We'll get the ball rolling on Monday with two huge long-term indicators... capacity utilization, and industrial production. Both have been proven (and much more so than other economic data sets) to show great correlations with bull and bear markets. While neither can do much about the emotion-driven short-term trends, long-term investors should heed them both. The pros are looking for slight improvements from both.
Capacity Utilization, Industrial Productivity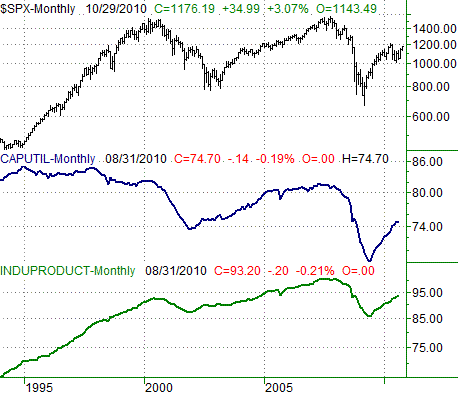 The middle of the week is dominated by real estate news. The NAHB Housing Market Index is unveiled on Monday, while housing starts and building permits for September are unveiled on Tuesday; lower numbers are expected. On Wednesday, look for the MBA Mortgage Application count, bearing in mind that a huge number of them continue to be refis.
Thursday's unemployment claims levels are expected to be roughly in line with their prior weeks' numbers.
S&P 500
At the risk of sounding like a broken record, the market continued to defy the odds last week and tack on another gain. For the S&P 500 (NYSEARCA:SPY) (SPX), that 11.04 point jump meant a 0.95% advance. The gain itself is a little misleading, however, for a couple of reasons.
First, though a gain is a gain is a gain, the momentum was fading to close out the week; even a big jump from GOOG (GOOG) was barely enough to keep the SPX in the black on Friday (and it's still difficult to weed out expiration day's effects versus the market's organic movement).
The second problem? Though the SPX drifted upward as the week wore on, the market's bearish depth (volume) really kicked into high gear later in the week, while the bullish depth faded. In neither case could it be said the depth trend had 'turned', but it's getting close. Like we mentioned above, the undertow and the over trend are starting to diverge, which isn't bullish in this case.
As before though, until the uptrend clearly snaps - with a move under the 20-day average line currently at 1150 - it's difficult to fight the tape. Be nimble here.
S&P 500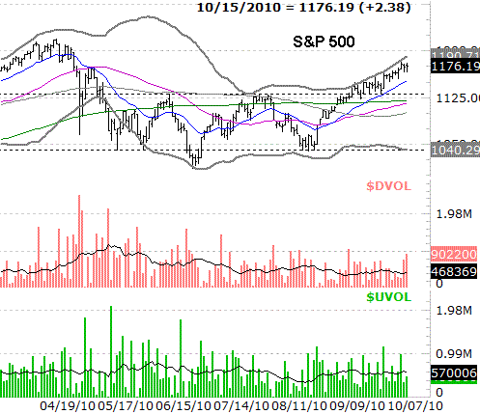 Sector Performance
Technology reclaimed the top slot last week with a 3.9% pop; though don't forget that Google was the reason for the bulk of the gain. Still, even without Google, we saw the group lead the way. Transportation ran a close second - a trend that's been quietly and persistently in place for months now, yet largely unnoticed.
On the other end of the spectrum you'll find financial stocks - another turned that's been on place for quite some time. Despite low valuations and likely the most number of 'beats' for earnings season, the financial sector still seems plagued.
Note, however, that we're seeing quite a bit of rotation from most other groups (what was cold is now hot now, and what was hot is now cold).
Sector Rank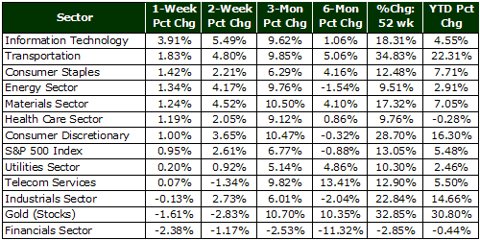 Industry Performance
Though tech blew everything else away last week as a sector, check out the winning industry.... fertilizer (and ag chemicals) - a nice turnaround. Also worth mentioning is the distributors group [lots of wholesalers, and tech-heavy], which has also been one of those quiet but reliable trends.
On the flipside, the long list of losers makes it clear the financial sector's woes aren't being driven by one group - lots of banking entities are getting whipped. Another of last week's interesting soft spots were the consumer cyclical areas, like gaming and photography. Is that party finally over? Maybe, though just for the record, those two industries were in dire straits already.
Industry Rank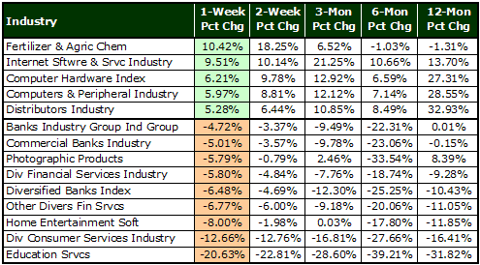 Earnings Calendar
It's here. Well, actually it was here a couple of weeks ago when Alcoa (NYSE:AA) kicked things off, but it doesn't start to get wild and wooly until now. What is it? Earnings season for the third quarter of 2010. There are too many to even mention here - all of this week's big ones are listed below.
Earnings Calendar

Disclosure: No positions