In definition, gold is:
A combination of a reflection and hedge against U.S. and world inflation.
A form of money or currency, accepted worldwide.
A store of value.
A protection and hiding place against economic and political world problems and uncertainties.
A contra investment against an overbought stock market, especially in a low-interest-rate environment. The market has been overbought to these levels only three times in history: 1929, 2000, and 2007. (Nobel prize winner Robert Schiller).
The deficits caused by governments' excessive and wasteful spending, including those caused by wars since and including WWII, have always created screaming commentary similar to what we read today:
Just how is Washington and the nation going to cure the enormous deficits we have created? They are a serious percentage of our GNP and foreign governments are effectively in potential control of our country by way of their large investments made in our government bonds.
Our history shows we have solved this problem not by shrinking these deficits in actuality, but by reducing their percentage of our GDP and debasing our dollar in so doing. This has been done by reflating (see former prices): $0.17 per gallon of gas, $2.00 for a carton of cigarettes, $850 for a Chevrolet deluxe, and $15,000 for a 2,000-square-foot suburban home are just a few examples. Wages and income have kept pace with price inflation nearly on par.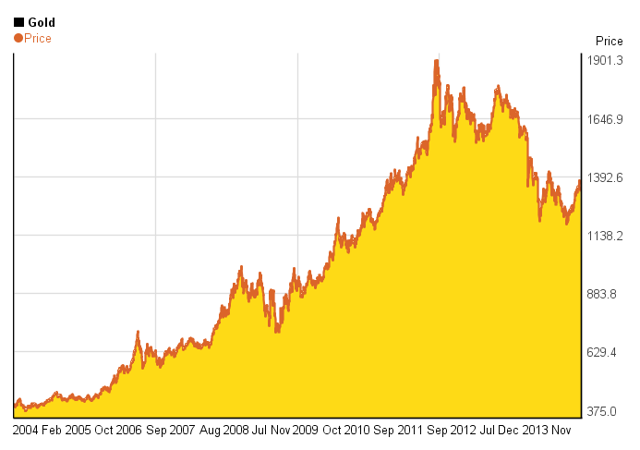 Serious inflation cannot occur with rising commodity and goods and services prices alone. The major and necessary ingredient in rising core inflation must be the addition of wage price increases. This can only occur with the semblance or appearance of "full employment" and scarcity in the workplace. The numbers released Thursday, July 3 (for the month of June) of 288,000 additions to the workforce, leaving only 6.1 % unemployment, was the fifth monthly increase in a row of 200,000+ jobs. This is just the background needed to begin turning around the giant oceanliner of inflation to start heading upwards. The coming inflation will, over years, increase in its momentum - as it has always been prone to do.
Deflation, disinflation or even stagflation are no longer our - or Europe's - worry. Despite Yellen's cutbacks on bond purchases, etc, our printing presses are running full bore, churning out Franklins to a point where the machinery must be red hot by now.
As for the markets themselves, according to many considered smart money - and Nobel Prize laureate Robert Schiller - the stock market has only been this overbought three times in history: 1929, 2000, and 2007. As our first article indicated clearly, we expect a market correction this year - and soon - from 7 to 15%, without any recession to accompany the decline. Actual bear markets (greater than a 20% decline) have occurred in our postwar era without accompanying recessions: see 1958, 1960, 1962, 1967 and in the 1980s as well.
The coming decline will underpin the Fed's reasons to keep interest rates low and raise them very gradually, if at all, in the coming year. This will also prove very beneficial for further advances in price of gold, due to no serious interest rate investment competition.
World demand for goods and services will continue to rise in the coming months and years. This will continue to add upward pressure on inflation's new upward cycle, by causing further increases in wages and prices. Wealth division and distribution is at its most unfair today since the late '20s; 94% of the world's wealth is vested in less than 2% of the world's population. Evidence of this abounds in the overpricing (perhaps bubbles) currently in high-end investments such as boats, show and race horses, high-end condos and homes in major cities, antiques, paintings (Norman Rockwell at $79M+), collectibles, classic cars (i.e., a $15M Ferrari), and the restoration and service costs associated with such items.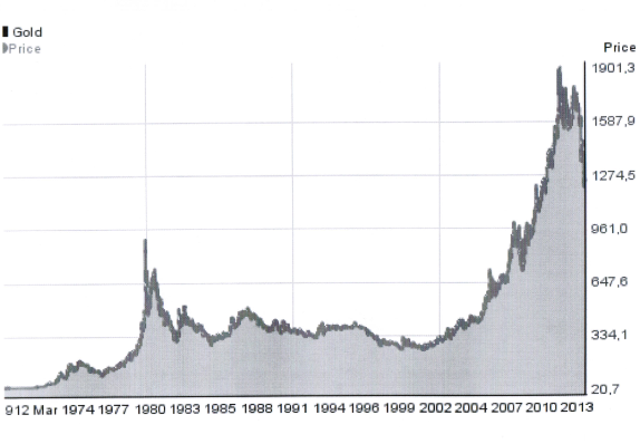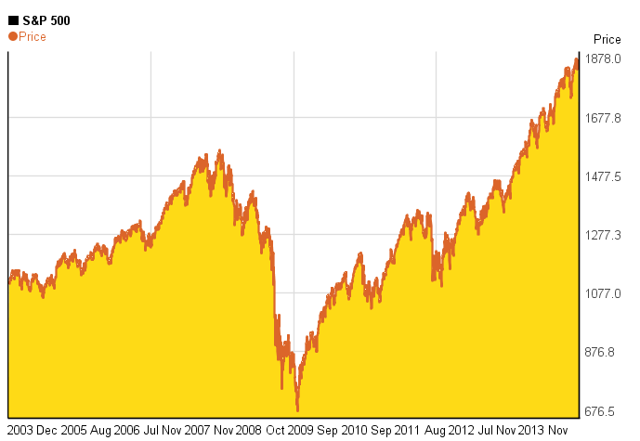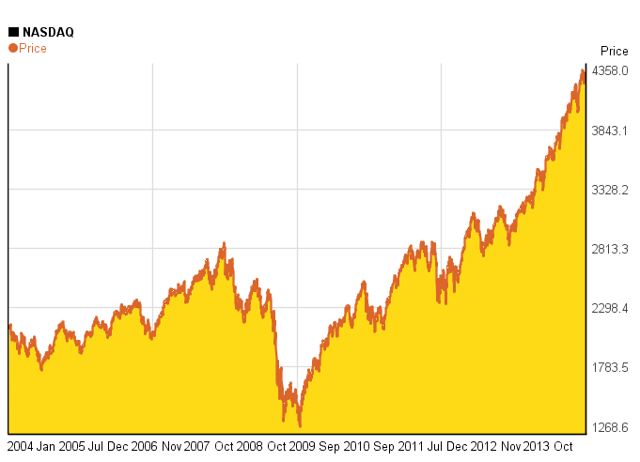 Gold for August delivery, the most actively traded contract on the Comex (a division of the New York Mercantile Exchange), was $1,320 per Troy ounce as of Thursday, July 3. Gold has advanced 11% so far this year. Unrest in Ukraine and Iraq may have helped fuel this increase, but I seriously doubt it. Vehicles for participation in the coming advance of gold in three years to $3,000 are as follows, in order of importance:
The technical behavior of gold, and related participating vehicles, these past 18 months suggests that the metal's drop from its high of $1901 to $1200 last year - a drop of 28%, the largest percentage drop in three decades - is not only over, but that gold has already tested the low and based out in preparation for a new assault on the old high. A previous serious drop occurred in 1981, when the Hunt brothers successfully cornered the silver market, causing silver to exceed $40 an ounce. The subsequent decline occurred when the Commodity Exchange Commission forced the Hunts to dissipate their positions, giving the squeezed shorts a much needed reprieve.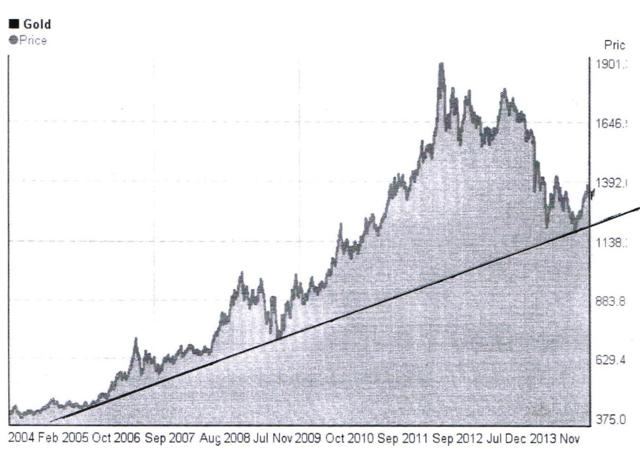 To repeat: We have, these past months, not only tested the low reached at $1,200, but based out in preparation for a new move upwards. I currently believe we are in Wave I of a potential V wave pattern (per Elliott Wave Theory).
Many feel the "old high" of $900-$1000 (depending if you use the intra-day or closing high made in 1981) would be the logical support. The basic problem with that is that the cost of mining the metal has now reached $1,294 per troy ounce, a much higher cost than 33 years ago. (see gold chart adjusted for CPI). The current pattern can be described as a reverse head-and-shoulder bull pattern, with the all important major trend line touching perfectly on the most recent low at $1,240. (see 5-year gold chart). All initial A & B waves, as well as all Fibonacci mathematical retracements, are spot on as well.
For the above reasons, we expect a 5 wave move over the next three years to cause gold to reach $3,000 or higher. Our advice is to take a 50% position in GLD at current prices ($126.50-$127.00) and sell call options on a one-to-one basis for additional income. We further recommend the purchase of the balance of the position at $129.10 and a $130.20 buy stop. After GLD reaches the low $130s, we advise selling both out-of-the-money puts and calls on half the position (for income), and replacing called-away stock as it occurs.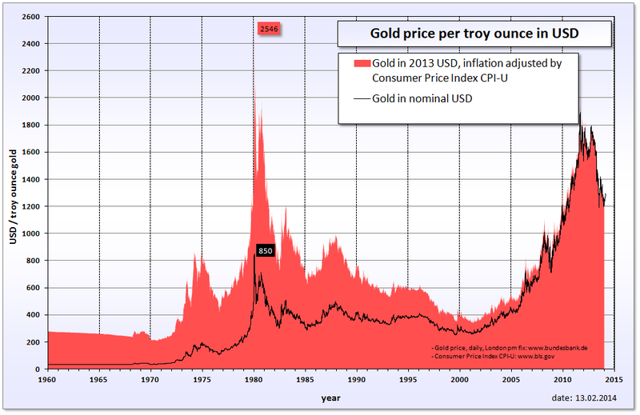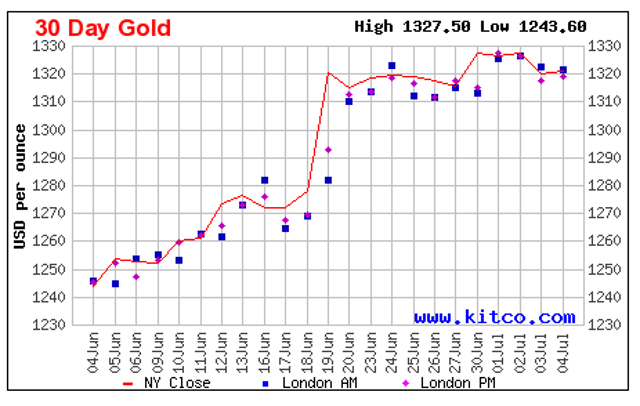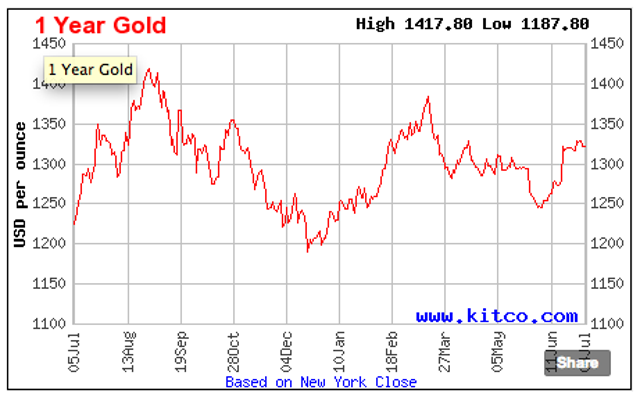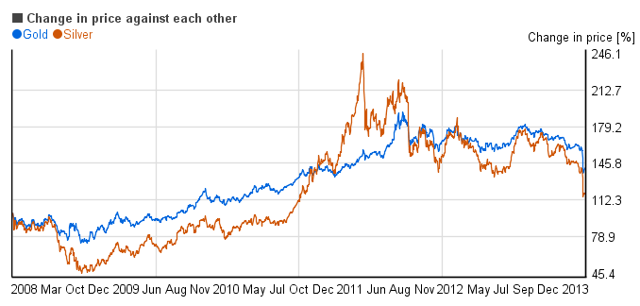 Disclaimer: This article is for information purposes only. There are many risks involved in investing including loss of principal. Neither Doc nor Doc's Trading makes any guarantee with regard to any recommendations, implied or made herein, with regard to performance or projections. There is also no guarantee that the predictions, goals or estimates of either past or predicted performance will be met or repeated.
Disclosure: The author has no positions in any stocks mentioned, and no plans to initiate any positions within the next 72 hours. The author wrote this article themselves, and it expresses their own opinions. The author is not receiving compensation for it (other than from Seeking Alpha). The author has no business relationship with any company whose stock is mentioned in this article.