By Sridharan Raman
Bouchard has taken the company from a single store in 1980 to 13,000 outlets now, under various brand names such as Mac's and Circle K. While expansion can be a tricky proposition, Alimentation Couche-Tard (OTC:ANCTF) has done a good job. According to the StarMine Earnings Quality score of 91, profits seem to be coming from sustainable sources.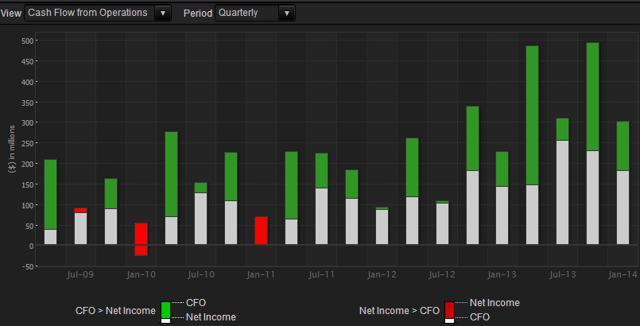 (Source: Thomson Reuters Eikon/StarMine)
Convenient strategy
Often, companies expand too quickly or fund the expansion by taking on large amounts of debt. That does not seem to be the case for Couche-Tard, which has strong cash flow from operations. The quarter ending in January tends to be a seasonally weak quarter, but the company reported its highest net income ($182 million) and cash flow from operations ($301 million) for this quarter in five years. The previous quarter saw Couche-Tard record the highest cash flow from operations ever. Free cash flow has also been consistently positive.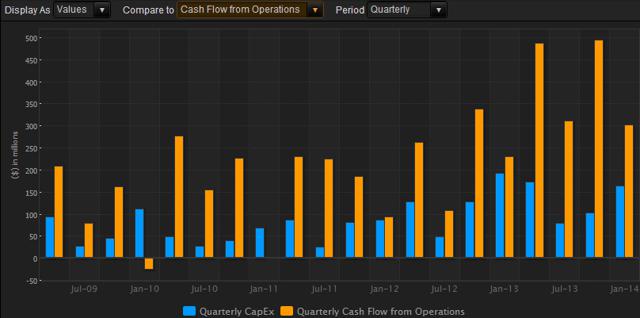 (Source: Thomson Reuters Eikon/StarMine)
Sustaining momentum
When a company grows at that fast a pace, we tend to see capital expenditures spike, and on many occasions, capital expenditures far exceed cash flow from operations. While we do see significant capital expenditures at Couche-Tard over the last few years, cash flow from operations exceeds those capital expenditures (the orange bars are higher than the blue bars), another sign that this growth could be sustainable.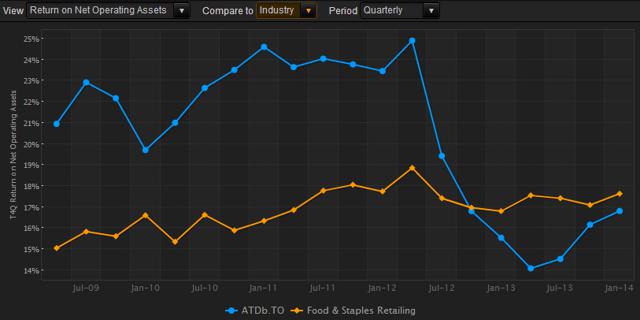 (Source: Thomson Reuters Eikon/StarMine)
Efficiency indicators
In 2012, Couche-Tard saw return on net operating assets fall from 25% to 14%, a worrying trend. However, in the last year, it has seen trailing 4Q RNOA increase in each quarter, which is a sign that the company is finally operating more efficiently and may have recovered from the downward trend. RNOA is now 17%, still slightly below the industry median but a nice uptick from a year ago.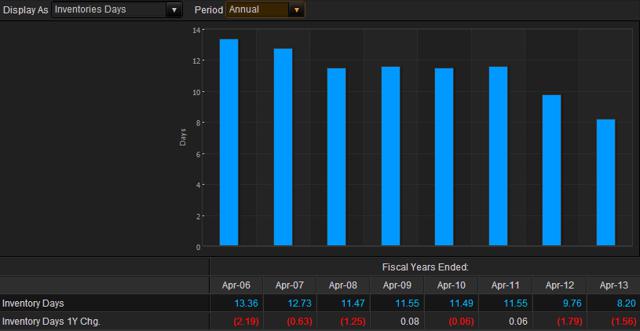 (Source: Thomson Reuters Eikon/StarMine)
Counting the stocks
As you can see in the chart above, the company has done a great job of managing inventory days. They've come down from 13 days in 2006 to just over eight days last year. That trend seems to be continuing, as the last quarter (ending Jan.2014) saw inventory days fall to below eight days. The fact that inventory management has been strong even in a period of expansion is another positive sign for Couche-Tard.
On the earnings call, Bouchard stated that the company only built 14 stores (far below its usual run rate) since the beginning of the fiscal year, since the focus was on strengthening the balance sheet. That is a sign of a prudent management that does not seem to be working on a "growth at any cost" agenda. The strong earnings quality at Couche-Tard is likely to translate into strong earnings in the coming quarters. Have a hot dog with that frosty.
Disclosure: The author has no positions in any stocks mentioned, and no plans to initiate any positions within the next 72 hours.
Business relationship disclosure: Alpha Now at Thomson Reuters is a team of expert analysts that are constantly looking at the financial landscape in order to keep you up to date on the latest movements. This article was written by Sridharan Raman, independent commentator and analyst. We did not receive compensation for this article, and we have no business relationship with any company whose stock is mentioned in this article.
Editor's Note: This article discusses one or more securities that do not trade on a major U.S. exchange. Please be aware of the risks associated with these stocks.