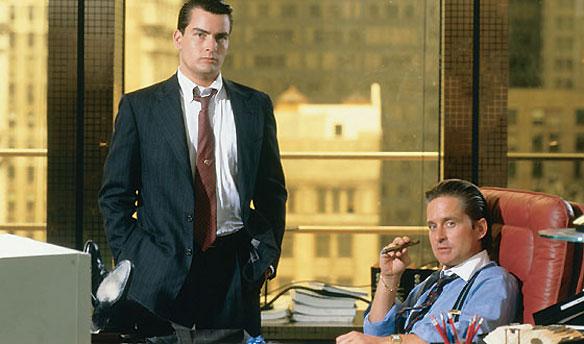 Last night it became public that Leon Black of Apollo Global Management LLC ("Apollo") has been snapping up the convertible bonds of Molycorp, Inc. (MCP). At March 31st, Apollo controlled over 20% of the company's 3.25 percent convertibles and is rumored to have bought more since then. According to my previous article, Apollo does not believe the bonds will be fully repaid in case of default, allowing the noteholders to take control of Molycorp's equity:
Leon Black of Apollo Global Management LLC is snapping up bonds of Molycorp, Inc. According to sources close to the matter, if Molycorp seeks to restructure its debt, the hedge fund is positioned to take control of the rare earth miner.
Molycorp reported a loss attributable to shareholders of $86.1 million for Q1 2014, compared to a loss of $39.0 million for Q1 2013. The loss was disappointing in that investors had assumed Molycorp was turning the corner after announcing a $200 million capital raise in October 2013. JP Morgan downgraded the stock to "Underweight" and said another capital raise is likely this year. Volume for Q1 2014 was actually 10% higher than that of Q1 2013. However, Molycorp's average sales price declined 26% below Q1 2013's, illustrating how declining rare earth prices have stymied the company. The following chart displays the company's quarter-over-quarter performance: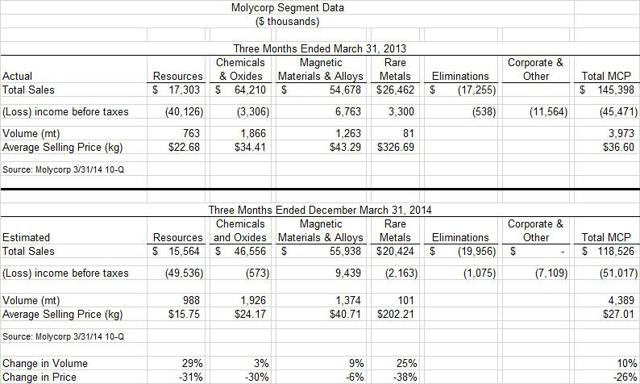 The Situation
The company has been hemorrhaging cash. Molycorp had cash out flows in Q1 2014 of $78 million and its cash on hand is projected to fall below $100 million by the end of the year. Worse, the company could run out of cash by Q1 2015. Below are high level projections of cash outflows: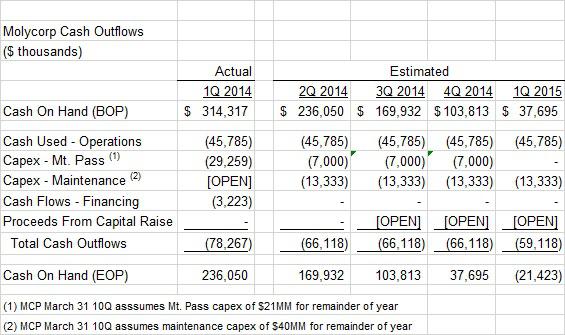 On my previous article, "Molycorp Down 9% Mid-Day. What Happened?," longs accused me of bashing the stock:
Commenter 1: In this case, while the data isn't Shock Exchange's, the delivery of it is. No one needs to rationalize his critique. The issue is that these articles clearly have his desired impact, which is to send the stock price down, which helps his short. Regurgitating the same data with lower and lower price targets isn't altruistic, it's an agenda. But what really seems to be pissing people off (myself included) is the middle finger to the market.

Commenter 2: Shock Exchange is intentionally misinforming the public for a purpose. He is simply, mindlessly, projecting an operating loss as if it were fact, taking one trough quarter and intentionally projecting them to run out of cash in Q1 2015.
The Facts
My Calls On Molycorp Have Been Spot On For 18 Months
I have been writing about Molycorp for about 18 months now, and my calls have been spot on. Nobody really listened to me because the stock kept rising due to short covering or optimism from continued capital raises.
Now that the handwriting is on the wall - these capital raises are the equivalent of throwing "good money after bad" - people are accusing me of bashing the stock. Longs are in denial. The stock is falling due to operating losses and cash burn that has continued unabated for several quarters.
Hedge fund manager, Leon Black, also believes there is a chance Molycorp will not have the sufficient cash to meet its debt obligations.
Cash Burn Projections Not Unrealistic
My cash burn projections are pretty straight forward. Also, they are not far off from Molycorp's actual experience in 2013.
[i] Q1 2013 cash outflows from operations were $37 million, [ii] for full year 2013, cash outflows from operations were $154 million, so [iii] over the last nine months of 2013, outflows from operations were $118 million.
My projections show cash outflows from operations of about $137 million over the last nine months of 2014. That is only $19 million higher than last year's; we also know that Molycorp's cash burn is trending higher than last year's.
Molycorp Could Seek A Capital Raise Within Weeks
Apollo's attempt for a backdoor takeover of Molycorp puts added pressure on management. Either find solutions to the company's cash burn or risk being taken over by Apollo and other bond holders.
I Value The Company at $1.60 Per Share
My $1.60 per share valuation of the company assumes a capital raise of about $260 million. My previous article described the rationale for my valuation, which [i] starts with tangible GAAP equity, [ii] subtracts potential losses in Q2 2014 and [iii] subtracts the potential capital the company needs to raise in order to stay afloat. The following chart lays out the assumptions: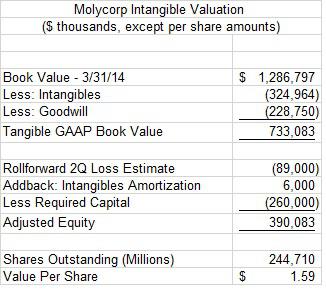 Q2 2014 Earnings Are A Wildcard
Molycorp is expected to announce Q2 2014 earnings on August 4th. If Q2 earnings are good, the stock may rise, making Molycorp's capital raise more achievable.
If Q2 earnings are poor, the company runs the risk of [i] having to raise equity at a low stock price, which could be prohibitively expensive, or [ii] having to take an equity raise off the table altogether.
It may behoove Molycorp to raise equity prior to earnings, while the stock is above $2 per share - it closed on July 8th at a 52-week low of $2.26 per share. That gives the company a three - four week window in which to raise equity.
Molycorp Has Raised Capital Ahead Of Earnings Report Before
Conclusion
Apollo's acquisition of Molycorp's unsecured notes puts pressure on the company to find a solution to its cash burn or risk being taken over. I believe Molycorp could seek a dilutive event prior to Q2 2014 earnings in early August. I rate the stock a sell.
Disclosure: The author is short MCP. The author wrote this article themselves, and it expresses their own opinions. The author is not receiving compensation for it (other than from Seeking Alpha). The author has no business relationship with any company whose stock is mentioned in this article.