Apple (NASDAQ:AAPL) is going to paint new highs in the not-too-distant future, in my opinion. If you can embrace Tim Cook and that his tenure at Apple is really just beginning, you can hold on and enjoy the ride with the rest of the longs that have had faith in Cook for the past three years.
It certainly has been a challenge for Mr. Cook, who has been second-guessed his entire tenure at the helm at Apple. He has been compared to Steve Jobs time and time again - with analysts, investors, and consumers wondering if Mr. Cook is going to be able to deliver for them the same way Mr. Jobs did.
The answer there is "no". Tim Cook is going to deliver, but in a totally different way than Mr. Jobs did. Two different CEOs for two entirely different situations.
Not unlike Mr. Nadella taking over at Microsoft (NASDAQ:MSFT), Mr. Cook brought with him a different personality and a different style of management. He was reactive, passive, cool, calm, and recently, a bit cheeky. Due to the fact that it's been only a couple of years since Mr. Jobs has passed away, we haven't really been able to embrace Mr. Cook, in my opinion. Like Mr. Nadella, Mr. Cook seems to have the cooler head, seems to be far more open to collaboration, and seems to treat his brand with a certain level of respect that I believe is going to help it attain and maintain the title of being a "luxury" electronics brand.
I guess at certain points, I've been guilty of questioning whether Mr. Cook was doing what Mr. Jobs would have done, as well. I have to say, that type of thinking on my end has all but completely disappeared. I'm in Mr. Cook's corner, through and through.
I bring this up today because we're just starting to see headlines like the one that I saw this morning when browsing through The Wall Street Journal:

First off, I highly recommend reading the entire WSJ piece, it's brilliant.
"Steve was a wartime CEO, while Tim is a peacetime CEO," said one former employee.
That quote has been making its rounds all over the blogs and Twitter over the past couple of days, and there's a reason for it: it's pretty dead-on accurate.
There is no doubt that the time was right for Mr. Jobs in 2001, when he made his way back to Apple. There was no doubt that guys like Gil Amelio and John Scully lacked the vision that was necessary to pull Apple from its rut and transform the company into the internet and media-based powerhouse that it has become today. Jobs had always been a visionary, with his business acumen and personal etiquette taking a bit of a backseat to "putting a dent in the universe". With Mr. Jobs bringing the company to such a brilliant jumping point, perhaps it's a bit serendipitous that Mr. Cook is now at the helm.
Headlines abound for many reasons - Mr. Cook's new capital release to shareholders, the purchase of Beats, the coming product line this fall, and news of a board shakeup perhaps on its way. The news of Mr. Cook looking to replace or add board members shows us that just now he's starting to embrace his role as the leader of Apple in the fullest. Apple Insider reported:
In a profile on his performance as successor to Apple cofounder Steve Jobs, The Wall Street Journal claims Cook is looking to add to the company's long-standing - and aging - eight-person board of directors.

The board includes seven outside directors, six of whom are over the age of 63. Four have been with Apple for more than a decade, while Intuit CEO Bill Campbell and J. Crew Group chief Millard S. "Mickey" Drexler have both served since the late 1990s.

As noted by the publication, the current board is known for its loyalty to Jobs, which could make things difficult for Cook as he reshapes Apple to better retain its lead in the marketplace. Overall, the Apple chief's recent moves are considered to be more in line with those of "normal" tech firm CEOs, a distinct departure from the way Jobs ran his company.
Moving the board around would surely solidify a "new era" at Apple.
This continues to be a story about the sea change that is just now taking place at Apple. What the WSJ piece does not address is the coming products and how they're going to shape Mr. Cook's legacy at Apple. The iWatch is going to potentially be the first "killer" piece of hardware that Apple releases under Mr. Cook's tenure. And I'm willing to bet that Apple - who some have criticized for being late to the smartwatch party - is going to absolutely hit the nail directly on the head.
As I've written about, the iWatch is likely to be a win/win situation:
A best-case scenario, or "win scenario #1", would consist of obvious success for the watch. Meeting or exceeding the company's goals of 50 million units sold throughout the first year would not only mean something in the range of an additional $12.5 billion in revenues, but it would also do well to push public interest into wearables and to position Apple as a "trendsetter" once again - the way that the iPhone jolted the company into the smartphone market and turned it into the juggernaut that it is today.

In the worst-case scenario, or "win scenario #2", the iWatch has only a nominal response, but has continued to expose people to Apple's ecosystem. With a portfolio of products that are likely to work together with the watch, as opposed to cannibalize from it, any sales of the iWatch are going to be positive for Apple. The iWatch is also a product that could likely pair extremely well with the iPhone, and Apple could consider selling the two of them together. For someone like myself, who is going to be in the market for an iPhone upgrade in September, why wouldn't I spend the extra hundred or two and update my watch game as well? The two items are likely to have a Bluetooth relationship with one another as you carry them both around with you all day.
There's no doubt that no matter what kind of success comes from the iWatch, Mr. Cook will likely be heralded for his ability to produce such an impressive product. I realize that I'm giving Apple the benefit of the doubt that it's going to be fantastic already - but, you just watch and see, it will.
So, let's think about Apple the stock, as opposed to Apple the company. The stock, fundamentally, continues to be attractive. More so than that, it's reliable. Post-split, it's inviting for retail and becoming a value name that trades with the P/E of an industrial stock. All the while, Apple hasn't lost its innovation mojo. If the iWatch does become a massive success, a P/E of 20 looks like nothing on a company that would then be heralded as "still having it" when it comes to innovation.
Further, when you're the largest company in the world and your stock has major potential to take many loyal shareholders along for the ride, do you want a cooler, calm CEO like Mr. Cook? I certainly do.
Never mind the fact that we saw Apple's trading yesterday break over a key resistance level in the $94 region. As you can see from the chart, I'm guessing the next major resistance for Apple is going to be in the $100 area. Anyone that takes a look at this one-year chart and tries to tell you that the company isn't tearing upwards in the midst of a strong uptrend should probably not be looking at stock charts for a living: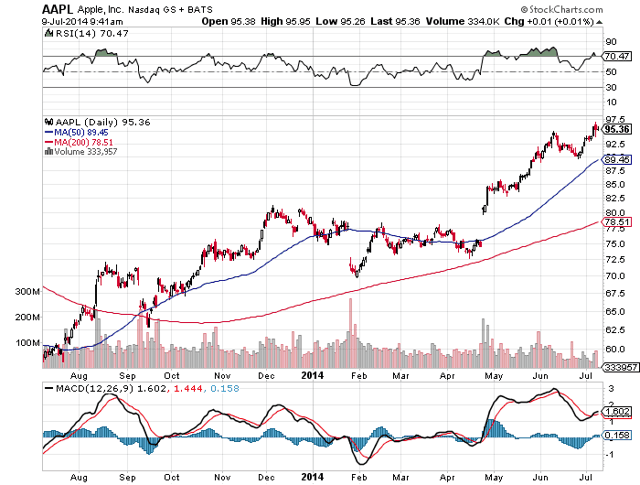 If you want a full-fledged analysis of the numbers and the fundamentals behind the company - and why I think it's still one of the best fundamentally sound names you could possibly put your money in today, you can read my latest magnum opus on Apple, entitled, "Why Apple is the Perfect Stock for Anyone".
Almost poetically, the WSJ piece this morning ended with the following line:
Mr. Cook says he doesn't ask What Would Jobs Do. He says that Mr. Jobs told him before he died to never ask that question.

"I've abided by that. I think he did that because I think he wanted to relieve what might have been an enormous burden on me," said Mr. Cook in an interview at the time of the Beats deal. "Because of that, I've always been able to kind of block that question."
I rode an Apple position from $520 pre-earnings up through $90 (post-split). With earnings again just being less than two weeks away, and with my renewed confidence in the company and its coming product line, I undertook a long position in Apple yet again yesterday on the pullback to the low $94 region.
The facts are that if you sat me down and gave me a choice of any and all people on the world to head up Apple, as it is today, I couldn't think of anyone that would give Mr. Cook a run for his money, in my mind. Perhaps Mr. Ive, eventually - but, there's no doubt that Tim Cook is the right man for the job. He's not worried about what Mr. Jobs would have thought, so why should we be now? Mr. Cook will lead us to new highs and keep our Apple ship steady. He's the best man for the job, more so now, July 8th, 2014, than ever.
Godspeed, Mr. Cook - here's to the future.
Disclosure: The author is long AAPL. The author wrote this article themselves, and it expresses their own opinions. The author is not receiving compensation for it (other than from Seeking Alpha). The author has no business relationship with any company whose stock is mentioned in this article.