I'm going to make the argument for Goldcorp (NYSE:GG) in two parts. First, I'll make a pretty bullish case for gold, then I'll make the case for the best gold stock to buy right now. With this powerful one-two punch, I think that this Bull of the Day will lead to big time profits.
I could probably give you several arguments for why gold is on the move right now. Negative interest rates in the Euro Area. Continued bond purchases by the Fed. Japan's application of Abenomics. The Chinese shadow banking system. Insert theory here.
Gold Futures
Today, gold futures traded near $1320 for most of the session. This is a far cry from where we were trading a month ago right about the $1250s. Looking back to the all-time highs skews your perspective of the move we are in now. I'm not here to make an argument for $1800 an ounce. Being a little more conservative here can still allow us to make some big bucks betting on a much smaller move.
The last time gold approached $1400 was March 2014. That marked the end of a run for gold that began the last day of 2013 with prices below $1200. The run took three short months and gold moved over $200 from the start. Using this crude and somewhat elementary observation and applying it to our current situation that puts gold close to $1500 an ounce by September.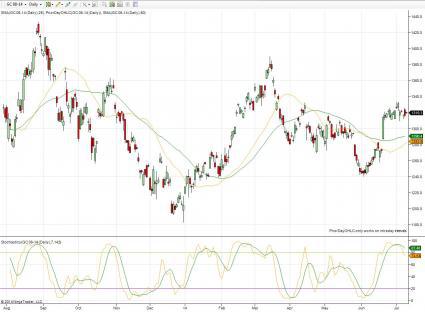 Now let's look at Goldcorp. In 2013, production was 2.7 million ounces. This year GG is looking for 2.95 to 3.1 million ounces and next year 3.6 to 3.8 million. This outlook has Goldcorp becoming free cash flow positive in Q4 2014 assuming gold prices at $1200 an ounce.
We have it as a Zacks Rank #1 (Strong Buy) due to recent earnings estimate revisions over the last 60 days. Four analysts have increased their estimates for the current year and next year. The revisions have pushed consensus up from 70 cents per share to 80 for this year.
Last quarter's earnings surprise came in at 26 cents versus expectations for 14 cents. This firm beat along with the agreement and magnitude of the revisions by analysts are what give this stock such a strong Zacks Rank.
Technical Picture
The Zacks Rank isn't the only reason why I like the stock at these levels. The technical chart is very bullish for GG as well. Over the last two weeks, GG has been consolidating just below $28. During the consolidation, the stock has remained firmly above its 40-day exponential moving average, which currently sits down at $25.86.
The stochastics are showing an overbought position currently but that shouldn't stop anyone from buying the stock. This indicator can stay overbought for extended periods of time during rallies. The last big run for the stock took it from support at $23 up to the level it trades at today. The next push upwards will likely approach the 52-week high just above $29. If the stock can push through that level then the August 2013 high near $32 comes into focus.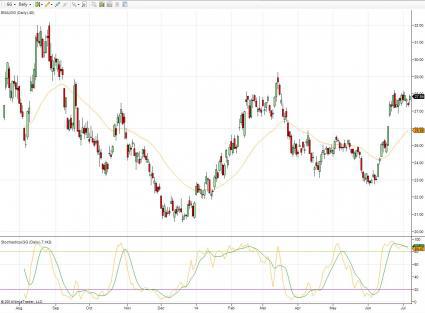 Disclosure: None