The Department of Justice is close to getting Citigroup Inc (NYSE:C) to face full responsibility for their pre-crisis mortgage practices. It's estimated that the bank will pay a $7 billion dollar fine.
Only a few weeks ago, it appeared that neither party was close to an agreement, but now the bank is close to formalizing a $7 billion payment to avoid a federal lawsuit.
Federal investigators allege that the bank conducted shoddy mortgage practices before the financial crisis that caused homeowners incredible fiscal hardships. Those familiar with the talks expect that the settlement may occur as early as the coming week.
Difficult Negotiations
During the middle of last month, it appears that Citigroup was not willing to admit its role in creating toxic mortgages that later played a part in upsetting the national economy. Negotiations with the Justice Department were not going well. Both sides appeared far apart in their views.
The Justice Department warned that it would be willing to consider pressing a lawsuit if the bank was not open to making a significantly better settlement offer.
The stalemate in the talks was over the amount of the fines. Citigroup made an offer of $4 billion. The DOJ considered this inadequate to address the damage caused by Citigroup's lending practices and was asking for more than double that amount, a figure closer to $10 billion.
Citigroup Tries To Differentiate Itself
The bank had argued they should not be compared to JPMorgan Chase (NYSE:JPM), who paid $13 billion in November, 2013, because their conduct had not been as egregious. Citigroup senior executives argued that J.P. Morgan, along with its subsidiaries, had sold some $450 billion mortgage packages, while Citigroup had only sold some $90 billion.
Citi Executives Feared a Backlash
While large Citigroup investors thought the bank should risk a lawsuit rather than pay more than a $4 billion settlement, senior bank executives were not willing to risk facing a federal lawsuit for three primary reasons:
· First, a lawsuit would be a lengthy affair that would only increase the bank's legal costs without offering any guarantee of winning their argument and paying a lower penalty.
· Second, a lawsuit would feature the bank in a negative light for a protracted period of time, which could further damage consumer confidence.
· Third, the bank had already failed the Federal Reserve's "stress test" and did not want to further antagonize US regulators.
Next Steps For Settlement
Attorney General Eric Holder has made it a priority to close the Citigroup case before he leaves office later this year. Citigroup is considered one of the worst offenders in the mortgage scandal, because their conduct predates the financial crisis.
Justice Department attorneys believe that Citigroup performed far worse than other leading banks on the cusp of the financial crisis. The bank disagrees with this assessment.
The total penalty will be parceled out in ways that the bank can afford to pay-although these several billion dollars will likely still negatively impact its business. It is expected that the fines will not only be entirely in cash, but will include ways the bank can modify homeowner mortgages to provide consumer relief.
Next Steps For Citi Investors
Although Citi will likely be able to cover an approximate $7 billion fine, this is a staggering sum, which will likely negatively continue to impact the bank for some time.
While peer institutions are starting to innovate in new ways, such as investing more in tech startups, and moving away from trading and towards wealth management, Citi will have $7 billion less with which to compete with other mega banks.
Citi's negative press abroad, along with unsteady results YTD (missing earnings and revenues estimates 2/4 quarters), leads us to reiterate that investors steer clear of C in 2014.
With its multi-billion dollar penalty clarified, C will not likely be a solid income investment either. The bank has not raised dividends since 2008.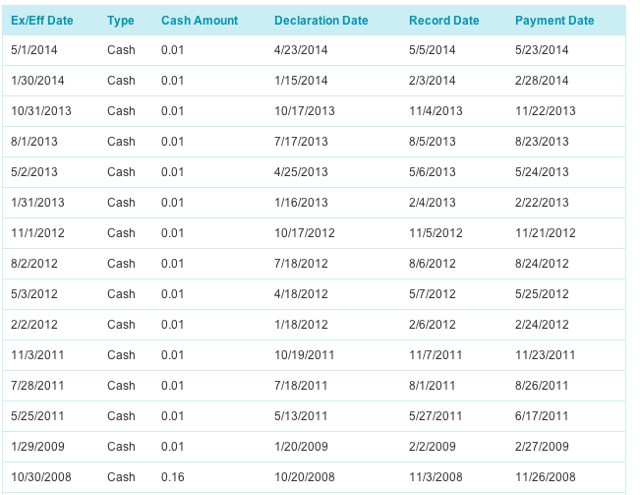 (Nasdaq.com)
The environment for large banks has been increasingly tough in 2014, with peer Bank of America leading the way in dragging down the industry's image; Citi will likely not be helped by this sentiment moving forward, either.
We expect that Bank Of America (NYSE:BAC) will also be writing a HUGE check in the next few weeks as it works out its settlement with the Obama Administration.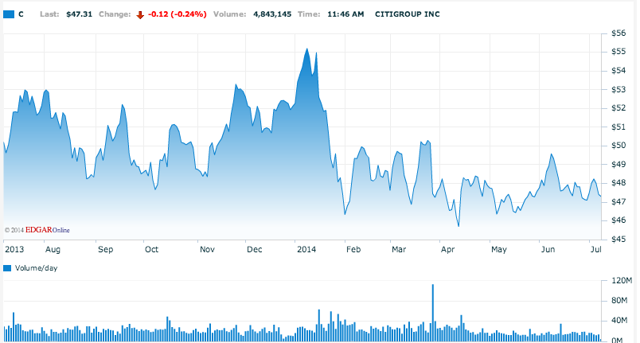 We invite readers wishing to join the discussion on Citigroup and other mega-banks to click +FOLLOW above the title of this article, and those looking for the latest developments to click the +Get real-time alerts button.
Disclosure: The author has no positions in any stocks mentioned, and no plans to initiate any positions within the next 72 hours. The author wrote this article themselves, and it expresses their own opinions. The author is not receiving compensation for it (other than from Seeking Alpha). The author has no business relationship with any company whose stock is mentioned in this article.