Today's Bear of the Day is a lesson in dividends. Like the big, shiny ones that people gravitate towards without knowing the entire story. It's a warning to at least slow down and check the water out before diving in head first. The Bear of the Day is Chesapeake Granite Wash Trust (NYSE:CHKR).
Royalty Trusts
CHKR is not your typical stock. When you buy shares of CHKR you're not investing in a company, you're purchasing shares of a royalty trust. Royalty Trusts are entities that own the production rights on oil wells, natural gas fields and iron ore mines. Part of their appeal is that these trusts typically pay out 90% of their earnings on the production to the shareholders as a dividend. As a result these trusts have incredible yields.
You have to be careful when selecting which trust to buy as not all trusts are created equal. Some own the rights to wells that are decreasing in production year over year and are basically a losing proposition. Other trusts have termination dates in the near future which mean the trust will cease to exist and become worthless.
Downward Revisions
So then what is the problem with CHKR? Well analysts have continued to revise their earnings expectations for the trust to the downside. They are basically telling you that the underlying wells are becoming less and less profitable over time, so that dividend that looks so nice right now will have nowhere to go but down. That's why it's stuck with a Zacks Rank #5 (Strong Sell) in an industry that's in the bottom 3% of all the industries we track with our Zacks Industry Rank.
Estimates for the current quarter have come down from 63 cents per share to 60 cents and down for next quarter from 64 cents to 60. Over the last four quarters, earnings have basically in line with estimates as there's not much guesswork involved in forecasting. You can see what the average price of oil and natural gas has been and you already know the proven reserves of the trust. Last quarter consensus was 66 cents which is exactly what the trust reported.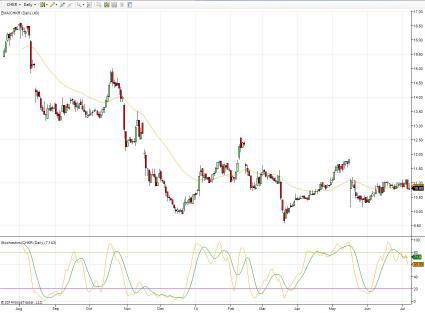 The chart doesn't make you bullish on the stock either. Last August the trust was trading close to $16.50 per share. Since then it has been a slow chop downward to the $10.80 level it closed at today. Here you can see how the dividend doesn't justify the sell-off in the stock. Losing $5.70 in value while paying out $2.58 in dividends. You'd have to double that sizable dividend and then some just to break even.
Today saw the stock close below its 40 day exponential moving average after failing to break out above the consolidation at $11. Investors looking to capitalize on the dividend capture should be careful. The stock could easily retest the $10 level. In May it traded well below that, nearly dropping to $9.50 before catching a bit of a bid.
Not all royalty trusts are in the position that CHKR is. MV Oil Trust (NYSE:MVO), for example, is a Zacks Rank #1 (Strong Buy) and is currently paying a 12.17% dividend.