Lithium has been one of the cornerstones of success for the mobile phone, smartphone, laptop, and tablet PC markets over the past decade. Lithium batteries for consumer electronics is an area that has seen significant growth due to population increase, increase in buying power in developing countries, and price decrease in electronics. Lithium ion batteries are at the core of many consumer electronic devices for their ability to withstand memory effects, slow discharge when in standby, safety features, and high energy density. The true tipping point for lithium-based batteries will be found with the widespread adaption of hybrid, plug-in-hybrid and full-electric vehicles, coupled with the growing need for utility-scale, grid-tied energy storage.
Asian manufacturers, which have traditionally dominated the global market for lithium ion batteries covering a variety of electronic categories, are leading the next wave of investment into production capacity. With production capacity comes the need for lithium carbonate equivalent (LCE), which is the raw material input for lithium ion batteries. Demand for LCE will grow from 129,000T in 2011 to 498,000T in 2025. The following graph illustrates the growth of lithium batteries with relation to lithium carbonate: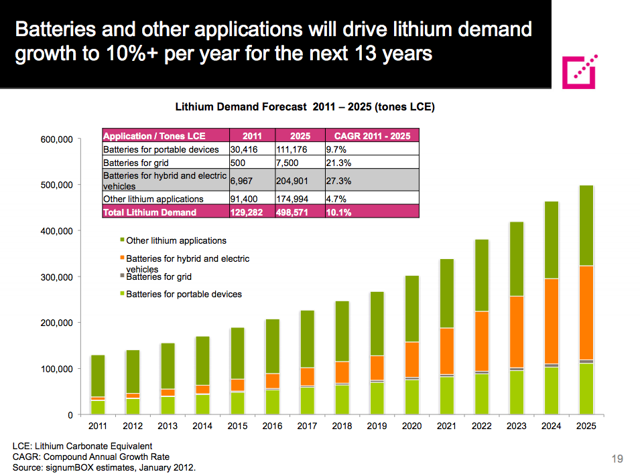 Lithium supply security has become a top priority for Asian technology and manufacturing companies. Strategic alliances, joint ventures, joint ventures and acquisitions, continue to be established with lithium exploration companies worldwide. This will ensure a reliable and diversified supply of lithium for Asia's battery suppliers and vehicle manufacturers. With lithium carbonate being one of the lowest cost components of a lithium-ion battery, the issue that Asian companies are addressing supply security attained which can be achieved by acquiring lithium from various lithium producers. These measures have been ongoing since 2009 which has seen Asian companies establish joint venture and acquire existing producers. These strategic moves have allowed battery and vehicle companies to alleviate the possibility of future lithium supply disruptions, which could have devastating consequences in a well-established and productive HEV, PHEV, and EV industry. Consider that both Korea and Japan, who are amongst the largest producers of lithium ion batteries have no lithium hard rock or salar brine deposits within their borders.
Japan: Toyota Motor's Direct Investment in Emerging Argentine Low Cost Lithium Project along with Increased Battery Production Capacity
Toyota Motor Corporation (TM) and Toyota Tsusho (South Sea) Corporation (OTC:TYHOY) have each made their own significant investments throughout the lithium supply chain. Yet collectively, their Joint Venture has allowed for a junior lithium explorer, currently surveying throughout Argentina, and has permitted a major ramp-up in the production of large format lithium-based batteries, en route to the mass roll out of the Toyota Prius Plug-in Hybrid Electric Vehicle (PHEV).
Toyota Tsusho established a joint venture with Australian-based Orocobre Limited (OTCPK:OROCF), a company who is aggressively working on a low-cost lithium brine project in Jujuy, Argentina. With the addition of Toyota, the project has continued to develop and today, the Olaroz Lithium Project is estimated to have reached a construction cost of $229M, including contingency. The Olaroz Lithium Project, fully funded through the Mizuho Corporate Bank, has joint equity contribution from both, Orocobre and Toyota.
It is rather obvious for individuals such as myself who study the lithium and battery business that Toyota's investment in future lithium producer was completed ahead of the strategic move to use Lithium based batteries in Toyota's line of PHEV vehicles. Further, The Nikkei Business Daily stated that Toyota Motor Corporation was planning to increase production of lithium-ion batteries by six times. It was also reported that a new production line was being planned at a cost of approximately $194M, allowing production to have an output capacity of 200,000 units per year. The report did not include if Toyota would begin to outfit all their Prius models with lithium-ion batteries, or have them solely for the PHEV model.
Korean Firm Moves to Secure Position in South American Lithium Production
Major South Korean electronics firms, such as LG (LPL), have indicated that they are seeking to be the number one producer of lithium ion batteries in the coming years. Another player is Korea-based Samsung Electronics Co. (OTC:SSNLF), who is currently selling electric vehicle batteries for BMW's i3 electric car through their Samsung SDI division.
In 2012, a consortium of South Korean firms announced that they would build a pilot plant to manufacture lithium cathodes, the main component in lithium ion batteries in Bolivia near Salar de Coipasa. The agreement with Corporacion Minera de Bolivia, the Bolivian state mine company was a major breakthrough for Bolivia as they struggled to align their development plans for their lithium brine deposit. Bolivia is believed to be housing the largest lithium deposits in the world.
Further, South Korean based POSCO (NYSE:PKX), a multinational South Korean steel-making company which is ranked in the top five globally, has been investing in new lithium extraction technologies and made direct investments of $10million in junior exploration company Li3 Energy (OTCPK:LIEG) to further advance its lithium brine project in Chile
China Takes a Big Stake in the Global Lithium Production
In 2012, Talison Lithium Ltd announced that it was being acquired by China's Chengdu Tianqi Industry Group Co, Ltd in an all cash transaction which valued Talison at approximately $848million on a fully diluted basis. Talison Lithium Ltd owns and operates the Greenbushes hard-rock spodumene mine in Australia and is amongst one of the top lithium producers globally.
Shanshan New Material Co signed a contract to invest $486million to build China's largest product ion base of lithium battery materials. It is expected to produce 100,000 tonnes of lithium battery anode materials when completed. Shanshan is also listed as a strategic investor in Rodinia Lithium, a junior explorer active in Northern Argentina. Shanshan is one of the world's largest producers of materials used for the manufacturing of lithium ion batteries, and the largest in China. Shanshan's lithium-ion battery material plants are located in the cities of Shanghai, Hunan, Ningbo and Dongwan, and are all significant end users of lithium carbonate.
The key issue for China is that they are already the world's largest user of lithium but their lithium salar and hard rock deposits account for a small portion of the global lithium deposits. It is still unclear how much lithium they are able to extract, what purity levels can be obtained and at what cost, if feasible at all. Further, it is still unclear how and when China will develop the deposits. So it is a surprise that small Canadian lithium hardrock producer RB Energy announced in 2013 signed an off take agreement with China's Tewoo -ERDC? Not at all, in fact even though hardrock is more expensive that lithium obtained from salars, Canada offers the benefit of geopolitical stability compared to some of the regions in South America. RB Energy (OTCPK:RBEIF) owns and operates a hard rock lithium facility in Quebec, Canada which is currently being ramped up to commercial production levels in Q3 2014 which have a 20,000T/year battery-grade lithium carbonate capacity.
Disclosure: The author has no positions in any stocks mentioned, and no plans to initiate any positions within the next 72 hours. The author wrote this article themselves, and it expresses their own opinions. The author is not receiving compensation for it (other than from Seeking Alpha). The author has no business relationship with any company whose stock is mentioned in this article.
Editor's Note: This article covers one or more microcap stocks. Please be aware of the risks associated with these stocks.