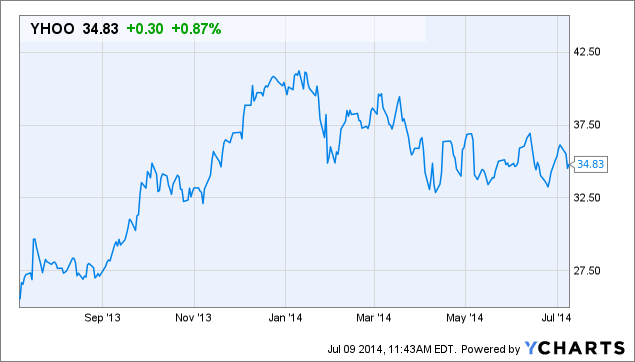 Background: Yahoo Inc. (NASDAQ:YHOO), together with its subsidiaries, operates as a digital media company that delivers personalized digital content and experiences worldwide. It offers online properties and services to users in three categories, including communications and communities, search and marketplaces, and media.
52-Week Range: $25.74 to $41.72
Forward Price-To-Earnings Ratio: 19.1
Price-To-Book: 2.8
Strong second-quarter earnings growth is expected by Wall Street after the market closes on July 15, 2014. The consensus mean is 38 cents a share, a gain of 3 cents (8.6%) from 35 cents during the corresponding quarter last year. An improvement, to be sure, but compared to Amazon (NASDAQ:AMZN), Google (NASDAQ:GOOG) (NASDAQ:GOOGL) and Microsoft (NASDAQ:MSFT), it's not enough.
Analysts' estimates of this quarter range from 31 cents to a high of 48 cents per share. If Yahoo delivers at least the expected results in this report, this quarter will mark an improvement over the previous. Last quarter sequentially, the company made 38 cents per share, 1 cent more than the estimate.
Analysts more or less approve of Yahoo's direction. Nineteen of the 33 analysts covering the company give a buy recommendation. Fourteen analysts rate it a hold, and zero have sell ratings. Analysts overall have called this one correctly. In the last 12 months, the shares have accelerated higher, with an eye-popping one-year return of 41%. The average analyst current target price for Yahoo is $41.38.
I find reviewing the going option premium for the first contracts expiring after the earnings release valuable. Expensive or cheap options indicate mathematically the degree of volatility shareholders and investors anticipate. All else being equal, higher premiums mean increased expected price swings.
Option prices tell us that the market is pricing in a 6%, or about $2.29, move in the next 11 days.
That means, as a shareholder or potential investor, you should anticipate the stock to trade as low as $33.21 or jump higher to $37.79, and still remain within one standard deviation. If you're not already prepared for such a broad move (and there's no guarantee it won't move beyond the expected range), you want to make the necessary adjustments.
After last quarter's results, the shares increased a modest 6.3%, or $2.14, from the close before the earnings release to the closing after. The closing trade the day before the release was $34.21, and ended at $36.35 the next day.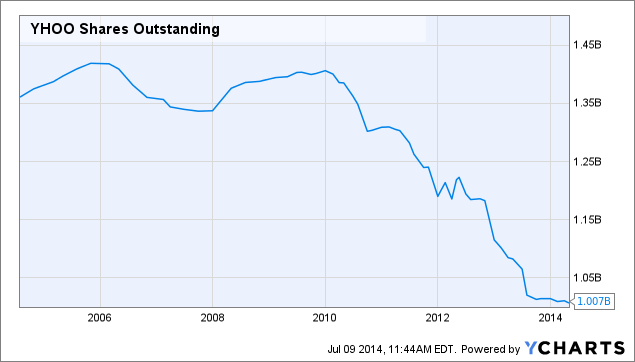 YHOO Shares Outstanding data by YCharts
From the closing price before last quarter's results until now, the shares rose a small 3.8%, or $1.29. The price before the release was $34.21, and is currently about $36.35 as of this writing.
Since Marissa Mayer took the helm as CEO about two years ago, the company has bought many firms to add to its portfolio of sites, but little else. The most significant driver in share price growth is coming from Alibaba. Yahoo owns about 24% of Alibaba, and the Chinese internet giant's valuation has skyrocketed during the last three years.
The $1 billion investment into Alibaba makes Jerry Yang (previous Yahoo CEO) the greatest investment mind of all time in terms of return on investment in dollars.
After removing investments including Yahoo Japan and cash, Yahoo is one of the best buys, if not the very best, Wall Street has to offer from a price-to-operations aspect. After missteps in search, commerce, online auctions, email and other less significant categories, Mayer has plenty of work in front of her.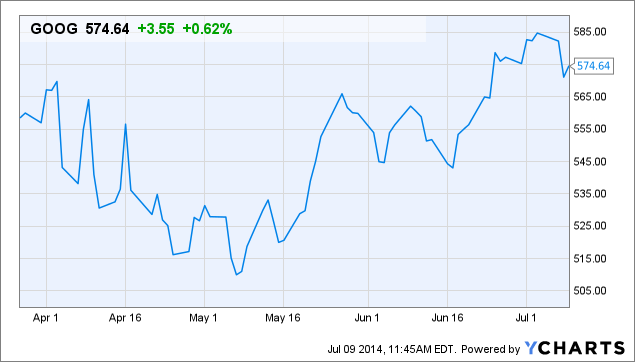 Google ripped apart Yahoo's once-dominant search, browser homepage selection and email. In the last five years, the best Yahoo accomplished is teaming up with Microsoft's Bing to provide what Yahoo should be able to do on its own.
Yahoo's Flickr, a service I use myself, recently increased the hosting size to a full terabyte of data for free. I've uploaded hundreds of pictures, and have about 97% of my allocation still available. So that's great for me, but where is Flickr's upselling? If users work really hard and spend a considerable amount of time, they can figure out how to buy additional services from Flickr, but short of that, it's not easy. Yahoo should - no, wrong word - NEEDS to make it easy and have many services and products available for sale to maximize revenue. I do see ads, but even there Yahoo fails; it should be ads for Yahoo Stores, but I didn't see any.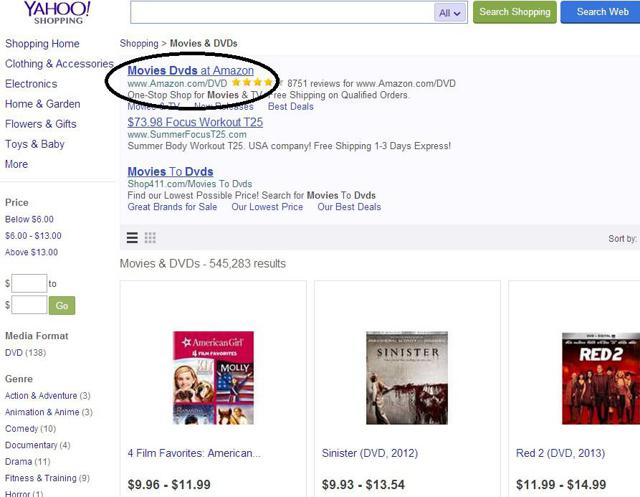 And looking at Yahoo Stores, it's failing on many levels also. As I wrote this, I went to Yahoo Shopping and clicked on Movies and DVDs. What's the first thing I see on the very top? An ad for Amazon and two other non-Yahoo Store sites. Really? You won't find ads for Yahoo Stores on the top of an Amazon product category.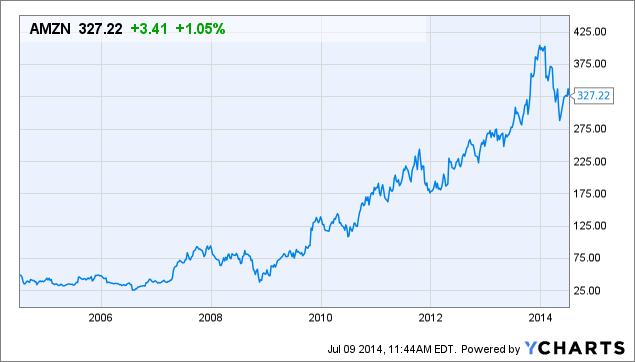 It's no small wonder why merchants are selecting Amazon over Yahoo. General ad revenue doesn't pay well, and CPM rates continue to fall year after year. In other words, Yahoo is stepping over a dime to pick up a penny. Yahoo could make much more in commerce if it focused on promoting its stores instead of promoting Amazon.
Alibaba has already signaled it is entering the North American e-commerce market with 11main.com, which is likely a first nail in Amazon's coffin, albeit the move will also make life tougher for Yahoo in the process. The upside to increased competition, of course, comes from the fact Yahoo will remain an owner of Alibaba shares after Alibaba's IPO.
Returning to Flickr and online storage, Microsoft increased its limit for cloud storage also to one terabyte for Office 365 subscribers. Households that subscribe to Microsoft's Office 365 Home service can get a total of five terabytes of cloud storage along with the Office suite for five PCs/users for as little as $1.67 per user a month.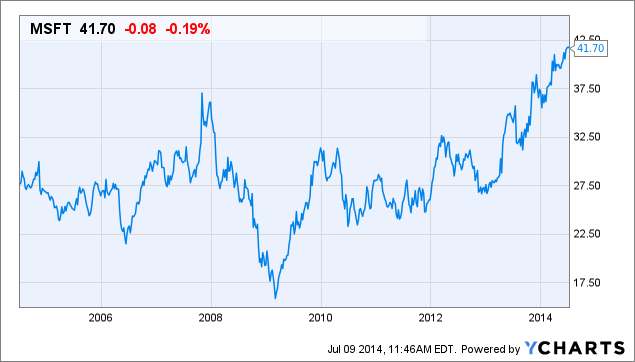 MSFT data by YCharts
It's reasonable to assume that the extra flexibility and value Microsoft offers for $100 a year will appear attractive to consumers comparing picture storage between Yahoo and Microsoft.
Hopefully Mayer is finished with the shopping spree and will turn her attention on regaining ground from previous employer Google. There's room for improvement with Gmail that Yahoo can exploit with the right focus and value-add. Microsoft is doing it with Office 365, as I mentioned, and Yahoo needs to do the same.
In my opinion, that equates to greater potential for Yahoo and a net positive for investors considering the stock. Against Amazon, I think the same for a different reason. Amazon charges relatively high fees for merchants, and Yahoo could, with a merchant-centered focus, develop a more robust shopping ecosphere though vigorous promotion and lower fees than Amazon (and increase its current fees).
In total, I think Yahoo is a buy, especially when compared to Amazon's sky-high price-to-earnings multiple and Google's relatively high multiple. Between Microsoft and Yahoo, I think Microsoft is a better bet for conservative investors; however, for slightly more risk and no dividend, Yahoo is incredibly cheap, based on its potential.
Disclosure: The author has no positions in any stocks mentioned, and no plans to initiate any positions within the next 72 hours. The author wrote this article themselves, and it expresses their own opinions. The author is not receiving compensation for it (other than from Seeking Alpha). The author has no business relationship with any company whose stock is mentioned in this article.