eLong (NASDAQ:LONG), a Chinese online service travel provider, has risen 60% over the past month based solely on takeover rumors. I believe these takeover rumors are false, and once it is apparent to the market that they are, eLong will swiftly give back most of those gains, for a 30-40% decline in the stock. eLong has always been an underperformer in the China online travel space and there's no evidence that things have changed.
Compared to other Chinese travel company stocks, LONG has gone on a huge upswing in the past month. The following chart compares its performance to Chinese travel companies Ctrip (NASDAQ:CTRP), Home Inns (NASDAQ:HMIN), Qunar (NASDAQ:QUNR) and Tuniu (NASDAQ:TOUR):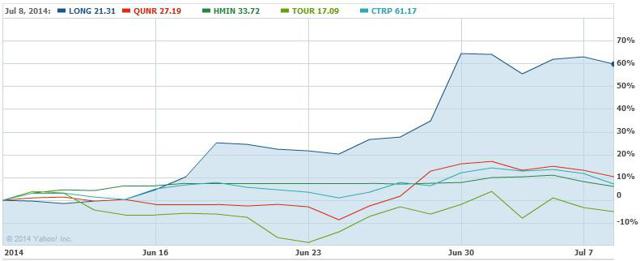 As shown above, LONG's 60% increase in the past month is far above the sector, which has barely moved. Why is this? Is it because there's evidence that it will become profitable? Is there an expected influx of customers that wasn't known about over a month ago? No, and no. eLong missed on the top and bottom line in Q114 from its report and lost $0.16 per share. eLong was unprofitable in 2013, and management says it may never become profitable. eLong's important partner ditched it in May to work with Ctrip. eLong is a poorly managed, unprofitable company.
Fundamentally, a 10% increase in share price makes sense because the sector has done well this year. But the other 50% is due to one reason and one reason only: someone has spread buyout rumors that Ctrip will acquire eLong.
Word to the wise: buying a stock just because you think it will be acquired and not on its own merits is a dangerous game. A stock should primarily be bought for its stand-alone value because if it can't perform on its own, then it is likely an undesirable buyout candidate. This is the case regarding eLong, and if a buyout doesn't end up happening, shareholders can be in for a 30%-40% decline. Therefore, you have to be extremely confident that eLong will be acquired in order to buy the stock. So what are the chances that eLong will be acquired? I think very low for two main reasons:
1. Ctrip is taking market share from eLong, and recently stole a significant partner. eLong doesn't have any product or service that Ctrip doesn't have.
2. Expedia (NASDAQ:EXPE), which owns 65% of eLong stock, stated that it doesn't want to sell its stake.
Ctrip Is Taking Market Share And Stole eLong's Partner
Why would Ctrip bother acquiring eLong, when it's growing revenues at a faster rate? Ctrip is doing fine building its own business organically.
T.H. Capital, based out of China, published a negative report on LONG in May 2014. They have a "HOLD" rating on the stock with no price target. The analyst is not even willing to put out a price target, which is a bad sign. Here is what he said:
LONG's 1Q14 revenue results and 2Q14 revenue guidance are not encouraging. Its 1Q14 results were weaker than expected with revenue and loss per ADS below consensus; and the company's 2Q14 top line guidance was also below the Street expectation. The slower revenue was partially driven by the slower growth in booking volumes compared with its peer Ctrip.
and
In 1Q14, LONG experienced slower volume growth at 43% from 72% in 1Q13 and unit price decline 21%, which led to the hotel commission revenue increasing only 14% Y/Y. Such slower growth we believe can be attributable to competition: 1) The company's hotel room nights booked as a % of Ctrip (CTRP, $50.54, Buy) decreased to 54.5% in 1Q14 from more than 65.3% in 3Q13. In addition to Ctrip, eLong also faces competition from other types of hotel booking vendors such as group-buy vendors. Its booking from the group-buy segment decreased to about 10% in 1Q14 from 15% of total hotel volume in 1Q13, due to pressure from group-buy companies like Meituan; and 2) Commission per room night decreased 21% Y/Y, primarily due to the growth of the coupon program. Without the coupon program, we believe the room night volume could be even lower. Therefore, to combat all types of competition, LONG has no alternatives but to continue its coupon program before the company comes out with other options.
Ctrip steals eLong's new business partner
On April 9, 2014, eLong entered into a strategic agreement with Tongcheng (www.LY.com). From the PR:
Under the agreement, eLong will become the exclusive provider of agency hotel and group-buy hotel inventory for Tongcheng in mainland China, and Tongcheng will become the exclusive provider of scenic attraction ticket inventory for eLong
eLong was so proud of this strategic partnership with Tongcheng that it included it in its Yahoo Finance description.
Then, on April 28, 2014, Ctrip came in and invested $200M into Tongcheng and became the second largest shareholder.
Then, only one month later, on May 22, 2014, eLong and Tongcheng terminated their agreement!
In exchange for termination of the strategic cooperation agreement, Tongcheng agreed to pay eLong CNY30M, and paid this amount on 22-May-14.
eLong forgot to tell Yahoo Finance to remove the strategic partnership agreement with Tongcheng from its description.
Obviously Tongcheng viewed a strategic relationship with Ctrip to be more valuable than the one it had with eLong. A company that can lose its partner so easily is likely not very desirable to acquire. Why would Ctrip do such a cruel thing to eLong if it planned to acquire it?
Expedia Doesn't Want To Sell Its eLong Stake
Only July 7th, Expedia reported that the eLong buyout rumors are inaccurate. Expedia owns 65% of the outstanding shares of eLong and has 82.4% of the voting rights. Its eLong shares are worth more to Expedia than other eLong investors because Expedia is partnering with eLong and can funnel business to Expedia through eLong's marketing and partnership deals.
As long as Expedia is getting revenue through eLong's customers and its marketing, then it's fine for Expedia if eLong stays unprofitable. This is a big reason why eLong is sacrificing profits for increased marketing expenses. eLong lost money last year and will continue to be unprofitable this year. This was confirmed by management in the 20-F filing:
We operate in a highly dynamic industry in a fiercely competitive market, and cannot assure you that we will report operating or net income during 2014 or any future period. A significant factor contributing to our operating and net loss in 2013 was growth of our sales and marketing expenses, which increased by 58% year-on-year from RMB412.3 million or 55% of our net revenues in 2012 to RMB652.3 million (US$107.7 million) or 65% of our net revenues in 2013, primarily due to increased online, mobile and offline marketing expenses, as well as increased hotel commission payments to our distribution partners. In a growing and competitive market, our sales and marketing expenses may continue to increase in the future.
Expedia has its own shareholders' interests at heart, not eLong shareholders' interests. Other eLong shareholders don't have any advantage to owning eLong, other than the profits that eLong will possibly make.
Here, on Expedia's website, there are Chinese hotels listed through eLong. You won't find Ctrip's hotels on Expedia's site.
Expedia is playing this same game in other countries. It's going to acquire Wotif.com, an Australian travel agency, and last year bought 62% of German travel site Trivago. Trivago claims to be a neutral third party comparing prices of different sites, yet in its advertisements it promotes Expedia companies. Here is a clip of a Trivago commercial promoting easytobook.com and hotels.com, both owned by Expedia.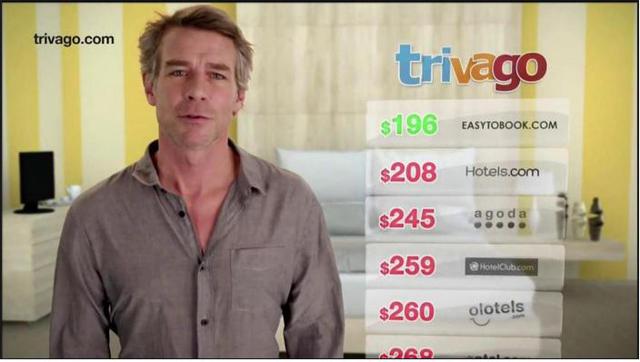 I also just saw a similar Trivago commercial two days ago with the same actor and it had "Expedia" as the site with the best deal. Unfortunately, I couldn't find that picture online.
Selling eLong doesn't fit into Expedia's expansion strategy, so it likely wouldn't sell its LONG shares at a price worthwhile to Ctrip.
Once The Hype Is Gone, Expect eLong To Crash
eLong will be reporting Q214 results soon, expected on August 13th. As its Q114 results were weak and below consensus on both the top and bottom lines, I don't expect Q2 to be very good either. I don't expect there to be any talk or encouragement about a buyout, and the news of a lousy Q2 will overshadow the buyout rumors, if they still have any power by then. I expect the stock to trade somewhere in the mid-teens in the next month or two.
Disclosure: The author is short LONG. The author wrote this article themselves, and it expresses their own opinions. The author is not receiving compensation for it (other than from Seeking Alpha). The author has no business relationship with any company whose stock is mentioned in this article.