On June 30, 2014 Linn Energy LLC (LINE) and LinnCo LLC (LNCO) announced LINE had signed a definitive agreement to acquire assets in five U.S. operating areas from Devon Energy Corp. (NYSE:DVN) for $2.3B. The DVN assets are currently producing about 275 MMcfe/d (approximately 80% natural gas). They have a shallow decline rate of about 14% per year. Total proved reserves are estimated to be 1.3-1.5 Tcfe (approximately 75% PDP) with a resource potential of 3 Tcfe. The asset package amounts to about 900,000 net acres in five regions: the Rockies, the Mid-Continent, east Texas, north Louisiana, and south Texas. The properties have approximately 4,500 total wells. LINE has identified over 1,000 future drilling locations and over 600 recompletion opportunities. These properties fit well geographically into LINE's current portfolio of holdings in those areas (see map below).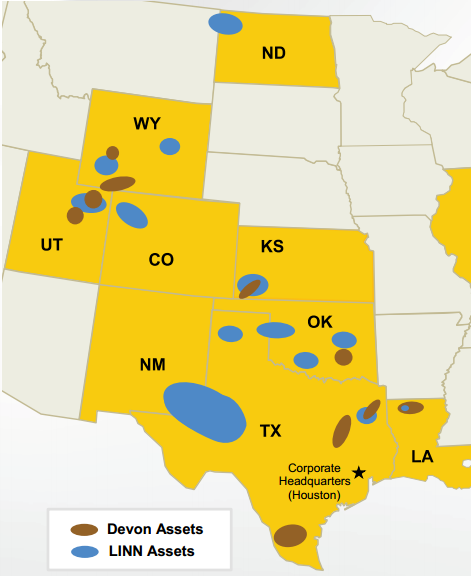 In order to finance this acquisition LINE has secured $2.3B of committed interim financing, subject to final documentation. The financing was arranged by Scotiabank; and it included Barclays (NYSE:BCS), RBC Capital Markets, and Wells Fargo (NYSE:WFC). The transaction with DVN is expected to close in Q3 2014, with an effective date of April 1, 2014.
The above financing is only the "interim solution." Longer term LINE plans to finance this acquisition by selling its Granite Wash and Cleveland plays located in the Texas Panhandle and western Oklahoma. Currently LINE is operating four rigs in the area; and it is producing 230 MMcfe/d of liquids-rich natural gas. LINE has successfully delineated 17 horizontal intervals in these areas. It has catalogued a significant drilling inventory in the approximately 147,000 net acres. LINE also developed substantial infrastructure, including midstream and water handling facilities, to support its efforts there. These may be sold too.
LINE hopes to makes the sale of its Granite Wash properties an effective swap (a 1031 exchange) of these properties for the Devon Energy properties by selling the Granite Wash properties within the required time window (180 days). In this way, LINE hopes to pay no taxes on the Granite Wash sale.
Why does this exchange appeal to LINE and LINE shareholders? The major reason seems to be the decline rate of the two different properties. The DVN assets, have a decline rate of about 14% per year. The Granite Wash and Cleveland assets have a decline rate of about 40% per year. For the DVN assets LINE will only have to reserve 20% of EBITDA from the assets' production sales to maintain the cash flow from those assets. For the Granite Wash and Cleveland assets, it now has to reserve about 40% of the EBITDA from those assets' production sales in order to maintain the cash flow. Raymond James analysts Kevin Smith and Jeff Schmidt estimate that LINE could reduce its overall capital budget by roughly $400 million through this exchange and the recent Permian divestiture. This extra money should improve LINE's distribution coverage immensely. The exchange should be accretive to distributions to unit holders; and it should be credit positive. It should make LINE's income stream more predictable. Further one is inclined to believe that 896,000 net acres (from DVN) will eventually prove to hold a lot more resources than 147,000 net acres (LINE's Granite Wash and Cleveland holdings).
In addition, this deal and the intended subsequent Granite Wash sale should improve LINE's long-term outlook. If natural gas prices revert to their historical norm eventually of 6-12 mmbtu of natural gas per barrel of oil, this deal could turn out to be a huge win for LINE. As of this writing July 9, 2014, the ratio of mmbtu of natural gas to oil is about 24.5 mmbtu per barrel of oil. Using the midpoint of the historical norm range of 9 mmbtu/barrel of oil, the price of natural gas would be expected to go up by approximately 2.7-fold in order to reach the historical norm. This would put natural gas prices in approximately the $11/mmbtu range given today's oil prices.
The following article, "U.S. Natural Gas Stores Are Dangerously Low, That's Good For Pipeline And Storage Companies," delineates a lot of the supply and demand reasons to expect U.S. natural gas prices to rise in the next few years. Such a rise would be a huge boon to LINE. It had 481 MMcf/d of natural gas production in Q1 2014, which this deal will further increase. For Q1 2014, this was 43.6% of production. Much higher natural gas prices in the next few years would add significantly to profits and to monies available for distribution.
All told, this deal looks very positive for income investors who are LINE/LNCO unitholders and shareholders. For income investors, LINE with its 8.89% distribution and LNCO with its 9.32% dividend are bigger buys after this like kind exchange than they were before it. This is presuming that LINE gets a reasonably good deal for its Granite Wash and Cleveland assets. The company seems very upbeat about that possibility. It probably is already in talks with one or more buyers.
The two-year charts of LINE and LNCO provide some technical direction for this trade.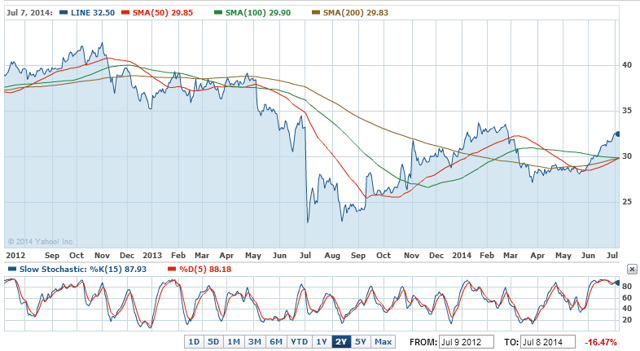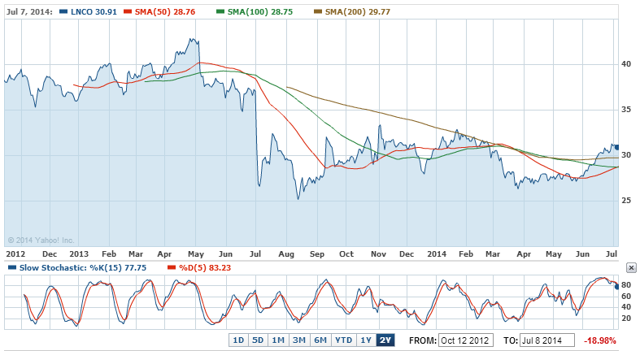 The slow stochastic sub charts above show that both LINE and LNCO are at or near oversold levels. The main charts show that LINE and LNCO are attempting to move higher. At worst, they are consolidating sideways. Both situations are acceptable to income investors. The deals described above are fundamentally and fiscally sound moves by LINE's management. They should do nothing but help both LINE and LNCO stocks move higher. As both stocks are near overbought levels, investors may wish to wait for a pullback. Alternatively, they may wish to average in.
LINE and LNCO are given average analysts' recommendations of 2.4 (a low buy) and 2.2 (a buy) respectively. Further LINE is well hedged, so its income is safer than that of many other companies. Income investors should like both stocks.
NOTE: Some of the fundamental fiscal data above is from Yahoo Finance.
Good Luck Trading.
Disclosure: The author has no positions in any stocks mentioned, but may initiate a long position in LINE, LNCO over the next 72 hours. The author wrote this article themselves, and it expresses their own opinions. The author is not receiving compensation for it (other than from Seeking Alpha). The author has no business relationship with any company whose stock is mentioned in this article.