CME Group, Inc. (NASDAQ:CME), through its subsidiaries, operates contract markets for the trading of futures and options on futures contracts worldwide. It offers clearing and settlement services for exchange traded products, provides various market data services, and serves professional and individual investors, corporations, and institutions.
Formerly known as Chicago Mercantile Exchange, it has been around for over 110 years and is headquartered in Chicago, Illinois.
We are rating CME a sell right now based on several fundamental and technical indicators. CME is now trading at $71.35.
Fundamental:
CME is currently trading at a trailing twelve P/E of 23.4 and a forward P/E of 18.8. These are both higher than the market median, and higher than the industry average for trailing twelve P/E of 12.48.
CME has a price/sales ratio of 7.81 versus the market median of 1.90 and the industry average of 4.84.
CME has a price/cash flow of 19.01 versus the market median of 13.40 and industry average of 16.80.
Considering the above metrics, CME is trading at a considerably higher valuation than its industry and the market as a whole.
That by itself isn't a reason to sell, but does mean that for it to continue to go up, a lot of things have to go right.
Looking at the below returns figures, we see a stable if not declining pattern. Additionally, these are well below the industry average.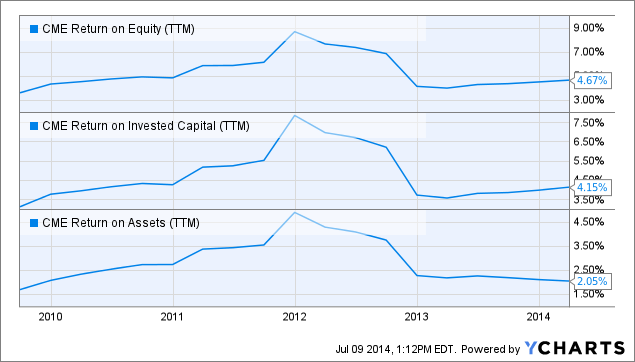 CME Return on Equity (TTM) data by YCharts
The industry average for diversified financial services has an average ROA of 6.06%, ROI of 10.01%, and ROE of 26.35%.
The margins have been decreasing, but are still considerably higher than the industry average.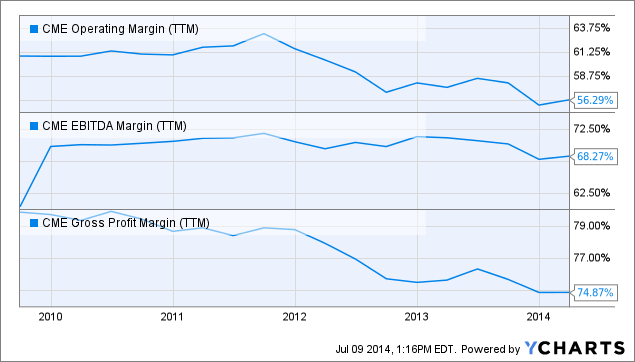 CME Operating Margin (TTM) data by YCharts
This will be something to watch as the revenues and EPS have each decreased over the past 3 years, but are up over the past 5.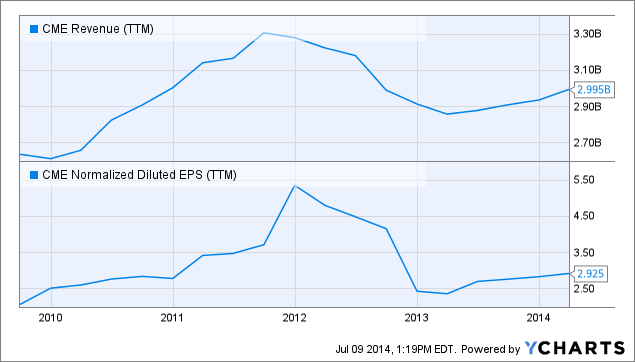 CME Revenue (TTM) data by YCharts
CME has little debt with a Total Debt/Equity ratio of 12.4%, but has a decreasing cash balance due to payback of short-term debt in Q1 2014: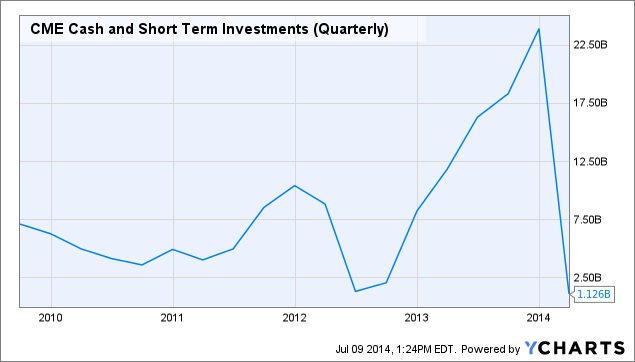 CME Cash and Short Term Investments (Quarterly) data by YCharts
Despite an announced share buyback in 2011, shares outstanding have actually increased over the past 5 years, with 334M shares now versus 332.5M in 2009.
CME has a dividend yield of 2.59% with a payout ratio of 62.5% and dividend coverage of 1.6 versus 2.0 for the industry. This is a stable dividend and has increased over the past 3 years, and we see no reason why this shouldn't continue.
Technical:
Looking at the chart, CME is above the 50-day SMA but below the 200-day SMA: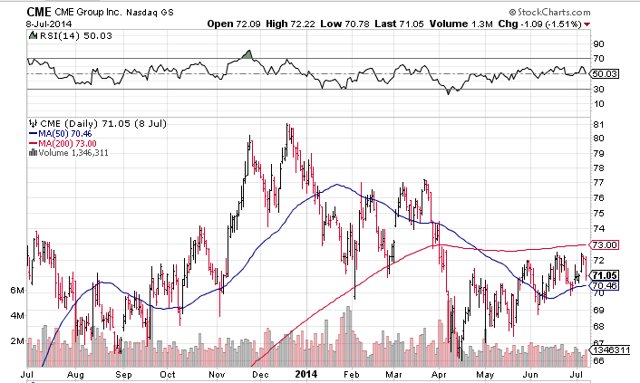 It looks to be in a consolidating range with strong resistance at several areas above the current price, making any considerable move above the current price difficult.
To arrive at a valuation of $71/share, CME needs to grow its earnings at about 8% per year using a 10% S&P 500 benchmark. This is certainly reasonable as it is projected by analysts to grow its EPS by 13.17% per year over the next 3-5 years.
Using a reversion to the mean calculation and a median P/E ratio of 18, a 2.59% dividend yield, and an earnings growth rate of 8%, we arrive at a total annual return projection over the next 5 years of 5.1%. (It was below an 18 P/E ratio for almost all of 2011 and 2012.)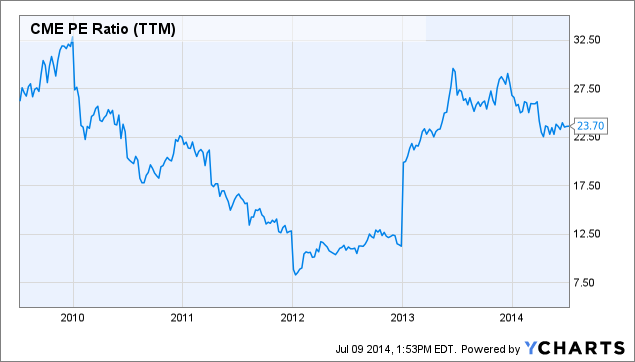 CME PE Ratio (TTM) data by YCharts
While 5.1% per year is still positive, this does assume it continues to grow its earnings at a high single digit rate. This may be difficult as revenues have been flat and it has not initiated any meaningful share repurchases. Additionally, a reversion to a P/E of 17 or below is possible, decreasing the total return projection.
This combination of factors leads us to a sell decision at the $71.35 area: high valuations, stagnant revenue and EPS, decreasing (although admittedly high) margins, low return on invested capital, low relative strength ranking and significant overhead resistance.
(All numbers used in analysis, other than YCHARTS, come from Fidelity.com)
Disclosure: The author has no positions in any stocks mentioned, and no plans to initiate any positions within the next 72 hours. The author wrote this article themselves, and it expresses their own opinions. The author is not receiving compensation for it (other than from Seeking Alpha). The author has no business relationship with any company whose stock is mentioned in this article.
Additional disclosure: Kerry Prazak, CFP® is the owner and portfolio manager of East Lake Financial, LLC, a Registered Investment Adviser. Kerry Prazak, East Lake Financial, and/or its clients may hold positions in any ETFs, mutual funds, and/or any investment asset mentioned above. The comments above do not constitute individualized investment advice. The opinions offered here are not personalized recommendations to buy, sell or hold securities.