Several asset classes have benefited in earnest from the Federal Reserve's efforts to keep U.S. interest rates low for an extended period of time, though few have benefited in a manner similar to master limited partnerships (MLPS).
Over the past several years, investors have poured billions of dollars into individual MLPs and exchange traded products that hold MLPs. There are now about 20 MLP ETFs and exchange traded notes (ETNs) on the market, several of which have stood out this year.
That group includes the Global X MLP & Energy Infrastructure ETF (NYSEARCA:MLPX), which is up 21.6% year-to-date, making it one of 2014's top-performing energy ETFs. Important to MLPX's backstory is that the ETF skirts some of the thorny tax issues often associated with MLP funds.
MLPX doesn't hold more than 25% of its holdings in MLPs due to regulatory restrictions. However, since MLPX is structured as a Regulated Investment Company or Unite Investment Trust, the fund is eligible to pass taxes on capital gains, dividends or interest earned directly to clients or individual investors. This process helps protect investors from double taxation where the company and individual investors would be taxed.
Some rival MLP ETFs use a C-corporation structure and incur deferred tax liability out of the returns, meaning true expenses on those funds are often well above the stated expense ratio.
The structure has worked for MLPX. Not only does the ETF feature an expense ratio of 0.45% compared to an industry average of 0.8% MLPX is growing in a big way. It was just last month that Global X announced MLPX had over $100 million in assets under management. The ETF entered Monday with more than $152 million in AUM.
MLPX has also benefited from recent industry consolidation. Last month, units of Williams Cos. (NYSE:WMB), the Oklahoma-based operator of a natural gas pipeline system that stretches from Texas into the Southeast and up through the mid-Atlantic region, surged on news the company will pay almost $6 billion for the 50% of Access Midstream Partners (NYSE:ACMP) it does not already own. Units of Williams Partners (NYSE:WPZ), the master limited partnership with natural gas gathering and processing operations in the Marcellus and Utica shales, gained more than 7%.
Williams Cos. is MLPX's largest holding at almost 10% while Williams Partners and Access Midstream combine for nearly 2% of the fund's weight. In another sign of MLPX's strength, four of the ETF's top-five holdings, a group that combines for about 41% of the ETF's weight, have posted double-digit returns this year.
Global X MLP & Energy Infrastructure ETF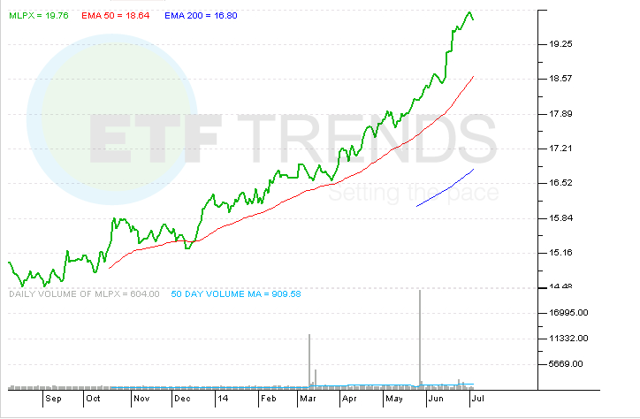 ETF Trends editorial team contributed to this post.
Disclosure: The author has no positions in any stocks mentioned, and no plans to initiate any positions within the next 72 hours. The author wrote this article themselves, and it expresses their own opinions. The author is not receiving compensation for it. The author has no business relationship with any company whose stock is mentioned in this article.