Since the financial crisis, all US banks, including the biggest Wall Street banks, have diligently worked to cut expenses. This year, the theme is being reintroduced to investors.
Cutting Occupancy and Fixed Costs
One way the banks have tried to scale back on costs is by reducing the cost of occupancy and fixed assets by closing down bank branches and reducing office space in surviving branches.
The six biggest banks -- JPMorgan Chase (NYSE:JPM), Bank of America (NYSE:BAC), Citigroup (NYSE:C), Wells Fargo (NYSE:WFC), Goldman Sachs (NYSE:GS), and Morgan Stanley (NYSE:MS) -- were particularly aggressive in following these measures of reducing their real estate presence in less prosperous neighborhoods.
Cost-Cutting Measures Countered By Increased Expenses
Despite these measures, bank expenses have increased.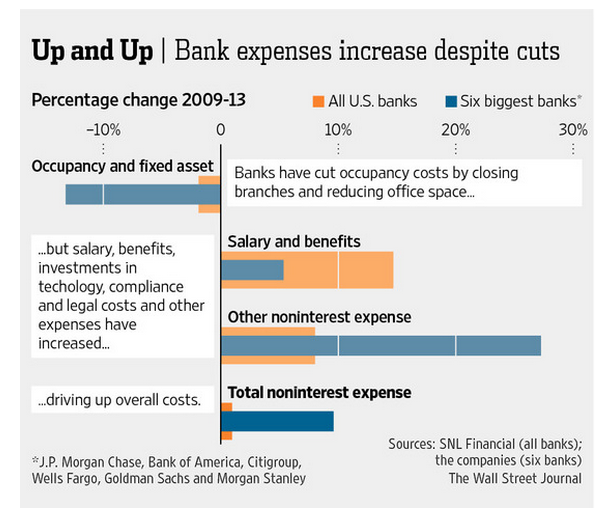 (Source: online.wsj.com)
While salary, benefits, and the cost of investing in new technology went up, the biggest expenses that the banks face, particularly the six biggest banks, was due to compliance expenses and meeting increasing legal costs.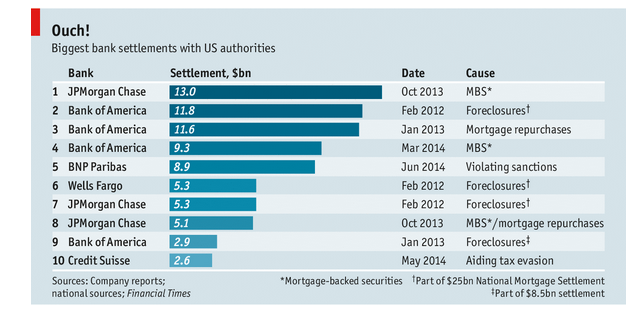 (Source: online.wsj.com)
These costs skyrocketed because government prosecutors became increasingly efficient in making the banks take responsibility for their flagrant disregard for the law and for abiding with banking regulations.
Massive Layoffs and Reduced Revenue Causing Loss of Public Confidence
As a result of these cost-cutting measures, tens of thousands of bank employees lost their jobs.
Bank of America recently recently laid off more than 400 employees in its Charlotte headquarters.
This huge loss of people power makes banks less efficient and over-tasks remaining employees.
Besides the large layoffs and the increasing inefficiency of day-to-day banking business, the banks lost further public confidence as the media exposed the generous and expansive pay packages handed out to chief executives and other senior banking officials and the efficiency with which government prosecutors exposed various levels of fraudulent banking practices, resulting in fines totaling billions of dollars.
These megabank executives continue to fly on their fleet of private jets during this current layoff period. These executives have not learned the lessons from the auto CEOs, as is obvious given they continued to fly to Washington with their own pilots -- until they got a wake-up call from the Obama Administration and Congress at a public hearing.
A Stormy Macro View
All these changes affecting the banking industry resulted in a drastic revenue slowdown, a tepid demand for loans, and a reduction in consumer demand for mortgage financing.
Profits have come under pressure, with this year looking particularly grim. In a reflexive move to stay in business, banks are feeling the squeeze to find yet more ways to save on expenses.
Investors Listening to Recycled Promises
The theme of most senior executives when communicating with investors this year is cost-cutting measures.
Bank of America Chief Financial Officer Bruce Thompson spoke at a recent investor conference about a continuing drive to focus on recovery by cutting expenses. However, these cost-cutting slogans, dubbed "Project New BAC" were actually promoted as far back as 2011, without much progress to date.
Also repeating stale promises this year is JPMorgan Chief Executive, James Dimon, who has sworn to practice extreme vigilance when it comes to expenses (except when it comes to him).
Investors Not Getting the Full Story
According to SNL Financial, a research firm, from 2009 to 2013, the six biggest banks have been wrestling with a 9.6% rise in non-interest earning expenses for salaries, benefits, technology upgrades, non-compliance fines, and so on. During these same years, while expenses were going up, revenues plummeted 9.7%.
What's more, there is no sign of things turning around for the better in the second quarter. According to Thomson Reuters, an analytics firm, the six biggest banks should lose another $102.16 billion from revenue and experience a $20.38 billion decline in profit in the quarter compared to 2013. In the first quarter, they have already had a revenue decline of $104.86 billion and a fall in profits of $18.67 billion.
BAC, JPM Outlook Increasingly Unstable In 2014
None of these factors is particularly positive for Bank of America and JPMorgan, which have showed declines YTD.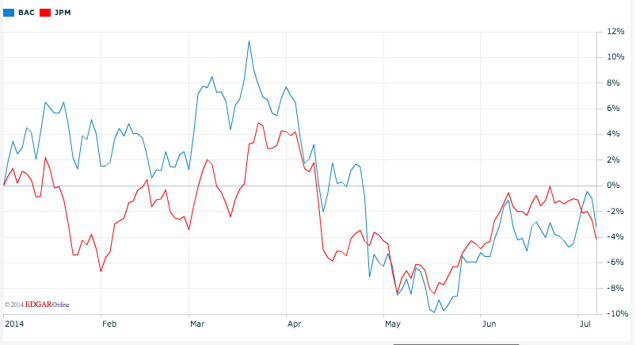 (Source: Nasdaq.com)
The disconnect between poor performance and rich CEO compensation is highly evident in JPM's Jamie Dimon's reward of millions, following losses of approximately $20 billion in fines and bad results. BAC's CEO Brian Moynihan also recently received a 17% raise, following a litany of scandals at home and abroad.
Other banking institutions, such as Wells Fargo (WFC) have proven stronger YTD, having taken pains to reduce risk-taking, particularly with trading, and avoid fraudulent activities relative to its peers.
We also suggest Heritage Insurance (NYSE:HRTG) as a strong alternative for investors interested in a growing financial stock with a strong and competent management team.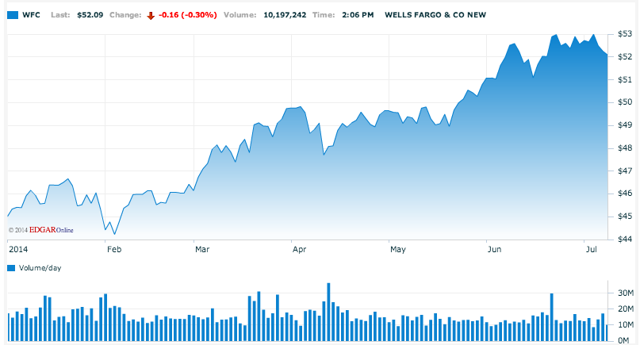 (Source: Nasdaq.com)
We reiterate our stance that investors should consider taking profits in BAC and JPM, and establish positions in WFC and Heritage Financial moving forward in 2014.
We invite readers wishing to join the discussion on J.P. Morgan, Bank of America, and Wells Fargo to click the +FOLLOW button above the title of this article and +Get real time alerts for the latest news.
Disclosure: The author is long HRTG. The author wrote this article themselves, and it expresses their own opinions. The author is not receiving compensation for it (other than from Seeking Alpha). The author has no business relationship with any company whose stock is mentioned in this article.