Adeptus Health Inc. (NYSE:ADPT) - Buy recommendation - Price Target $27.30
The SEC-enforced 25 day quiet period on ADPT will come to an end on July 19th, allowing the firm's IPO underwriters to publish analyses on July 20th. Evidence supports a rise in share price at the quiet period expiration, particularly for a firm with strong underwriters like ADPT. While we do not recommend ADPT as a long-term holding, given the firm's losses and strong competition, we do note a short-term buying opportunity at this event time.
The SEC-enforced 25 day quiet period on underwriter research reports initiated with the June 18 IPO of Adeptus Health Inc. will come to an end on July 19, allowing the firm's IPO underwriters to publish analyses on the operator of independent emergency rooms in Texas and Colorado.
The underwriters' detailed bullish reports will likely lead to at least a brief increase in ADPT share prices.
Fairly Stable Post-IPO Performance
ADPT's IPO priced at the high end of the expected price range at $22 per share and made a solid 17.0% return in its first day on the market. Share prices have since remained fairly stable, fluctuating between $25 and $26 per share; ADPT closed at $25.75 per share on July 9.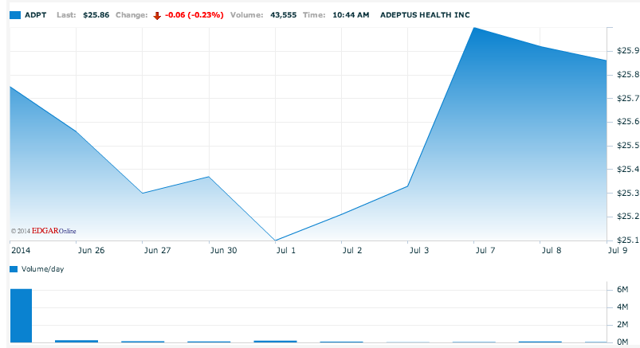 (Nasdaq.com)
Strong, Reputable Underwriters
ADPT's IPO underwriters, including Deutsche Bank Securities Inc; Goldman, Sachs & Co.; Evercore Group L.L.C; Dougherty & Company LLC; Morgan Stanley & Co. LLC; RBC Capital Markets, LLC; and Piper Jaffray & Co., will attempt to recreate the stock's strong first-day performance through the release of positive research reports on the ER operator with the conclusion of the quiet period.
Academic Research on Quiet Period Expirations and Buying Opportunities
The Journal of Finance (VOL. LVIII, NO. 1; 2003) explains how share prices typically start to rise several days in advance of the quiet period expiration, as investors begin to purchase shares in anticipation of positive underwriter analyses.
Lead author Dan Bradley, PhD, CFA, of the University of South Florida and colleagues state that analysts initiate coverage of 76% of firms at the end of the quiet period, almost always with a rating of 'Buy' or 'Strong Buy.' Bradley and his colleagues indicate that firms enjoy abnormal positive returns of 4.1% in the two days before and the two days following the initiation of coverage.
This conclusion is supported by Carter, Piwowar, and Strader (2001, who state that the mean analyst rating at the quiet period expiration is a "Buy," and that higher ratings correlate with higher returns. In instances when multiple analysts initiate coverage, returns have been found to increase even more-to 6.4%.
The early purchases made by investors before the quiet period expiration generate an atmosphere of increasing demand, leading to rising share prices before the quiet period expires and producing a short-term buying opportunity.
Bradley et al also note a significant correlation between the quantity and visibility of IPO underwriters and rising share prices near the expiration of the quiet period. ADPT's lengthy list of strong underwriters could be influential in this regard.
Data from our own research over the past three years aligns with the conclusions of these academic publications.
Overview of ADPT's Business
ADPT is an owner and operator of independent emergency rooms located primarily in Colorado and Texas.
ADPT has expanded rapidly since the end of 2012, when the firm operated 14 facilities. As of March 31, 2014, ADPT's network included 32 facilities; the firm expects to expand to 53 facilities by the end of 2014. ADPT is attempting to take advantage of rising demand for emergency room facilities both from communities without nearby hospitals and from communities with overcrowded nearby emergency rooms.
ADPT's facilities offer a combination of sophisticated medical care and relatively low costs. The firm's facilities feature on-site laboratories and specialized rooms for high-acuity cases, gynecology, and pediatrics, as well as on-site equipment including CT scanners, X-ray machines, and ultrasound machines. ADPT employed approximately 260 physicians as of March 31, 2014.
See our previous article on ADPT for additional details.
Independent and Hospital-Affiliated Competitors
ADPT competes with other operators of free-standing emergency rooms, such as ER Centers of America, PhysiciansER, Neighbors Emergency Center, Elite Care, and Texas Emergency Care Center. Some of these firms are affiliated with hospitals, while others are independent.
ADPT also competes with traditional hospital emergency care services. Some such competitors have access to greater technological and medical resources than ADPT's emergency rooms.
Management Overview
Thomas S. Hall has served as ADPT's President and CEO since 2012. He previously served as president and CEO of Matria Healthcare, Inc., president, CEO and chairman of NovaMed, Inc., and president of ADP Total Source.
Mr. Hall holds a bachelor's degree in business from Goshen College and an M.B.A. from Clarkson University.
Conclusion - Short Term Buy
ADPT has performed relatively well in its market debut.
We suspect that the stock's first-day success was related to the recent popularity of independent emergency services.
There are growth opportunities available to ADPT. For investors who do wish to buy into the firm, the upcoming quiet period expiration presents a strong buying opportunity, particularly given its strong underwriters.
We invite readers wishing to join the discussion on IPOs to click the +FOLLOW button above the title of this article and those looking for the latest updates to click +Get real time alerts.
Disclosure: The author is long ADPT. The author wrote this article themselves, and it expresses their own opinions. The author is not receiving compensation for it (other than from Seeking Alpha). The author has no business relationship with any company whose stock is mentioned in this article.