Introduction
AMD (NASDAQ:AMD) is a well-known semi-conductor company that is going through some major changes. Since 2012, a restructuring plan led by CEO Rory Read has pushed the company to take its focus beyond PC market into diversified markets that still utilize AMD's expertise. When Rory joined AMD, 95% of the company's revenues came from the PC. Due to a diversified revenue stream, this figure is now down to 70% and is planned to reach 50% by 2016. While this will create a safer business, AMD's strong efforts in creating more PC solutions will not end.
People have joked that AMD would reach this goal regardless of its intent to diversify because its PC based revenues were in free fall. However, the tables are clearly turned. AMD has launched a variety of new competitive products while projecting sequential revenue growth from the PC for the rest of the year; this would mark the last quarter's results as the bottom of the decline. In addition, Intel has increased its guidance due to greater than expected sales and recent data by the IDC has indicated that the PC situation is far better than previously predicted. Hopefully I'm right as I believe that these factors are all good indicators of a strong earnings release.
The IDC reports better than expected PC results
Yesterday, the IDC reported the smallest decline in PC shipments in two years. For the second quarter of 2014, there were 74.4 million global PC shipments that resulted in a year-over-year decline of 1.7%. These results are far better than the original projection of a 7.1% decline. As expected, these results were heavily driven by replacements of Microsoft (NASDAQ:MSFT) Windows XP systems and resulted in greater than expected shipments across the board. This includes the consumer side while the previous report of Intel's guidance adjustment noted that the change was mostly driven by business demand. As Intel (NASDAQ:INTC) takes a greater portion of business PC shipments, this is a sign of decent news for AMD.
While the report added that these results are likely temporary, they are suggesting that the results for the year may be closer to flat rather than the annual 6% decline that was projected in May. This is a very positive change for AMD since the company previously announced, during its last earnings conference call, that it was expecting a 10% overall decline in PC shipments for the year. While AMD's results may not benefit them on the same scale as Intel, I would still expect them to post improved figures.
Ahead of Earnings
For several quarters last year, in spite of beating projections and analysts' expectations, AMD was continuously hammered after earnings due to posting dismal PC results and projections. Even last quarter, AMD posted another sequential decline in PC revenue. However, those results were in-line with seasonality and AMD projected that this quarter's results would show a sequential increase. The IDC report indicates that the season is greater than expected and I believe that AMD's stronger PC shipment results can drive earnings to another beat, just like last quarter.
With the season being stronger than expected paired with the new launch of competitive products, AMD is likely to post stronger PC results which could drive an overall beat. For over a year, AMD has been very modest with its projections and has either posted results above or at the high end of its estimates. My chart below demonstrates this solid track record and I expect the trend to continue.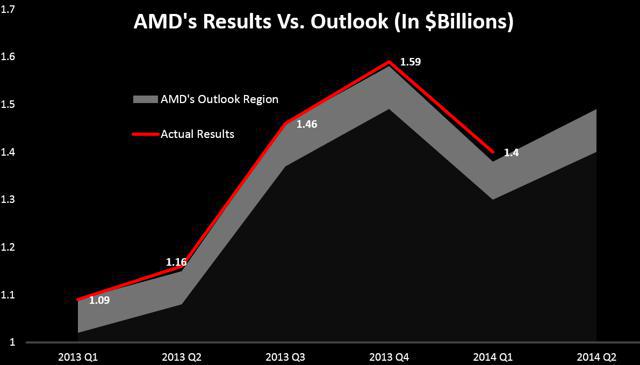 Closing Thoughts
Since last earnings, AMD has traded relatively flat but has shown a good consistency above $4. With only two profitable quarters and a promise to remain profitable for the rest of the year, there is a lot of uncertainty among investors. Even if AMD misses on earnings, it is unlikely that its stock will plummet like previously due to the strong execution it has demonstrated through its restructure. I believe that there is significantly less risk associated with AMD while there is a considerable upside to be held. That being said, the recent data by the IDC could be used as a decent reason to accumulate ahead of earnings.
AMD's earnings release follows the market closing next week Thursday, July 17th.
Disclosure: The author is long AMD. The author wrote this article themselves, and it expresses their own opinions. The author is not receiving compensation for it (other than from Seeking Alpha). The author has no business relationship with any company whose stock is mentioned in this article.