Taking Advantage of the Emerging Indian Market
It is encouraging for investors to know that Wal-Mart (NYSE:WMT) is planning to launch a B2B e-commerce marketplace in the huge growing emerging market of India. There is huge potential for growth in e-commerce in the emerging markets. The e-commerce service will be available in two Indian cities in the beginning of July and the company intends to extend its service to other cities in the coming months. In addition to the B2B marketplace, Wal-Mart plans to open another 50 stores in India in the next 4-5 years in addition to its existing 20 stores. This expansion is expected to help Wal-Mart's stagnating top and bottom lines.
Wal-Mart has a lot to offer to rapidly developing markets such as India. Wal-Mart has a proven business model that targets cost leadership through economies of scale, removes operational inefficiencies, removes unwanted costs, and adapts products that offer the best value for its customer base. As the business environment evolved, Wal-Mart adapted according to the environment. Wal-Mart has enjoyed great success through its business model in its home market in the last few decades and it is in a very good position to make use of its expertise and leverage from India's growing consumer power.
This expected growth is not without hurdles. Presently, there are restrictions imposed by the Indian government on international e-retailers to sell directly to consumers but there are some indications that the government may remove these restrictions in the near future and that will allow Wal-Mart some freedom in the Indian market. The opening of the B2B e-commerce marketplace in India is a good step forward that would pave the way for Wal-Mart's expansion as India becomes a more open and even field for foreign businesses. Considering the challenging environment in the developing markets, Wal-Mart needs a very proactive leadership stance in India to take advantage of the growth potential of this huge and vibrant market. India is expected to give businesses healthy growth in their top and bottom lines.
Wal-Mart's E-commerce
It's encouraging to see that Wal-Mart's global e-commerce sales grew by 30% and crossed $10 billion for fiscal year 2014 although its consolidated net sales grew by 1.6% in the same fiscal year. Wal-Mart expects its global e-commerce sales to increase to $13 billion this fiscal year.
B2C e-commerce worldwide sales are expected to increase by 20% in the current year to $1.5 trillion and according to emarketers.com much of this growth is coming from the emerging markets of the Asia Pacific region. Wal-Mart has the opportunity to capitalize on this growth to help its stagnating top and bottom lines that are not receiving much support from its nearly saturated home market.
Opportunity comes paired with challenges. This is not an easy task since presently less than 3% of Wal-Mart's revenue comes from its e-commerce division and it is facing stiff competition in this segment especially form e-commerce giant Amazon (NASDAQ:AMZN). Steps like creating a B2B marketplace in India can help Wal-Mart to bring an e-commerce focus to its business in emerging markets.
The e-commerce train is not going to stop soon. The volume of e-commerce sales are forecasted to increase to a staggering $2.357 trillion in a matter of three years by 2017 according to emarketers.com. This is a huge opportunity for the companies with proven businesses models and deep pockets to capture the growth potential offered by e-commerce growth.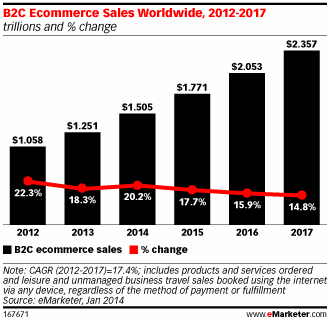 A very important forecast that emarketer.com makes is that for the first time e-commerce sales in the Asia Pacific region will exceed the e-commerce sales from the North American region which has always dominated the e-commerce arena. The Asia Pacific region will prove to be a larger fishing ground of B2C e-commerce with $525.2 billion worth of e-commerce revenues leaving behind North America that is expected to offer $482.6 billion worth of e-commerce revenues. The magnitude of the potential for e-commerce sales in Asia Pacific is evident from the fact that this exploding region is going to make up 46% of the e-commerce customers but these customers will only account for 16.9% of the population of the emerging region. This means that the growth story is not going to fade soon and it is expected to last for many years to come as this region makes further economic progress. China is expected to lead these emerging economies as for every $10 spent in the Asia Pacific region through e-commerce, $6 will be spent by Chinese consumers. This dominance is further expected to grow by 2017 when China is expected to make up 75% of the region's e-commerce consumer base. Wal-Mart is aware of the strategic importance of the Chinese e-commerce market and is focusing on it to realize its enormous growth potential. Wal-Mart's acquisition of Chinese online grosser Yihaodian that has contributed $730 million in sales in the first three quarters of the current fiscal year is a good step towards increasing Wal-Mart's penetration in this rapidly growing market.
Conclusion
Presently, Wal-Mart is not able to impress investors due to its stagnating top and bottom line growth. It has almost saturated the domestic market and is finding it difficult to find sufficient growth opportunities. In this situation the emerging markets present enormous growth potential for Wal-Mart especially since it has a proven business model and deep pockets. Growth opportunities are especially huge in the e-commerce space and in the Asia Pacific region. Wal-Mart is increasing its presence and penetration in the spaces and markets that are expected to offer growth and the company expects to yield good returns for its investors. Therefore, Wal-Mart is an attractive investment at its current price level of around $75.
Disclosure: The author has no positions in any stocks mentioned, and no plans to initiate any positions within the next 72 hours. The author wrote this article themselves, and it expresses their own opinions. The author is not receiving compensation for it (other than from Seeking Alpha). The author has no business relationship with any company whose stock is mentioned in this article.