Starbucks (NASDAQ:SBUX) stock is sitting at the highest it's ever been, at ~$79.5 during intraday trading. At this point the firm is a household name, with a consumer base to match. There's even a street in New York City with two Starbucks cafes across from each other - there may be more to come. Can Starbucks maintain growth? Can their latest management decisions, including subsidized college degrees for their employees, take the firm to even higher levels of profitability? We need to take a look at the market that Starbucks operates in, as well as the internal operations of the company, in order to determine whether it's a good investment even at the price it commands now.
Market and Market Presence
Starbucks may be a household name here in the States, but does it have international brand recognition as well? The answer is yes. The chart below details the number of Starbucks stores in the United States and abroad. Observe how international growth is becoming more a driver for the firm: this may be crucial to the further growth of the $60 billion market cap corporation.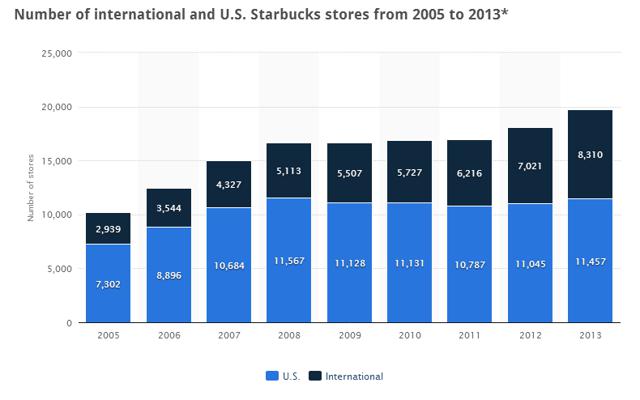 Source: Statista
In the face of all this growth, is there any demand for coffee? Here in the United States, yes. The United States Statistical Abstract keeps track of consumer coffee consumption:
| | |
| --- | --- |
| Year | Coffee Consumption (In millions of dollars) |
| 1990 | 1915 |
| 2000 | 2700 |
| 2005 | 2976 |
| 2007 | 3768 |
| 2008 | 4412 |
| 2009 | 4070 |
| 2010 | 4945 |
Source: US Statistical Abstract
It's safe to say that coffee consumption is very high, and will continue to be very high. 54% of Americans over 18 drink coffee every day, according to coffeeresearch.org. Judging by Starbucks' revenues, a good portion of this coffee is coming right from them.

Source: YCharts
Starbucks drinks aren't cheap, either. Popular drinks like iced coffee, which is just coffee and ice, get sold with a high premium. This leads to healthy net profit margins for Starbucks:

Source: YCharts
The most recent quarter came in at 11.02%, with a recent dip possibly attributable to growth investment by the firm. Keep in mind the large number of stores that were built during 2013: Starbucks appears to have taken on a relatively large amount of debt recently, indicating that they are growth-focused. Judging by the massive leap from previous debt levels, the company will be investing heavily in new stores across the world; if they succeed, the long-term effects of this would be immense profits.

Source: YCharts
Although Starbucks is looking to grow, keep in mind that they have more coffeehouses than any other chain in the world. Starbucks' direct competitor and 2nd-largest, Dunkin' Donuts (NASDAQ:DNKN), only has a market capitalization of $4.84 billion, compared to Starbucks' $59.81 billion. This gives Starbucks immense leverage; everyone else is on their turf.
Management Initiatives
Starbucks is a unique competitor because of the way it chooses to manage its employees. The firm usually pays several dollars over the minimum wage, and provides healthcare even to part-time workers. The firm recently announced that it would be providing free online education packages to its employees, which is a revolutionary bit of public relations. The management understands the value of employee retention; they want their stores to continue to operate with smoothness and rapidity. According to a paper published by Harvard Business School, Starbucks boasts a significantly lower turnover rate for its employees than other businesses within its sector.
The firm has continued to introduce dynamic business strategies that cater to a large set of demographics. One of these is the mobile payment system offered by Starbucks. The firm has a mobile application that allows consumers to pay for their products using their phones, even allowing for purchases to be made prior to the user actually arriving at the establishment. A quote from Howard Schultz, the CEO, states that "we're already processing over 5 million mobile transactions a week-and it's integrated into our loyalty program and gift card program." This builds brand recognition and credibility; people are willing to pay a higher price for a product from a brand that they're 'loyal' to - and it seems like Starbucks is figuring out just how to get them to do that.
Conclusion
Starbucks has a lot going for it. It's the dominant player in an industry that it upended, it's got great fundamentals and capable management. Starbucks is a buy at its current price.
Disclosure: The author has no positions in any stocks mentioned, and no plans to initiate any positions within the next 72 hours. The author wrote this article themselves, and it expresses their own opinions. The author is not receiving compensation for it (other than from Seeking Alpha). The author has no business relationship with any company whose stock is mentioned in this article.