[Originally published on 3/7/2014.]
With 2013 being another record-setting year for dividend growth in the S&P 500, having access to isolated corporate fundamentals has become an even more prominent issue for retail investors. According to S&P 500 data compiled by Howard Silverblatt of S&P Dow Jones Indices (from his January 6, 2014, email titled Q4 2013 dividends: a very rewarding quarter & year, with 2014 expected to continue up), 2013 actual dividend payments were up 11.99% over 2012. In addition, the 2013 regular cash dividend payments of $311.8 billion easily surpassed the previous record of $281.5 billion, set in 2012.
In order to understand the historical consistency and dependability of dividend growth in the S&P 500, we analyzed and aggregated Bloomberg data for both dividend and price returns over the last 41 years (through 2013). For the purposes of our analysis, monthly returns are totaled (and not compounded) to arrive at the annual return figures.
The results of our heat map analysis show dividend growth (i.e., the gross, aggregate dividends paid by the S&P 500 constituents over the previous 12 months) has delivered positive returns in 38 of the last 41 years: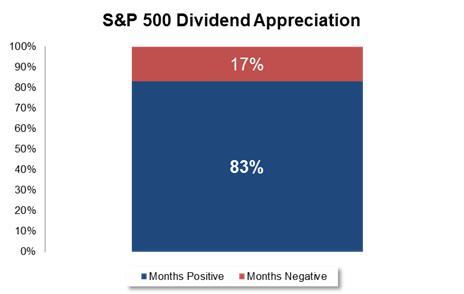 To further highlight the consistency of dividend growth in the S&P 500, monthly returns were continuously positive from January 1976 through February 1988, a span of 146 consecutive months (more than 12 years).
Contrasting the attractiveness of dividend growth, we found S&P 500 price growth to be much less favorable over the same 41-year period: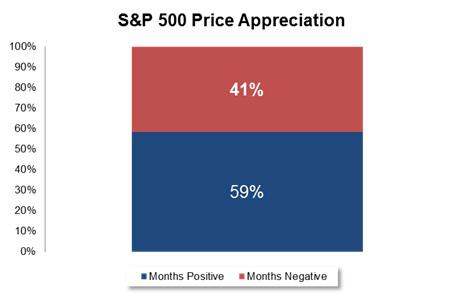 Monthly S&P 500 dividend growth was positive 83% of the time, while monthly S&P 500 price growth was positive 59% of the time. Furthermore, including 2013 when the S&P 500 grew by nearly 30%, there has not been one year in the last 41 where price returns were positive for all 12 months.
We aren't the only ones talking about dividend growth. The Dividend Growth Investor on Seeking Alpha asked November 2012 "Why Am I Obsessed With Dividend Growth Stocks?" In addition to offering diversification, lower volatility, and a favorable risk/return profile, we conclude dividend growth also provides investors with moderately consistent returns in both up and down markets, along with reasonable downside protection in times of market uncertainty. We believe dividend growth has stood the test of time and can be an investor's best friend.
Disclosure: The author has no positions in any stocks mentioned, and no plans to initiate any positions within the next 72 hours. The author wrote this article themselves, and it expresses their own opinions. The author is not receiving compensation for it. The author has no business relationship with any company whose stock is mentioned in this article.