When investors think of high short interest stocks they rarely think of incomes plays. The five stocks below are some of the most shorted stocks in the market and yet produce the highest dividend yields. The key for these stocks is the safety and the sustainability of the dividends, i.e. are their yields high because the stock price has been decimated? Investors should have a close look the dividend record and strength of the balance sheet, including what kind of cash they have to cover these dividends.
First up is Intersections Inc. (NASDAQ:INTX). The stock has a dividend yield in excess of 17% and the short interest is more than 29%. Intersections is a $90 million (market cap) provider of subscription services for protection against identity theft and for credit monitoring. The company reminds me a lot of Lifelock, which doesn't have the best business model.
At the end of the first quarter, it reported lower than expected revenue of $66 million, compared to $81.6 million in the previous year. The net loss for the quarter was $2.8 million, compared to net income of $2.2 million last year. Total subscribers fell from 4.2 million in 1Q 2013 to 2.8 million for 1Q 2014.
The numbers don't look to be to improving anytime soon, where the guidance for 2014 indicates a further decline in revenues of between 11% and 18%.
Shares have already tumbled 43% over the last year. Its dividend yield has skyrocketed from less than 5% to 17% in under two years. Its payout ratio is incalculable since it isn't making any money. However, even prior to the negative earnings, Intersections had a high payout ratio. On the plus side, it doesn't have any debt and carries enough cash to cover 20% of its market cap.
Second is NTELOS Holdings (NASDAQ:NTLS). The stock currently has a dividend yield of around 13.5% and a short interest of 27.2%. NTELOS is a $280 million (market cap) provider of wireless services to Virginia and West Virginia, and parts of Maryland, North Carolina, Pennsylvania, Ohio and Kentucky. Shares are down 32% year to date, but the company has agreed to an extension of its Strategic Network Alliance with Sprint (NYSE:S), which was an overhang.
However, NTELOS is no longer a dividend play. After evaluating its funding requirements, it decided to eliminate its dividend after the July dividend payment. Beyond that, NTELOS still has a hefty debt load to work down. Net debt is roughly $400 million - compared to its $275 million market cap.
In third is Cliffs Natural Resources Inc. (NYSE:CLF). This stock has a dividend yield of just over 4% and a short interest of 39.1%. This $2.4 billion (market cap) company is one of the leading mining and natural resource companies in the world. However, the slump in iron ore prices is really putting the pressure on the company.
The company has been on a tear when it comes to negative revisions for earnings estimates, for both the current quarter and the full year. The current analysts' consensus estimate for next year has gone from $0.34 per share one month ago, to the current $0.09 per share.
As a result, the stock price has dropped almost 12% over the past four weeks. Shares are down 40% year to date. The latest conundrum for the company is its options for its Canadian Bloom-Lake mine. Even a shutdown would see ongoing costs in the region of $300 million, and the hot idle of Pinnacle could add another $50 million.
With the help of the stock price decline, its dividend yield is now well above what we have seen over the last decade.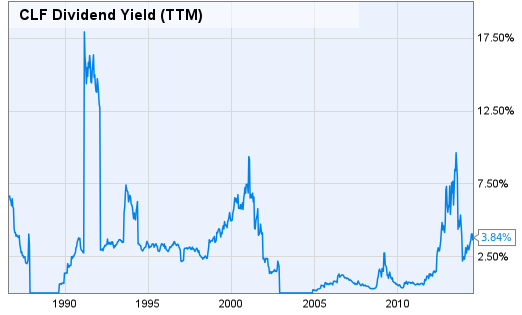 On the positive side, Cliffs' investors still have Casablanca Capital pushing for change. The fund wants to break up Cliffs. The latest has Cliffs proposing a settlement with the fund that would allow it to receive three seats on Cliffs' board. It seems likely that shares will not do much until the fight with Casablanca is settled.
Fourth is the sports entertainment company World Wrestling Entertainment Inc. (NYSE:WWE). The stock has a dividend yield of around 4.1% and a short interest of 27.1%. Shares of this sports entertainment company are down 50% over the last three months.
It underperformed during the first quarter of 2014, though the poor results for 1Q are attributed to the performance of its new WWE Network, which has yet to break even. The company's stock price was hit by subscription rates that did not meet investor expectations. Subscriptions to the Network were 670,000 as of May, compared to the 1 million figure required to break even.
Even if the 1 million figure is hit by the end of 2014, the projected loss for 2014 is around $42 million. The targeted figure of subscriptions of between 2 million and 3 million appears somewhat. Even though the company has an extremely loyal subscriber base, there does not appear to be a rising demand for wrestling. Even still, the move to launch its own network (effectively breaking away from cable and pay per view) is bold and gives the company more control over its destiny.
With a solid 4% yield and minimal debt, it would not hurt to hold onto any existing investment but avoid new investment until we get more insight into WWE Network.
Coming in fifth is GameStop (NYSE:GME). The stock has a dividend yield of around 3.3% and a short interest of 32.2%. It would appear that Mr. Market is short this video game retailer on the fear that there will be a vast shift to digital downloads.
However, this is a rather complex market and GameStop has successfully tweaked its business model to cope with change in the past. Revenues and the bottom line have been flat for a number of years even though EPS has grown, thanks in large part to an aggressive stock buyback program. The retailer has reduced its shares outstanding by 30% over the last five years.
One of the brightest spots for the company is its sale of used products, where it has a gross margin of 47% on sales of $2.33 billion. Compare this to new hardware, which has a gross margin of 10.2% on sales of $1.73 billion; and new video games software, with a gross margin of 23.1% on sales of $3.48 billion. Most of its used products come from trade-ins. The other positive is that it is diversifying into the sale of AT&T mobile phones, as well as products from Apple, which already accounts for $1.5 billion in sales.
Shares only trade at 9.6x next year's earnings estimates, and with the type of earnings growth that Wall Street is expecting, its P/E to growth (NYSE:PEG) ratio is a low 0.9. With no debt, $1.80/share in cash, near 16% return on investment and 36% payout ratio, its dividend appears to be sustainable.
Bottom line
Sometimes investors can find value in overlooked, highly shorted, stocks. These stocks can even offer solid income sometimes; meanwhile, other shorted stocks are cheap for a reason. Their yields are artificially high due to a steep fall in their stock price.
Disclosure: The author is long CLF. The author wrote this article themselves, and it expresses their own opinions. The author is not receiving compensation for it (other than from Seeking Alpha). The author has no business relationship with any company whose stock is mentioned in this article.
Editor's Note: This article covers one or more stocks trading at less than $1 per share and/or with less than a $100 million market cap. Please be aware of the risks associated with these stocks.