If you've looked at Buffalo Wild Wings (BWLD) stock in the past 5 years, it becomes evident that these guys are making some money. The company had an initial public offering during November 2003, with the stock closing around $11 that day. Today, Buffalo Wild Wings stock is worth $160. This is serious growth, although keep in mind that the market cap is only $3.02 billion. The question we must ask now is if Buffalo Wild Wings, "BWW", is a good investment going forward. In order to answer this question, we must look at the internal aspects of the company, as well as the state of the market that it operates in.
Chicken
Buffalo Wild Wings sells wings. Wings come from chickens. So let's look at chicken. We Americans, unsurprisingly, are eating a lot of chicken. Looking at the United States statistical abstract, we get the exact numbers on chicken consumption:
| | |
| --- | --- |
| Year | Consumption (in milions of pounds) |
| 2000 | 311 |
| 2005 | 388 |
| 2007 | 337 |
| 2008 | 405 |
| 2009 | 406 |
| 2010 | 425 |
Source: United States Statistical Abstract
Chicken is here to stay, although it appears that meat took a hit during the 2007 recession. This would lead me to conclude that chicken consumption is positively correlated with the overall economy, so people will eat even more of it as the economy recovers fully.
Although there is demand for chicken, it has also been getting more expensive: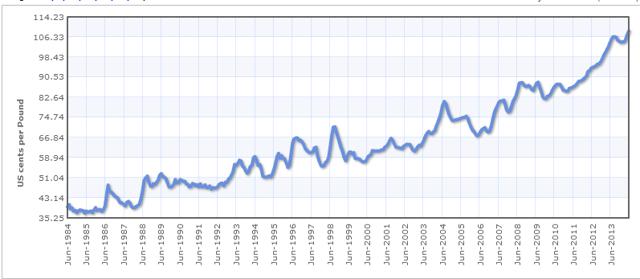 Source: IndexMundi
As demand continues increasing, however, more suppliers will enter the industry and balance things out, but it's worth keeping an eye on, since BWW's core business is entirely reliant on this delicious commodity.
Fundamentals
Revenue: is there any, and is it growing? Yes, and yes. Buffalo Wild Wings' revenue growth looks healthy, topping out at $1.33 billion in the last four quarters.

Source: YCharts
Revenue doesn't mean a thing if you don't have good margins. You saw the chicken prices - what kind of profit are these guys pulling in?

Source: YCharts
The most recent net profit margin (after all expenses, including taxes) is 7.7%. That sounds great: BWW's direct competitors (companies operating in the fast casual restaurant sector) Bloomin' Brands Inc. (NASDAQ:BLMN) and BJ's Restaurants, Inc. (NASDAQ:BJRI) have most recent net profit margins of 4.76% and 2.26%, respectively.
Market Presence
An interesting thing to note is that Buffalo Wild Wings employs a very flexible corporate structure: it allows franchisers to open up stores, while also opening them up itself, both of which are happening at a very brisk clip. Competitor Chipotle (NYSE:CMG) has a more restrictive model, where the company retains complete ownership over all stores and chooses when and where to develop them. Let's take a look at BWW's store growth: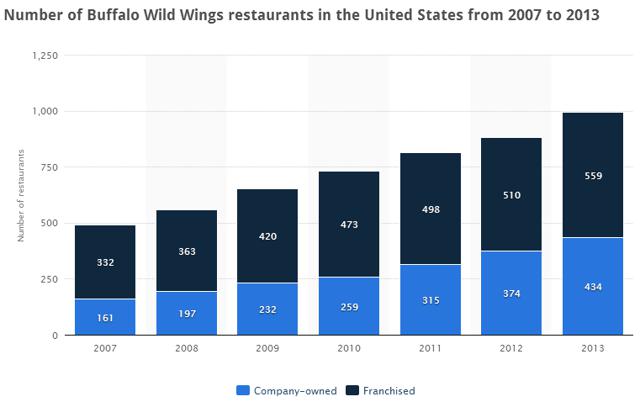 Source: Statista
Both kinds of arrangement are showing healthy growth. For a final look at where the company stands in the eyes of the consumer, we can look at a chart of how popular Buffalo Wild Wings is on the world's most popular search engine, Google: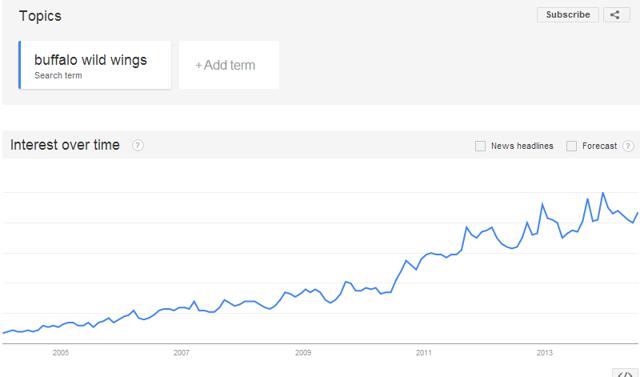 Source: Google Trends
It looks like people are getting more curious about the company as well - or customers are using the search term in order to find the nearest one.
Conclusion
No matter which way you look at it, Buffalo Wild Wings is headed up. The company has strong revenue growth, strong demand for its product, and strong growth within its market, all done quite efficiently. Buffalo Wild Wings is a fundamental buy.
Disclosure: The author has no positions in any stocks mentioned, and no plans to initiate any positions within the next 72 hours. The author wrote this article themselves, and it expresses their own opinions. The author is not receiving compensation for it (other than from Seeking Alpha). The author has no business relationship with any company whose stock is mentioned in this article.