Earlier this week, I wrote an article titled "Should I Short These 3 REITs?" As you know, I rarely write articles on broken REITs, as it's simply difficult to provide meaningful advice to value investors wishing to short sell positions when the odds aren't in your favor.
Due to the complicated nature of short selling, typically only sophisticated investors such as hedge fund managers partake in this type of trading. I haven't seen many examples of REITs that have successfully profited from short sells - why should they, since real estate is considered a long-term asset class with powerful capital appreciation momentum?
However, last year, one such hedge fund, Highfields Capital, decided to go against the herd and place a bet against Digital Realty (NYSE:DLR). To me, it was obvious that the Highfields wager was foolish, since the data center landlord had strong operating fundamentals and an equally impressive balance sheet. On May 13th of last year, I explained my views:
I find it amazing that some of the wealthiest investors around - the hedge funds - claim to have a vast knowledge and understanding as to the nature of their complex strategies, yet the funds' overall performance often turns into Fool's Gold.
I guess I was a bit agitated when I said,
I still remain baffled as to why so many hedge fund managers cross into my sweet spot - REITs - trying to short a particular stock that is anything but distressed or even showing signs of weakness.
As part of Highfields' short thesis, the hedge fund argued that Digital was an expensive REIT and that the shares should be trading for around $20.00 per share. Jonathon Jacobson of Highfields stated at the 18th Ira Sohn Investment Conference that:
Pricing is going lower, competition is increasing, and the company is tapping into capital markets as aggressively as they can.
To many hedge fund managers, REITs appear to be strange creatures. While the high-risk investors dream about shorting corporations with expensive book values, many rarely understand how to value a real estate security that is more commonly valued based on Net Asset Value (or NAV). More so, REITs have a much better barometer for valuing earnings, and if I were shorting a REIT today, I would be focused on the stability of the dividend stream, not book value.
Highfields also claimed that Digital's fundamentals were deteriorating and the dominating data sector REIT was operating as more of a commodity with no barriers to entry. Seemed like a bold message, and here's my bold reply:
They (Highfields) are plain and simple: speculators, obsessed with dangerously manipulating prices and driving down prices for their own personal gain. Remember, that is the motive of a short sell investor and the sad truth is that investors should not condemn Highfields but instead remain aware and act with cautious skepticism in any interactions.
Thank You, Mr. Market
Well, thanks to Highfields and Mr. Market, I found a "margin of safety" in September (at $54.81) and then in December (2013), so I backed up the truck - not a Ford pickup, but an 18-wheeler.
No doubt, there was risk in the air and I had to exercise some courage and simply follow my convictions. As you know, whenever the financial markets fail to fully incorporate fundamental values into securities' prices, an investor's margin of safety is high. To me, Digital's declining share price, sparked by the Highfields short, was a classic (Ben) Graham pick, and it was time for me to put the game jersey on and score some points. Graham explained:
You are neither right nor wrong because the crowd disagrees with you. You are right because the data and reasoning are right.
Simply put, I was able to take my tool out of the tool box and put it to work. No, not a hammer, but a risk minimization tool that allowed me to lock in a price at the most advantageous time. Never mind the drama that caused the shares of Digital to decline, I had to bifurcate the emotions and the fundamentals and determine if I was buying a sound business at an attractive price.
When I say "bifurcate", what I really mean is that I have to separate the price and fundamentals. One of the best ways to illustrate that is by viewing F.A.S.T. Graphs without the (black) price line.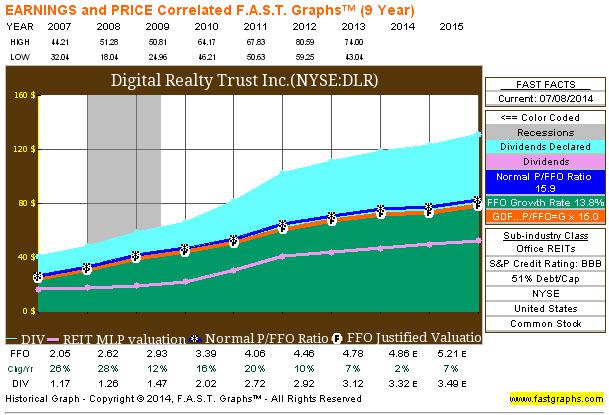 When I see this graph, all I see is a wide moat. I don't see a declining business model with unstable revenues. I don't see a dividend at risk. I don't see economic risks that could somehow create a commodity-type threat. No. All I see is a successful company that has been able to weather one GREAT Recession and create a strong, steady, and sustainable platform of earnings.
More specifically, Digital Realty appears to be a very durable REIT that has encountered multiple setbacks, while continuing to grow and maintain a very reliable earnings stream. Had Highfields been more astute at examining Digital's underlying corporate performance, it would have seen that the data landlord was not as vulnerable to the threats being made.
Now, when adding the (black) price line to F.A.S.T. Graphs, we can see that the shares have recovered since May (2013) and have begun to move closer to "fair value". I consider the shares to be priced "soundly" at $59.20 and with a P/FFO multiple of 12.3x.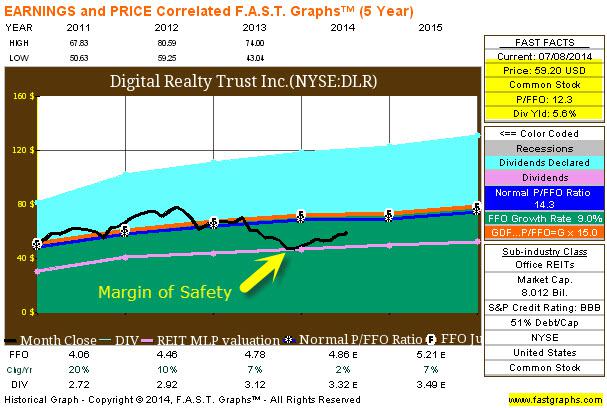 It's hard to run against the herd, especially the hedge funds looking to capture short-term gains. However, the real danger is to be out of the market when the opportunity arises, and the key to winning is to wait patiently and strike when you are confident. I'm glad I did.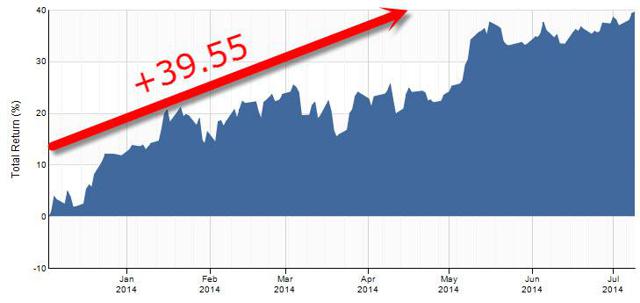 Remember, I'm a value investor, and even though I'm happy with my returns in Digital, I see no reason to pack up my suitcase. Especially after S&P just revised the outlook on Digital to stable from negative, as well as affirming the "BBB" corporate credit rating on the company. S&P said:
The stable outlook reflects our expectation that the company will maintain relatively high occupancy, its rental rates on new and renewed leases will be stable-to-improving over the next year, and that the company's debt to EBITDA will trend lower as operating earnings improve.
Digital maintains an extremely healthy balance sheet, as evident by the large unencumbered asset base (5% secured debt). I intend to maintain an overweight position in Digital and continue reinvesting dividends in the shares.
It's important to note that the company continues to search for a new permanent CEO, following the resignation of the prior CEO earlier this year. This vacancy poses some uncertainty regarding the company's long-range business strategy and financial policies. Digital reports Q2-14 earnings on July 29th.
In summary, it pays to be patient. In the words of Sir John Templeton:
To buy when others are despondently selling and sell when others are greedily buying requires the greatest fortitude and pays the greatest ultimate rewards.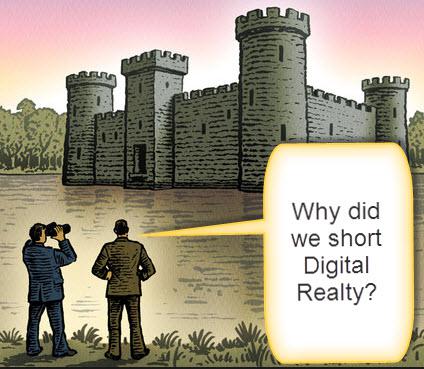 To learn more about intelligent REIT investing, check out my newsletter HERE.
Sources: F.A.S.T. Graphs, S&P Research
Disclaimer: This article is intended to provide information to interested parties. As I have no knowledge of individual investor circumstances, goals, and/or portfolio concentration or diversification, readers are expected to complete their own due diligence before purchasing any stocks mentioned or recommended.
Disclosure: The author is long O, DLR, VTR, HTA, STAG, UMH, CSG, GPT, ARCP, ROIC, HCN, OHI, LXP, KIM, WPC, DOC, UDF. The author wrote this article themselves, and it expresses their own opinions. The author is not receiving compensation for it (other than from Seeking Alpha). The author has no business relationship with any company whose stock is mentioned in this article.