In my last article on Lumber Liquidators (NYSE:LL), I said that the stock offers good value for money, driven by expanding store footprint and gross margins. Although a number of my past picks have outperformed the market, this one clearly has not, even prior to today's extremely disappointing earnings announcement. The stock has declined 36% since my article (after the post-earnings drop) compared to a 4.7% gain in the S&P 500.
Given the earnings announcements, I have updated my valuation models and given the degree of disappointment around the results, been much more conservative with my assumptions around future growth. The updated valuation, while significantly below my previous number, suggests that the sell-off is overblown and that at current prices, LL is an attractive buy. However, this depends on the company being able to sustain its gross margins and gain some operating leverage on its marketing expenses.
Earnings summary
The company called down its revenue forecast from previous estimates of 15-20% growth to 5-10%, citing weak macroeconomic trends. This catchall phrase is pretty unsatisfactory, particularly with the weakening demand trends that the company saw in May and June. They reduced their comparable store sales forecast for FY14 down from mid to high single digits to low single digits (positive or negative), which indicates a high degree of uncertainty about the short-term future.
Valuation updates
Here is a list of updates to my valuation model I have made post the earnings announcement.
Store growth: LL now expects to open 33-37 stores during FY14. I have used the midpoint at 35, and lowered store growth over the next few years to 30. This is below the average store growth over the past 5 years (which stands at 33), so I believe LL should be able to meet the lowered bar.
Comparable store sales: I was overly bullish on comparable store sales growth in my earlier model, assuming a continuation of the performance seen over past years. In my updated model, I am going the other way. I assume -2% growth in FY14, 0% in FY15, and model increases of 2-3% going forward. These numbers are significantly lower than historical ranges, but I am putting the company on a short leash before it proves that these results were an aberration.
Gross margins: In my previous model, I had assumed that LL would be able to moderately grow its gross margins. In the update, I am assuming that gross margins stay flat at current levels. There could be upside or downside here, based on if LL decides to react to slowing growth by cutting prices - which could spur demand but at the expense of margins.
A summary of changes to my assumptions around key metrics is below. I was pretty aggressive earlier and have significantly moderated my expectations going forward.

Updated valuation
Using my new assumptions and a 10% discount rate and 3% terminal value growth rate, I get to a fair market value of $63/share for LL, which represents a 10% upside to the post-earnings price of around $57. This would indicate that the sell-off has been excessive and there is value at current prices, even under fairly conservative growth assumptions. However, this hinges upon the company's ability to maintain its gross margins. If margins shrink to 40%, FMV would be $58, which would mean that the stock is fairly valued. The complete valuation model is attached below.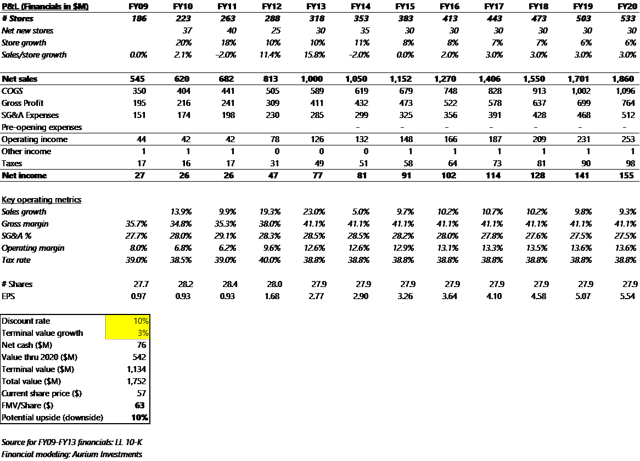 Summary
Lumber Liquidators has had a great run over the last five years. However, the company just delivered a terrible earnings report which call into question the sustainability of its growth. Accordingly, I have revised my expectations (and valuation) downwards significantly from $97 to $63. However, I do feel that the price reaction provides an opportunity to buy into the stock at an attractive price, if one believes, as I fundamentally do, in the company's long-term prospects.
Disclosure: The author has no positions in any stocks mentioned, and no plans to initiate any positions within the next 72 hours. The author wrote this article themselves, and it expresses their own opinions. The author is not receiving compensation for it (other than from Seeking Alpha). The author has no business relationship with any company whose stock is mentioned in this article. I am short LL $40 and $45 puts.