The markets are selling off in response to carryover from the Fed Minutes which were released yesterday and the troubles in Portugal. The vast majority of this selling can be attributable to the troubled bank in Portugal, Banco Espirito Santo, whose shares have been halted for trading. We would caution readers from getting caught up in the selling as this is one bank and the market is simply adjusting in anticipation of the potential for there to be more cockroaches.
Tensions continue to rise in the Middle East, with Israel weighing its options to deal with the rockets being launched. So even though oil prices continue to retreat, we would keep all of this in mind moving forward as a ground offensive could see a reversal in oil prices.
Chart of the Day:
With the issues surrounding one of Portugal's largest banks, it will be interesting to see what the flight to safety does to US bond markets over the next few sessions. We are close to the 2.50% level, but with the amount of speculation that has taken place in European bond markets, we could see a rush back into US bonds which provide comparable rates and better financial backing.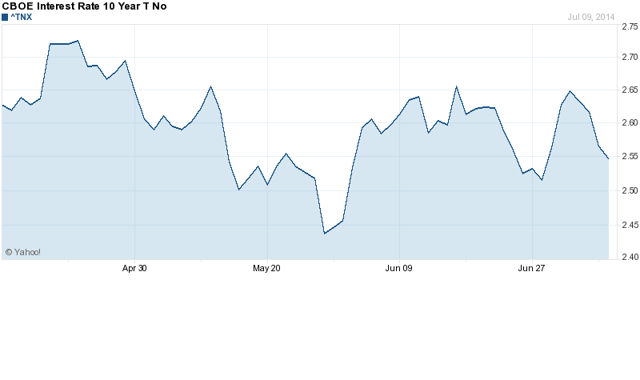 Source: Yahoo Finance
We have economic news today, and it is as follows:
Initial Claims (8:30 a.m. EST): Est: 311k Act: 304k
Continuing Claims (8:30 a.m. EST): Est: 2567k Act: 2584k
Wholesale Inventories (10:00 a.m. EST): Est: 0.5% Act: 0.5%
Nat Gas Inventories (10:30 a.m. EST): Est: N/A Act: 93 bcf
The Asian markets are mixed today:
All Ordinaries -- up 0.22%
Shanghai Composite -- down 0.01%
Nikkei 225 -- down 0.56%
NZSE 50 -- up 0.10%
Seoul Composite -- up 0.12%
In Europe, the markets are sharply lower this morning:
CAC 40 -- down 1.73%
DAX -- down 1.74%
FTSE 100 -- down 0.93%
OSE -- down 1.70%
Disappointing Results
Both Lumber Liquidators (NYSE:LL) and Tractor Supply (NASDAQ:TSCO) reported results and forward guidance that left investors less than impressed and has many of the home improvement and home goods companies trading lower today. Although both stocks are taking a hit, Lumber Liquidators is getting the worst of it, as the stock is down over 20% on the news. The forward estimates being cut so much appears to be the final straw for the momentum traders and our thinking is that it is their exiting which is making this sell-off even harsher. This has been a poor performer since the government raid on the company's corporate offices in Virginia.
Lumber Liquidators never fully recovered from the news that their offices were raided. The stock has been a huge loser this year, with the majority of the losses having come in the past few months.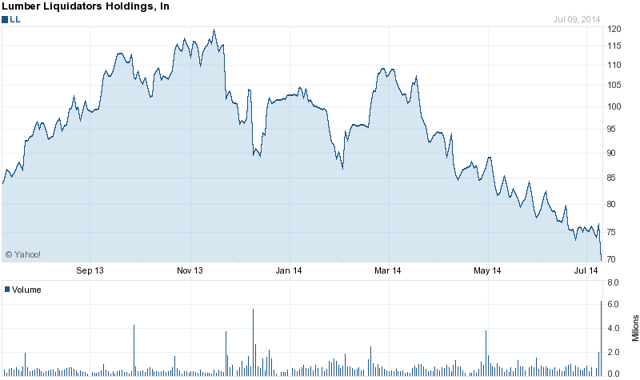 Source: Yahoo Finance
Tractor Supply missed on the quarter, as same store sales disappointed and the company saw seasonal items perform weakly. The rural retailer's results are a disappointment, but not anywhere near the level of Lumber Liquidators'.
Housing Related Stocks Moving Lower
With the disappointing results from Lumber Liquidators and Tractor Supply in hand, investors are now also skeptical of home improvement retailers Lowe's (NYSE:LOW) and Home Depot (NYSE:HD), as well as companies which make the products that go into homes, such as Whirlpool (NYSE:WHR).
As the Federal Reserve is set to end their quantitative easing program, where they pump capital into the fixed income market each month, it is easy to understand why investors are so worried about this sector now. While we agree with the worry, we also see an opportunity emerging where investors might be able to buy the blue chip names on the cheap in the quarters ahead. This year may turn out to be weak for housing when compared to other major purchases that consumers make; however, when one looks at the pipeline and backlog of potential buyers that the poor economy has created it indicates to us that the big move in housing has yet to take place.
In talks with our contacts in the mortgage origination business and real estate attorneys who do closings, it is obvious to us that the rebound has not yet taken place. Although that is bad news on one level, moving forward it does provide hope that better times are ahead. This is why we remain bullish of the two home improvement retailers, Lowe's and Home Depot.
Disclosure: The author has no positions in any stocks mentioned, and no plans to initiate any positions within the next 72 hours. The author wrote this article themselves, and it expresses their own opinions. The author is not receiving compensation for it (other than from Seeking Alpha). The author has no business relationship with any company whose stock is mentioned in this article.