Osiris (NASDAQ:OSIR) is a stem cell company focused on developing and marketing products in orthopedics, sports medicine and wound care. They currently market and distribute Grafix and Ovation for acute and chronic wounds, Cartiform, a viable cartilage mesh for cartilage repair, and OvationOS, a viable bone matrix for bone growth.
The company reported that product revenue during the first quarter of 2014 was $10.1 million. The gross margin was 78%. However, we believe that both the product revenue and profit margin will take a huge hit in 2015 due to the loss of "Pass-Through" status. According to the new proposal that will be published by the Centers for Medicare & Medicaid Services (CMS) on July 14th, 2014, Grafix will lose the "Pass-Through" status much earlier than what the company had expected.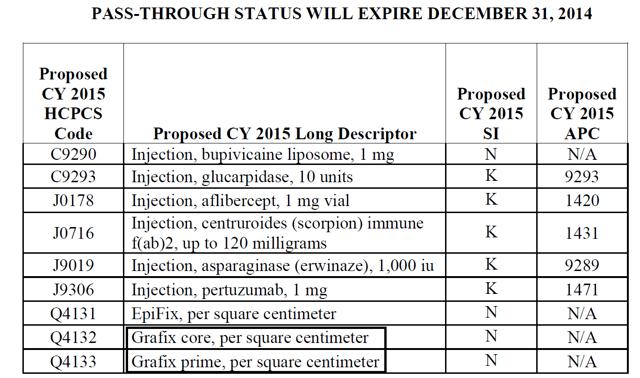 "Pass-through" payment status is highly critical for the successful commercialization of Grafix. First, a brief background of "pass-through" status. In August 2000, the Centers for Medicare & Medicaid Services implemented the new prospective payment system for hospital outpatient services (OPPS). The Congress enacted major changes to OPPS later and provides for temporary additional payments or "pass-through" payments for certain innovative medical devices, drugs and biologicals for medicare beneficiaries. The Congress intended these items to be available to Medicare beneficiaries, even if the price for these new and innovative items exceeded Medicare's regular scheduled OPPS payment amount. As a result, beginning in August 2000, when OPPS was implemented, Medicare began paying for qualified transitional pass-through items above and beyond OPPS payment rates.
This means, Osiris can charge a much higher price for Grafix for the time being. Currently, they charge $2500 per application. The expiration of "Pass-Through" status will force Osiris to slash the price to be in line with others. The reduced price probably will be similar to Apligraf, which is around $1300-1400. Biosurgery products like Grafix have higher costs or fees associated with them compared with more traditional products due to the higher cost and complexity associated with their production and distribution - which requires special handling, storage and shipment procedures and protocols. For example, Grafix is cryo-preserved and stored in special freezers at -80 degrees Celsius. It has to be shipped on dry ice. The cost of each Grafix application is probably around $1000. After selling and general administrative cost and research cost (which was $8.5M last quarter), there is no way that Osiris can achieve profitability under the new reduced pricing schedule. There is little chance that Orisis can renew the "Pass-Through" status, as CMS already got tough on pricing of other similar products such as Apligraf. Even if Osiris could appeal the new ruling (which is highly unlikely), the maximum period of "pass-Through" status cannot last beyond late 2015.
Reimbursement is not the only trouble Osiris has with the government. According to the letter that FDA sent to MiMedx (NASDAQ:MDXG) last year, it's possible that FDA may determine that Grafix does not meet the regulatory definition of human cells, tissue, and cellular and tissue-based products, or so-called Part 361 HCT/Ps. As a matter of fact, they received an "untitled letter" dated September 26, 2013 from the FDA stating that both Grafix and Ovation do not meet these regulatory requirements because they are dependent upon the metabolic activity of living cells for their primary function and are not intended for autologous use or allogeneic use in a first or second degree relative. After discussions with the FDA, the FDA allowed the product to remain on the market without FDA pre-marketing approval for the time being. However, any other indication expansions would require Osiris to submit BLA to the FDA and seek approval. Should FDA change the mind, Osiris would not be able to market Grafix and OvationOS.
Osiris will follow the footstep of Organogenesis soon, which makes Apligraf. After Medicare slash the price of its product, Organogenesis had to go through a major restructure to survive. It appears that Osiris insiders already realized this and have been selling shares aggressively.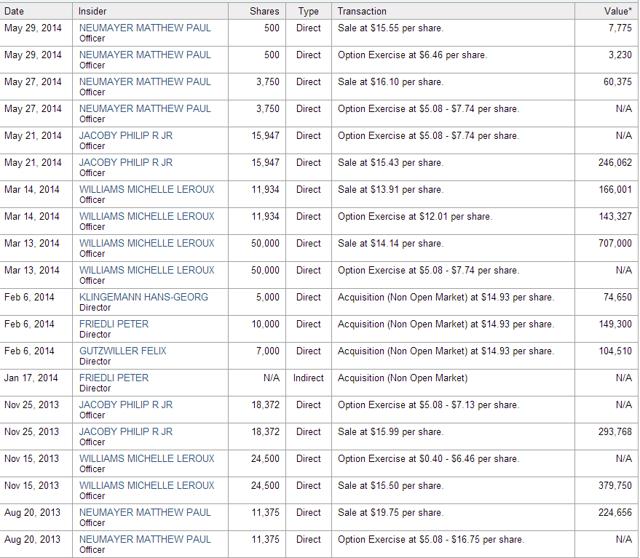 We believe that Grafix will be a huge commercial failure and Osiris future is doomed. The current market cap at $540M is not justified.
Disclosure: The author is short OSIR. The author wrote this article themselves, and it expresses their own opinions. The author is not receiving compensation for it (other than from Seeking Alpha). The author has no business relationship with any company whose stock is mentioned in this article.