By Chris McKhann
Kinross Gold (NYSE:KGC) is falling sharply and drawing heavy call volume, but it doesn't look bullish.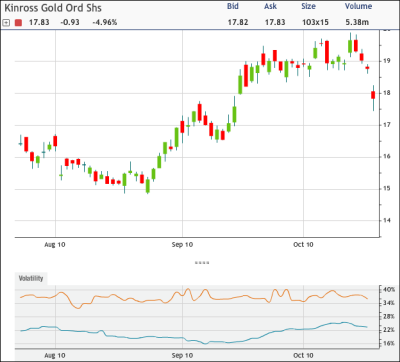 KGC is trading at $17.83, down 5 percent on the day. The miner was approaching $20 last week but has had losing sessions for the last four days, giving up the gains of the last month. Shares remain well above the 52-week low of $14.84 set in late August.
While the option volume hasn't matched the daily average for the name, we do see one unusual trade. optionMONSTER's systems show that 3,300 each of the November 21 and December 18 calls changing hands.
The November calls traded for $0.06 against open interest of 6,551 contracts. At the same time, the December calls were sold for $0.85 against open interest of just 30 contracts.
This diagonal spread may be just that, if both sides of the trade were done to open new positions, and would be decidedly bearish. It could also be a roll, with a trader buying back a short call in December that has lost most of its value and selling a lower-strike call in the further expiration to offset some of the losses in the stock.
This latter explanation seems more plausible to me, likely done against a long stock position.

Disclosure: No position