One of the easiest short sale opportunities that's come across my big board in a while has to be Papa Murphy's (NASDAQ:FRSH). Not a single financial statement the company detailed in its S-1 was attractive and frankly none of them even had the potential to contribute to a bullish leaning thesis when looked at closely.
Since initiating coverage in early May the stock is down 18.2%, currently trading at $9.28, and doesn't have technical support for another 8.5% lower at $8.50 - which is where I would argue the stock is headed before Q2 earnings. With plenty of negative catalysts across all durations, this continuing coverage article will make the argument that based on what should be slowing revenue growth in Q2, a reliance on debt as a result of poor cash management, and possible legal troubles that FRSH remains an excellent short candidate.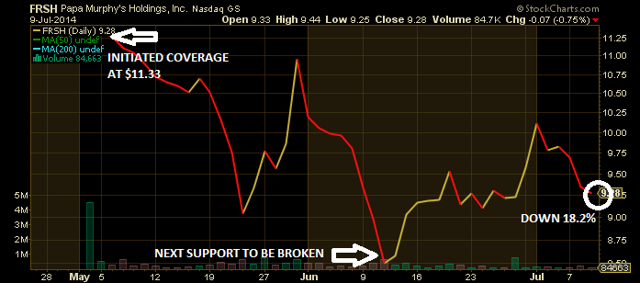 Recent Events
"Papa Murphy's Holdings, Inc., together with its subsidiaries, owns, operates, and franchises Take 'N' Bake pizza stores. As of May 2, 2014, it operated approximately 1,425 franchised and corporate-owned fresh pizza stores in 38 states, Canada, and the United Arab Emirates" (SOURCE: Yahoo! Finance Stock Summary FRSH)
Before getting too far into the Q1 results and what I think is coming with the Q2 results, it should be noted that a large group of analysts have been and remain bullish FRSH:
Raymond James: Outperform - $12
Jefferies: Buy - $15
RW Baird: Outperform
William Blair: Outperform
What the smartest guys in the room see in FRSH is beyond me unless they are basing their ratings and price targets on headlines alone.
For instance, taking a look at FRSH's Q1 income statement one might think the company has begun to turn the corner: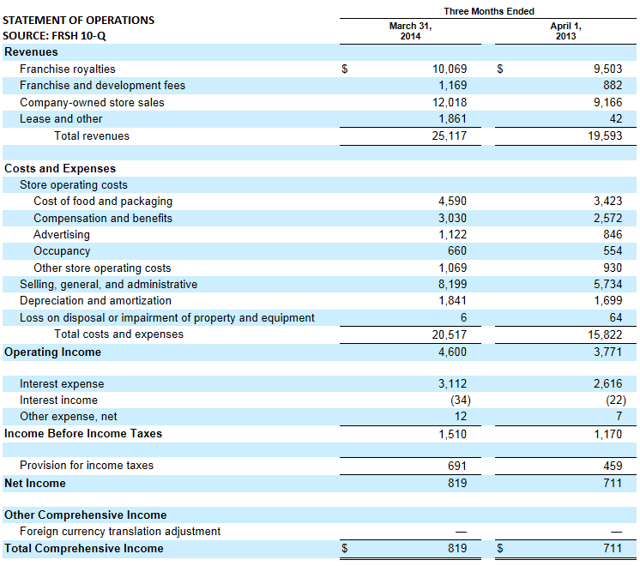 FRSH was able to show decent top-line growth of 28.2% Y/Y and even grew net income 15% from the low figure it showed one year ago. That's about where the bloom falls off the rose. During the same quarter FRSH saw expenses again outpace revenues, expenses grew 29.7%, and when looking at the actual net income volume one can see net income growth of only $108,000 from a prior-year level of less than three-quarters of $1 million.
Keep in mind this is a company with over 1,400 locations, an existing international presence, and a well developed portfolio of debt. This isn't a developing company we're talking about; this is a mature entity in its respected space. That being said, to put the total net income being generated on $25 million in total revenues into perspective, the CEO and Chairman compensation (as of 12/30/2013 - SOURCE: FRSH S-1) is 50% greater than the Q1 print.
The income statement not being pristine is one thing, surely the cash flow statement looks a bit better, right? Wrong. The cash flow statement looks just as bad.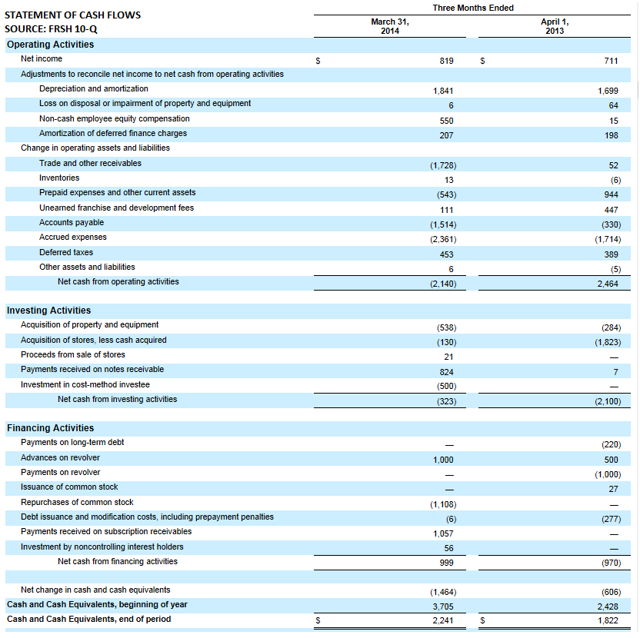 FRSH showed a ~$4.6 million Y/Y reduction in cash flows from operations. Normally, I could excuse that type of drop under one circumstance and it just so happens to be the circumstance that happened. The significant reduction was the cause of several normally positive developments: a reduction of cash flows from receivables (which must be collected later and will positively affect future cash flow statements); a reduction in cash from an increase in prepaid expenses; a significant decrease in accounts payable; a significant reduction in accrued expenses; and a flat-line in deferred taxes. All of these would normally be looked at as a positive but can't be viewed in this light in this individual situation because of the cash flow statement as a whole.
FRSH decided to pay bills and other prepaid expenses in a quarter that would have it completely abandon its growth strategy - as evidenced by the disappearance of store acquisition cash outflows in the investing section - and that would have it draw on its revolver for no other purpose but to purchase shares from insiders - which can be seen in the financing section. These last two sections of the statement could have been equally as ugly as the operations section had it not been for payments received on notes receivable in the investments section and for payments received on subscription receivables in the financing section.
The greater point I'm trying to make is that instead of continuing to delay the spending of actual cash, as FRSH clearly had been because there were builds in all of the areas described in the operations section, and focus on conserving the little amount the company had left, it decided to spend and even spend wastefully. FRSH finished the quarter with a net reduction in C&CE of ~$1.5 million and was left with a total C&CE balance of $2.24 million.
The situation in regards to the revolver being used has been remedied, with the company paying off the balance with a portion of the proceeds of its IPO, but the remaining cash raised from the IPO went directly to paying off $55.5 million of the company's term loan. This paydown of debt may help FRSH if it can somehow pull the rabbit out of the hat and refinance the remaining debt into a larger loan which could provide it some cash inflows. In my opinion this is the most realistic, and the only, scenario that allows FRSH to continue operations further than 12 months from now at best, but it doesn't do anything for the company in the short-term.
Not only that, but if FRSH can execute a refinance of the term loan, which expires in 2018, that would mean the entire IPO (all 5,833,333 shares) would have been an extremely dilutive debt raise in drag. It would cost double in fees (this is speculation, but assumes the fees to complete the IPO and then the fees of a speculative debt raise plus the fees to discontinue the current debt) at best and possibly much more. Making that situation worse - yes it can get worse - the company used a portion of the cash it did have to purchase shares from insiders (in March 2014 FRSH purchased 109,779 shares of common stock from certain executive officers at a price of $11.85 per share - SOURCE: FRSH 10-Q).
All told, FRSH would have essentially held an IPO simply to allow insiders to exit a portion of their positions, and would be back in the situation they are currently in eventually as the existing business model clearly does not work. The fact that FRSH had to do an IPO to pay down debt with absolutely zero cash coming back to the company could be the moment remembered by public someday as the event that publicly announced FRSH's entrance into the world of borrowing from Peter to pay Paul, a world that once in is hard to exit. I just can't see FRSH figuring out how to somehow be profitable to the point that they can materially generate cash flow to support operations in aggregate. History would agree with me.

A History of The Wrong Ingredients
Historically, the income statements and cash flow statements have looked horrible. FRSH didn't just wake up in the situation it's in. It slowly dug itself a deeper and deeper hole out of sheer excellence in inadequacy.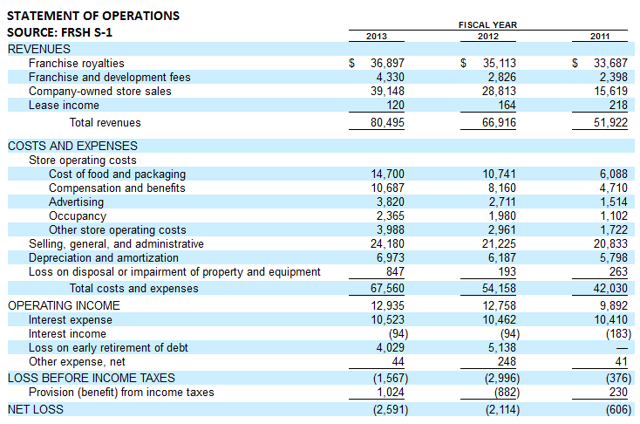 Slowly at first but then all at once FRSH's failure to organically drive margins and top-line growth forced it into growth by acquisition (which was really CAPEX as it was left begging newer and newer franchise money to come into the FRSH capital grinder) which built a significant debt load. You can see how even though the top line continues to grow it can't seem to outpace expenses (noticing a pattern?). This forced FRSH to try to continue to grow the top line through more spending (begging franchise owners, borrowing from lenders) because the top-line growth was the one glimmer of hope FRSH could still sell to potential lenders and future investors. The entire sad strategy basically boiled down to the ballooning growth you see on the interest expense line and the early retirement of debt line (which I blend together and then add to the total expenses summary line because to me a company's debt service is an expense as well). At the end of the day FRSH was left with only one answer and it was the recent IPO that may or may not have rolled the clock back a year or so (possibly several years longer if FRSH can execute the above talked about refinance) so that management could continue to get paid and so that lenders could continue to collect interest.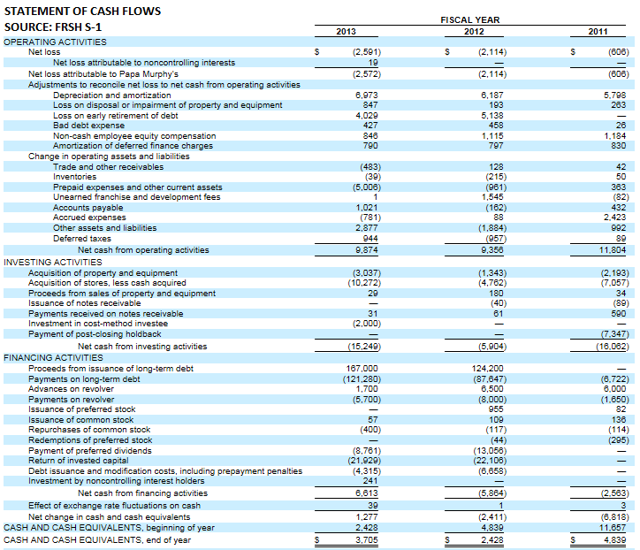 The cash flow statements have been a section by section indictment of what's just been explained in the income statement. You get to see the declining operating income Y/Y/Y (true declines when offsetting positive and negative builds in line items), the consistent need to spend to drive top-line growth in the investments section, and the do-anything-to-survive-while-also-cashing-out-as-much-as-we-can- regardless-of-burying -the-company-in-debt-and-completely-draining-dry-the-cash-flow mantra of the financing section. In total the last three years of the cash flow statements is what to look for when searching for a short. No cash, no care by those invested early, and no plan. I mean just take a look at the payments of preferred dividends (dividends on an unprofitable company with no cash?) and return of invested capital (you get a return of capital when an investment goes sour?) lines that total in aggregate over $68 million. That's just unacceptable.
Again, I reiterate my stance that I am extremely doubtful that FRSH can right the ship in time to make a difference short-term or long-term. I just don't see a scenario where that happens.
Where's the trade?
The trade is clearly to get short and ride the wave down. As of late shares have been harder and harder to find and borrowing the shares isn't risk free. If FRSH announces a refinance of debt and a large cash inflow from that refinance a squeeze will definitely happen and the shares would probably get a few months' halo effect from that happening until the focus is back on cash burn and lack of actual growth. So borrower beware, that may be on its way.
Outside of that scenario, which only delays the inevitable in my opinion, the next downward catalyst should be Q2 earnings where I think that large reduction in investment spending shows up in revenues. I'm expecting revenue growth below guidance, below Street expectation, and to contract. That should punish the shares which should continue their slow trickle until the release of that news. At that point I would cover before everybody else covers and re-short on the backs of the next round of "value shopping" (read: knife catching) longs.
There is another potential catalyst for downward movement that may or may not happen prior to the Q2 earnings. However, any public mention of it should drive the shares lower, and that is the growing legal battle between FRSH franchise owners and FRSH itself. The details of this are beyond the scope of this article but SA PRO contributor Weighing Machine details the issue well in a recent article. I highly recommend a read of that article.
Other Factors
Other factors that should act to suppress pricing across several durations that I don't believe have been modeled into the stock are:
Food price inflation: FRSH had a good portion of its dairy product exposure hedged (mostly cheese) but those hedges are beginning to roll off and will be much more expensive to add back on. In a recent conversation with management, they guided that their solution to the issue would be to focus on controlling the amount of cheese used in products and to try to promote more heavily and advance the rollouts of products with less cheese demand in making. I'm not sure exactly the result this will generate as I don't think the public can be swayed to eat the non-cheese products (which management outlined as mostly bread based products like breadsticks and sweet items from the dessert menu). I'm very doubtful this will do much to help control the increase in COGS that should show in Q2. I'm looking for this to materially suppress Q2 margins and have an amplified effect as a further result of the slowing top-line expectation discussed above.
Non-FRSH related food inflation: food inflation in general is up 25% YTD and that matters to a business that generates a portion of its sales via government benefits cards (differing variations of food stamps). As these dollars are stretched to meet existing household demand at the grocery level fewer dollars should flow to non-grocery purchases like FRSH, even though the qualification remains the same.
The impact of calendar shifts during Q2/14: Part of the top-line growth experienced in Q1/14 was the result of a favorable calendar shift that should negatively impact Q2 results. FRSH didn't exactly advertise this on its Q1 conference call and I had to dig through the historical results to find that the misalignment benefited FRSH, but it did. The 2013 New Year's Eve recently fell on the first week of 2014 (based on how FRSH recognizes weeks and time) compared to the 2012 New Years Eve falling in the last week of 2012 (meaning Q1/2014 had an extra holiday purchase period). In addition, FRSH's Q1 results benefited from the Easter holiday falling in the second quarter of 2014 instead of the first quarter. For clarity, New Year's Eve and New Year's Day are traditionally large pizza buying holidays (at least according to FRSH) and Easter is traditionally a holiday where sales are considerably weaker than the average weekend or average set of days. Both of these helped bump Q1 numbers and should reflect negatively in Q2.
Share lock-up expiration: this is obviously a longer term catalyst but it will almost guarantee that FRSH continues to be the gift that keeps on giving. As insiders watch the price fall over the next few months and the paper value of their holdings fall with it they should be ready to panic sell in volume at the lock-up expiration. This has been well advertised in social media circles but should be front-run in advance of the selling with a close stop set at a price above the short. The front-running of the lock-up should do nothing but put further pressure on insiders to sell.
Possible structural arbitrage: In a best case scenario, FRSH continues to live on its LOC until the balance is maxed out (total balance of $10 million) or until it executes a refinance secured by its assets. In a worst case scenario, and this could become VERY realistic if the legal issues escalate, FRSH would be forced to start to look for a structural arbitragist that wants to finance its next stage of debt while shorting its stock - if that's the variation of structural arbitrage the participant so chooses. The point is if the arbitrage taking place at all involves the equity being sold off as the counterpart of the hedge by the lending party that would obviously have a very negative impact on the stock. It should also be noted that several instances of recent structural arbitrage, in completely unrelated industries, have included massive issuances of stock at par values of one cent per share should the borrowing company actually survive as a result of the lender. That would mean, assuming equity shorting as a counterparty to the hedge, not only would the equity be hit as a result on the front end of the shorting of the equity but it would be hit on the back end as a result of dilution. In either case, the end result isnt good. This may seem like a bit of a reach at this point but watch how quickly this becomes a reality if the group of franchise owners currently suing the company gains any legal ground and the credit markets close off to FRSH.
I would recommend the experienced shorter use FRSH like an ATM until they show metric improvements (not likely) or get the refinance or other inflow of cash. I look forward to providing continuing coverage of FRSH in the future. Good luck to all.
Disclosure: The author is short FRSH. The author wrote this article themselves, and it expresses their own opinions. The author is not receiving compensation for it (other than from Seeking Alpha). The author has no business relationship with any company whose stock is mentioned in this article.