You've probably never heard of Cynk Technology (OTC:CYNK). Unless you've been following Twitter the last couple of days, that is (Source for chart: Interactive Brokers).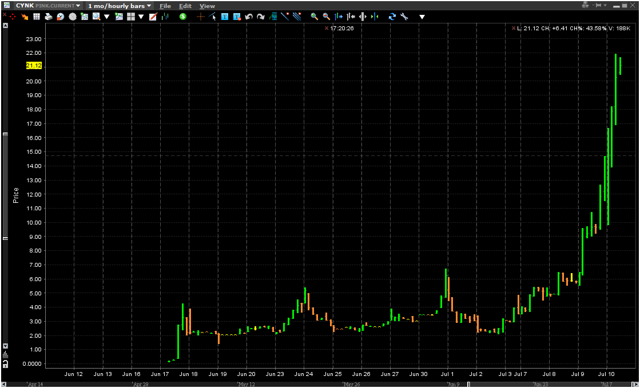 CYNK now has nearly $6 billion in market capitalization. Which isn't bad for a company you've never heard of. That has 1 employee, no website and nearly no cash to its name. $6 billion for a company which doesn't exist, basically. It's even worse than Cannabis Capital (OTCPK:CBCA) and it will obviously fall 99.9% at some point.
However, CYNK also heralds a new age. It heralds the appearance of a new type of scheme engineered to take money from the market. A scheme which will naturally prevail until the SEC shuts it down.
How does this new scheme work
In the most simple of forms, the scheme goes like this:
But this is where the scheme gets really creative. Since insiders control the shares being lent and sold short, they also control the pricing short sellers need to pay just to keep their positions open. This pricing is the so-called "short rebate". And this is what happens in a stock like CYNK (Source: Interactive Brokers, red and green highlights are mine):

Notice how 7 days ago, there was stock to be borrowed. Notice also how the short rebate shoot up into the sky and now stands at 120%.
The problem is not just that the position now needs to pay a fee at an annualized 120%. It's also that this 120% applies to the current stock quote, so in effect the position will be paying 1200% on the short seller's cost basis!
And therein lies the scheme. Either the short sellers quit or they pay through their nose at such a clip that even if they don't quit, they lose. Unless the SEC shuts it down or until someone in the insider circle breaks loose and makes more supply available to the general market, at which point this will, indeed, drop 99.9% with 100% certainty.
Conclusion
Beware of CYNK. It's a scam that's been driven to a $6 billion market capitalization. Yet, there is a rational scheme behind it which should allow its promoters to profit even if the stock ultimately drops 99.9% with 100% certainty.
The scheme involves both a traditional short squeeze, and the racking up of massive short borrowing fees. The stock will drop 99.9%, but those driving it up will probably make out like bandits, unless the SEC does something about it.
Disclosure: The author has no positions in any stocks mentioned, but may initiate a short position in CYNK over the next 72 hours. The author wrote this article themselves, and it expresses their own opinions. The author is not receiving compensation for it (other than from Seeking Alpha). The author has no business relationship with any company whose stock is mentioned in this article.
Editor's Note: This article discusses one or more securities that do not trade on a major U.S. exchange. Please be aware of the risks associated with these stocks.