Up 24.55% year to date, Walgreen (WAG) has outperformed the S&P500, which grew by only 6.20% in the same time, as well as its closest competitor CVS Caremark Corporation (NYSE:CVS), which has seen its share price go up by 7.33%.
Over the past 2 years, Walgreen's dividend yield has dropped dramatically, and at current levels, it's quite close to CVS' yield of 1.43%. In fact, the last time Walgreen's dividend yield was this low was in 2011, as can be seen from the next graph.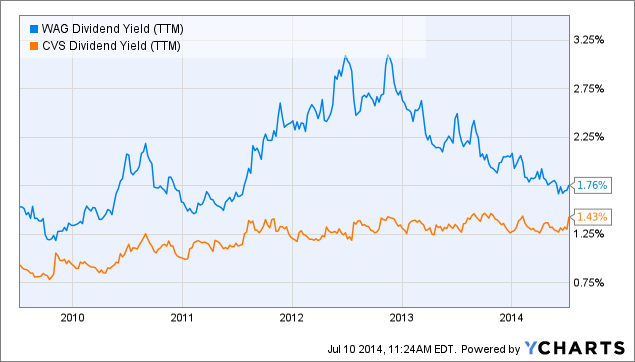 WAG Dividend Yield (TTM) data by YCharts
At 24.03%, CVS's payout ratio is a lot lower than Walgreen's, which has paid out 40.95% of its earnings in the past twelve months. CVS could raise its dividend yield to the same level as Walgreen, and its payout ratio would still remain under 30%.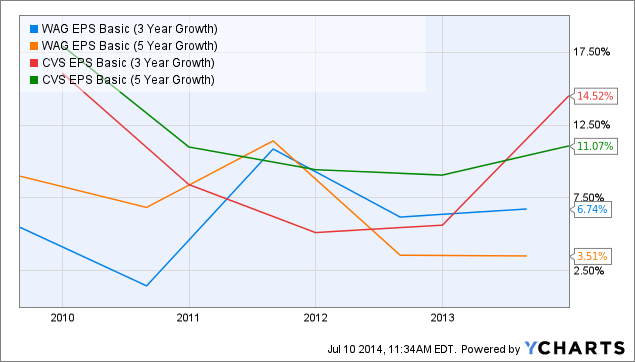 WAG EPS Basic (3 Year Growth) data by YCharts
In terms of EPS growth, CVS easily beats Walgreen on both 3- and 5-year growth rates. Revenue growth rates show a similar pattern: CVS beats Walgreen by a wide margin.
Considering the difference in growth rates, one might expect CVS to be more expensive when looking at forward price to earnings and price to sales ratios. This is however, not the case.
Analysts expect Walgreen's earnings per share to reach $3.35 in the current fiscal year, and $3.84 next year. This means Walgreen, at its current price of $71.41, is valued at 18.6 times next year's expected earnings. CVS's expected earnings per share for next year stand at $5.03, giving the company a forward price to earnings ratio of only 15.2 at the current price per share of $76.63.
CVS is also a lot cheaper when looking at the forward p/s ratio. Analysts expect Walgreen will have revenues totaling $79.69 billion in fiscal year 2015, which would put the company at a forward p/s ratio of 0.86 at its current market cap of $68.37 billion. Meanwhile, CVS is trading at only 0.64 times next year's expected revenue of $139.94 billion.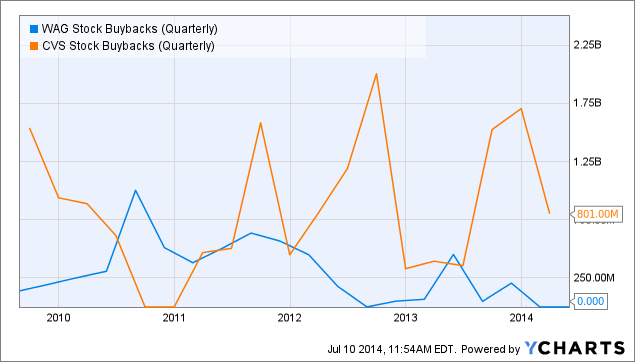 WAG Stock Buybacks (Quarterly) data by YCharts
Dividends are not the only way to return capital to shareholders. As we can see from the graph above, CVS spends far more money on the repurchase of its own shares. Stock buybacks are good for shareholders, as a decreasing number of share leads to an increase in EPS.
One last thing I'd like to take a look at is the balance sheets for both companies. Looking at the balance sheet for Walgreen we can see it has $11.87 billion in current assets and $8.88 in current liabilities, giving it a current ratio of 1.34, which is decent, but not as good as CVS's current ratio of 1.64. Furthermore, CVS has a higher quick ratio than Walgreen (0.93 for CVS vs. 0.57 for WAG).
At current levels, Walgreen appears to be really expensive. However, there is an alternative in the form of CVS Caremark Corporation. It beats Walgreen in terms of EPS growth, valuation, share repurchases, payout ratio and short-term balance sheet health. For now, I think CVS would be the better choice.
Disclaimer: I am not a registered investment advisor and do not provide specific investment advice. The information contained herein is for informational purposes only. Nothing in this article should be taken as a solicitation to purchase or sell securities. Before buying or selling any stock you should do your own research and reach your own conclusion. It is up to investors to make the correct decision after necessary research. Investing includes risks, including loss of principal.
Disclosure: The author has no positions in any stocks mentioned, and no plans to initiate any positions within the next 72 hours. The author wrote this article themselves, and it expresses their own opinions. The author is not receiving compensation for it (other than from Seeking Alpha). The author has no business relationship with any company whose stock is mentioned in this article.