Wells Fargo (NYSE:WFC) has been able to achieve consistent earnings growth quarter by quarter since 2009 in what seems like a remarkable fashion. The company has not failed to beat the previous quarter since 2009, and that is outstanding. I am not talking about a year over year comparison here, I'm talking about previous quarters, and in the earnings graph below this is demonstrated clearly.
On Friday, before the market opens, Wells Fargo is expected to release earnings and for the first time since 2009 the street expects Wells Fargo to report numbers that are below the prior quarter. This is extremely important only if growth rates are important to you.
In this second graph we have outlined the trailing 12 month annual growth rates for Wells Fargo and as the graph shows those growth rates have been declining. Now, if this current quarter is lower than the previous quarter the growth rate chart could reasonably approach zero. That would be very concerning for anyone looking at valuation.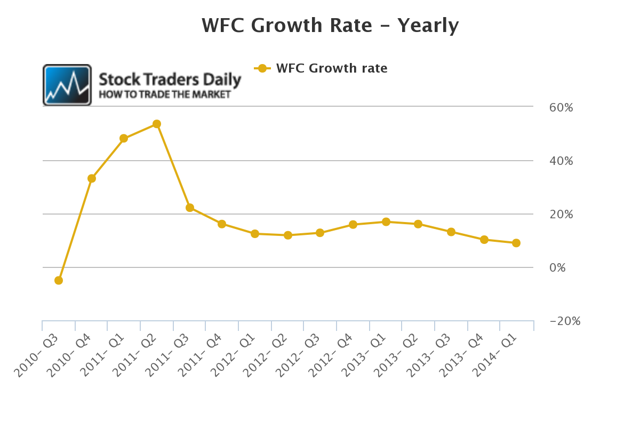 What's more concerning, to me at least, is that earnings have grown steadily, but revenue has not. I attribute this to good management; also, reasonably, reserves come into play, but if earnings growth has reached a peak and revenues are not expected to grow then multiples absolutely come into question. Even though Wells Fargo trades at a multiple lower than the S&P 500 itself, if the company stops growing multiples will contract.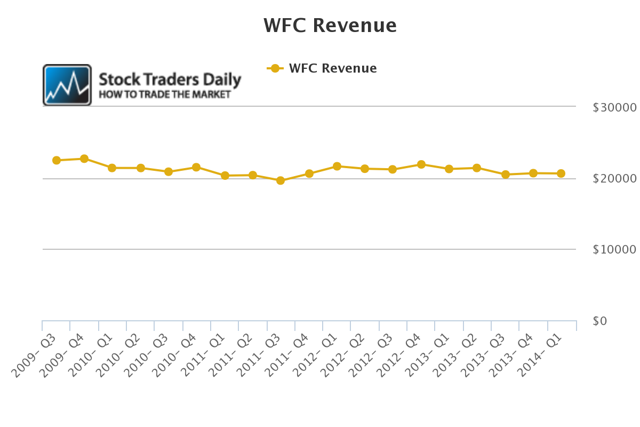 From a trading perspective, Wells Fargo has also come close to the resistance line in our real time trading report for WFC and if longer term resistance as we have identified it remains intact we will expect the stock to fall back to test longer term support by rule.
Disclosure: The author has no positions in any stocks mentioned, and no plans to initiate any positions within the next 72 hours.
Business relationship disclosure: By Thomas H. Kee Jr. for Stock Traders Daily and neither receive compensation from the publicly traded companies listed herein for writing this article.