Investopedia defines Tactical Asset Allocation as:
An active management portfolio strategy that rebalances the percentage of assets held in various categories in order to take advantage of market pricing anomalies or strong market sectors.
It has become more popular with Mebane Faber's work and the Ivy Portfolio. The periodic asset rebalancing may be based on various indicators:
Technical, usually price momentum or risk-adjusted performance measured on a look-back period,
Or fundamental, for example price-to-earnings ratios in countries or industries.
A previous article gives an overview of my tactical Core ETF portfolio. This one illustrates the pros and cons of tactical allocation with a former holding: the iShares Nasdaq Biotechnology ETF (NASDAQ:IBB). It is just an example; however, this trade is quite typical of the pros and cons of tactical allocation models, whatever the asset list, indicators, look-back periods, and rebalancing frequencies.
Before showing the trade and the cons, let's focus on the pros:
Tactical allocation is usually robust when changing the rebalancing frequency. In the particular case of my Core ETF portfolio, 12-year simulations show a 32% annualized return with a weekly rebalancing. This is hypothetical: no representation is being made that any account will or is likely to achieve a similar profit. With a 4-week rebalancing, the simulated annualized return loses less than 4%, and it is still at 20% with an 8-week rebalancing.
Tactical allocation is usually robust when changing the look-back period. For example, the Sector component of my strategy, which selects every week a sector or industry ETF, has a 12-year simulated annualized return of 28%. If I add or subtract one month to the look-back period, the simulated annualized return stays above 23%. It means that if the parameter is willingly or unwillingly curve-fitted (optimized), the risk of harmful consequences is very limited.
Tactical allocation is robust to modifications in the asset list, if the list is long enough. In this particular example, the 12-year simulated annualized return stays the same removing IBB from the list of possible holdings. In fact, it is 0.15% better.
Tactical allocation is robust to modifications in holding numbers. In the example of my Core ETF portfolio, the return and volatility are remarkably stable selecting the top 4 to 6 ETFs in the ranking.
Last but not least, tactical allocation is quite robust when changing the indicator itself, as shown here in an outstanding article by another author.
As an intermediate conclusion, tactical allocation is robust on the long term. It has some drawbacks on the short term, illustrated below.
Last 12 months, I have held IBB twice in my Core ETF tactical portfolio, for a total of 8 months.
| | | | | |
| --- | --- | --- | --- | --- |
| Bought on | at ($) | Sold on | at ($) | Profit |
| 7/8/2013 | 183.80 | 10/14/2013 | 199.66 | 8.6% |
| 11/11/2014 | 205.21 | 4/7/2014 | 224.83 | 9.6% |
The compounded return is 19% in 8 months (about 29% annualized). A perfect trade? Not really, as you can see on the weekly chart :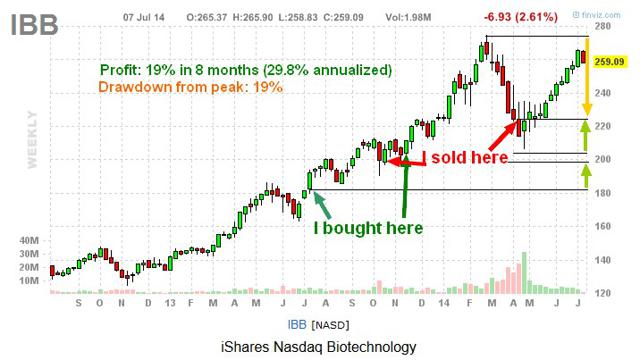 It was a frustrating trade indeed, with a 3-step frustration. After I sold it the first time, I bought it again at a higher price. Then, when I sold it the second time, it was 19 % down from the peak. Finally, it went up again just after I sold it.
This illustrates perfectly the drawbacks of most tactical allocation models: possible over-reactions and under-reactions. Basically, the main reason why an asset goes out of a tactical portfolio is not to become suddenly bad, but to be pushed out by a better one from the point of view of a relative strength indicator. It has two consequences:
When there are several frontrunners, the strategy may switch between them and be whipsawed. This is what happened when I sold the first time. The reaction to a moderate consolidation was too early.
When the leader has gone fast ahead of the pack, it may need time before another one takes over. This is what happened before I sold IBB the second time. Unfortunately, the second rank ETF also fell sharply at the same time: it was the First Trust Dow Jones Internet Index Fund (NYSEARCA:FDN). The consequence is a 19 % drawdown before the third rank, SPDR S&P Oil & Gas Exploration & Production ETF (NYSEARCA:XOP), could take over. It was a position out of 4 in my Core ETF portfolio: this drawdown represents about 5 % of the capital allocated to the strategy.
Over- and under-reactions are amplified when the leading assets are correlated, and when the list of possible assets is too short, or too long. A short list increases the risk of under-reaction, a long one increases the risk of over-reaction. In backtests, I have tried to add systematic stop-loss and take-profit orders to limit drawdowns. It is not convincing and complicates the model. My only conclusion is that a 20% trailing stop doesn't harm long-term returns, but it does at 15% or less.
This trade also illustrates the bias between perceived performance and real performance. It was a frustrating trade but it was a winning trade, with almost the same annualized return as in backtests.
Like any investing logic, tactical asset allocation has strengths, but also weaknesses. There is no bullet-proof strategy: a conservative investor should never bet too much money on a single market anomaly or rationale. Tactical allocation may be combined with strategies based on other biases generated by growth, valuation and dividends, so as to build an all-weather portfolio.
Disclosure: The author has no positions in any stocks mentioned, and no plans to initiate any positions within the next 72 hours. The author wrote this article themselves, and it expresses their own opinions. The author is not receiving compensation for it (other than from Seeking Alpha). The author has no business relationship with any company whose stock is mentioned in this article.