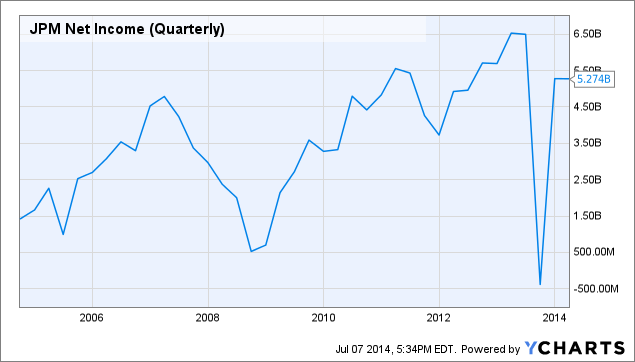 Background: JPMorgan Chase & Co. (NYSE:JPM) is a leading global financial services firm. The company trades an average of 12.8 million shares per day, and the market cap is $212 billion.
Price To Book: 1
JPMorgan is forecast to report WEAK second-quarter earnings before the market opens on July 15, 2014. The consensus estimate is currently $1.29 a share, falling 31 cents (19.4%) from $1.6 during the same period last year. Estimates from analysts range from a low of $1.16 per share, up to the highest estimate of $1.38 per share.
The whisper numbers I'm finding range from $1.33 to $1.37. A significant beat, along with an improving outlook, should propel the shares higher in my opinion. The stock is priced for zero or negative growth with a forward price-to-earnings ratio of only 9.5.
When a P/E ratio is under 10, it means investors have walked away and more or less given up. They have a point though, JPMorgan is so big and the government isn't exactly making life easy for banks and financial firms lately. Still, buying on dips with the newly raised dividend is a safe play.
In comparison, Bank of America (NYSE:BAC) is 10.5, Citigroup (NYSE:C) is 8.8, Wells Fargo (NYSE:WFC) is 12.1, and U.S. Bancorp (NYSE:USB) is 12.8. Compared to other industries, banks are cheap, but there are good reasons why. The list starts with government red tape and mountains of new (and old) regulations.
If the shares go nowhere, you get an effective yield of 2.86% for waiting. It's a classic heads you win, tails you break even type of investment for a long-term hold. That includes the difference in dividends shareholders receive. Bank of America and Citigroup pay four cents a year, while Wells Fargo pays $1.40 (2.67% yield), and JP Morgan investors collect $1.60 per year.
After last quarter's 12 cent miss, the shares decreased only slightly 3.9%, or $2.22 from the close before earnings release to the closing after. The final price preceding the report was $57.40, and concluded at $55.18 the next trading session. The reason, is again, the shares are already fully discounted for little or no growth. A miss just isn't going to beat this stock up, while a beat will give it legs.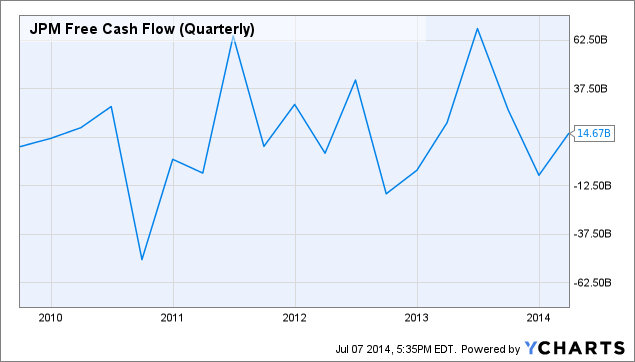 Traders and investors are expecting $2.24 change higher or lower, or about a 4% change, during the next 10 days based on current option pricing. That's a range of $53.52 to $58, just for one standard deviation. The price of options makes buying or selling premium about equal if you get the direction right. Otherwise, selling premium is slightly superior using historical volatility as the judge.
Shares have traded slightly lower in the last month of trading, and are about break even at 1.5% less than a month ago. That implies a lackluster report one way or another, but highly subject to change in the days leading up to the report.
Unlike Bank of America and Citigroup, I think JPMorgan is worth looking at with less than highly speculative capital. In my articles for Bank of America and Citigroup, I was reminded how much potential they have compared to Wells Fargo.
It's true both Bank of America and Citigroup have potential, but nothing says potential wasted like having the government involved in your activities. JPMorgan isn't immune to various agencies sticking their hands into the bank's wallet, but it's nowhere close to that of Bank of America and Citigroup.
Once Bank of America and Citigroup are able to escape from the leg irons of big brother, I will likely change my opinion, or at least take another close examination. That could wind up taking a lot longer than many realize though.
I also wrote an earnings preview for Wells Fargo describing what to expect and why I think it makes a good safe investment, especially if you're dividend-focused. Wells Fargo makes the top of my list along with U.S. Bancorp, but JPMorgan is my next big bank value.
CEO Jamie Dimon is undergoing treatment for cancer, but that should have zero impact on this report and I don't see it becoming a material issue in future quarters.
That said, if you're worried about earnings and are contemplating an exit, I suggest you sell calls against the shares. You can always buy them back if you change your mind. That will give you downside protection without paying for it. Otherwise, keep the seat belt fastened and enjoy the ride while you get paid to do so.
Disclosure: The author has no positions in any stocks mentioned, and no plans to initiate any positions within the next 72 hours. The author wrote this article themselves, and it expresses their own opinions. The author is not receiving compensation for it (other than from Seeking Alpha). The author has no business relationship with any company whose stock is mentioned in this article.