ServiceMaster Global Holdings Inc. (NASDAQ:SERV) - Buy Recommendation - Price Target $19.80
August 5th marks the conclusion of the 25-day SEC-enforced quiet period on SERV. On August 6th, SERV's many powerful underwriters will likely release positive, detailed research reports, and boost the price of SERV shares. SERV has performed generally well on the market post-IPO, and receives continued support from private equity firm CD&R. We see the quiet period expiration for SERV as another chance to buy into this multidimensional company.
August 5th will mark the conclusion of the 25-day SEC-enforced quiet period on underwriter research that began with the June 25 IPO of ServiceMaster Global Holdings Inc., allowing the firm's IPO underwriters to release reports on the Clayton, Dubilier & Rice (CD&R)-backed building maintenance provider - and likely generating at least a temporary increase in SERV share prices.
Generally Strong Post-IPO Market Performance
SERV's IPO priced below its expected price range of $18-$21 per share at $17 per share, likely due to conservative pricing on the part of CD&R with a mind towards starting trading off on the right foot.
The stock enjoyed a modest 5.6% first-day return, and has since been on a jagged but overall upward trend. SERV closed at $19.06 per share on July 10.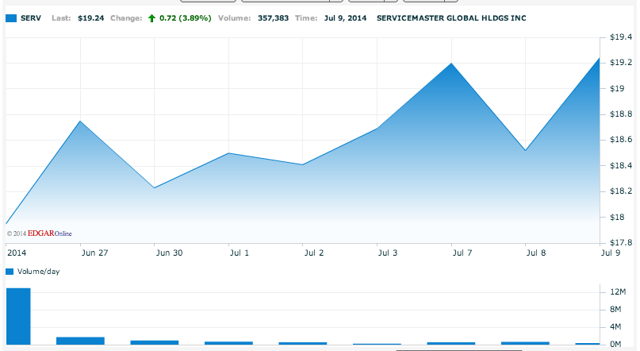 (Nasdaq.com)
Numerous, Reputable Underwriters
SERV's IPO underwriters, including Credit Suisse Securities (USA) LLC; Morgan Stanley & Co. LLC; Goldman, Sachs & Co; J.P. Morgan Securities LLC; Jefferies LLC; BofA Merrill Lynch; Natixis Securities Americas LLC; RBC Capital Markets, LLC; Piper Jaffray & Co.; Robert W. Baird & Co. Incorporated; and Samuel A. Ramirez & Company, Inc., will seek to expand on the firm's positive start through the release of positive research reports beginning on the 20th.
Evidence That Strong Underwriting Can Help Boost Share Price At Quiet Period Expiration
The Journal of Finance (Vol. LVIII, No. 1; 2003) notes that share prices typically begin to increase days before the quiet period expiration, as investors purchase shares in advance of the expiration in order to take advantage of positive forthcoming underwriter reports.
Lead author Dan Bradley, Ph.D., CFA, of the University of South Florida, and his colleagues explain that analysts initiate coverage of 76% of firms at the end of the quiet period, nearly always with a 'Buy' or 'Strong Buy' rating. Bradley and his colleagues also state that firms for which coverage is initiated experience abnormal positive returns of 4.1% in the two-day periods prior to and following the date of initiation.
Returns have been found to rise to an even greater extent when more than one analyst initiates coverage of a firm - to 6.4%.
Carter, Piwowar, and Strader (2001) support Bradley's conclusion, stating that the mean analyst rating at the conclusion of the quiet period is a 'Buy' and that higher ratings correlate with higher returns.
Increased share purchases in the run-up to the expiration of the quiet period lead to a perception of increasing demand, leading to rising share prices before the quiet period has expired and providing a short-term buying opportunity for aggressive investors.
Bradley et al also find a significant correlation between the quantity and visibility of IPO underwriters and rising share prices near the conclusion of the quiet period.
Data from our own research over the past three years supports the conclusions of the above academic studies.
Building Maintenance, Pest Control Business
SERV operates numerous well-known brands across building maintenance sectors, including pest control provider Terminix, disaster restoration specialists ServiceMaster Restore, home warranty provider American Home Shield, janitorial service provider ServiceMaster Clean, furniture repair provider Furniture Medic, residential cleaners Merry Maids, and home inspector AmeriSpec.
Terminix is by far the firm's largest revenue creator, having generated approximately 60% of SERV's revenue for the first quarter of 2014. SERV's American Home Shield warranty brand is also a significant source of revenue, and is four to five times the size of its nearest competitors.
SERV's network consists of more than 7,000 locations; the firm's large scale and diverse offerings provide some security from risk. SERV's customers are geographically distributed across the United States; its services are dissimilar enough so as to be somewhat resistant to company-wide issues.
Private equity firm Clayton, Dubilier & Rice, LLC took SERV private in 2007. CD&R held approximately 47.3% of SERV's common shares at the conclusion of the IPO.
See our prior article for additional details.
Competitors In Each Sector
SERV faces differing competitors from sector to sector.
Pest control competitors include Ecolab, Inc. and Orkin, Inc., a subsidiary of Rollins, Inc. (NYSE:ROL). Terminix also competes with many local and regional firms.
SERV's home warranty business mainly competes with regional firms. The largest national competitors are Old Republic International Corporation (NYSE:ORI) and First American Financial Corporation (NYSE:FAF).
Management With Diverse Experiences
Robert J. Gillette has served as CEO of SERV since June 2013. He previously owned and served as the president of Gillette Properties, LLC, a residential property developer.
Mr. Gillette also served as the CEO of First Solar, Inc. (NASDAQ:FSLR), and as the president and CEO of Honeywell International, Inc.'s (NYSE:HON) aerospace division.
Earlier in his career, Mr. Gillette worked in various executive and field roles with General Electric (NYSE:GE).
Mr. Gillette received a B.A. in Finance from Indiana University.
Conclusion: Continued Backing Leads To A New Buying Opportunity
SERV's fairly strong early performance on the market has in large part been the product of CD&R's savvy IPO pricing, and may have also benefited from name recognition due to SERV's massive scale.
Though the firm's financials have been less-than-impressive in recent years, we believe that CD&R's continued backing grants the firm an opportunity to succeed.
The upcoming quiet period expiration represents a good opportunity for interested investors to get a piece of SERV.
We invite readers wishing to join the discussion on IPO Quiet Period Expirations to click the +FOLLOW button above the title of this article - and those looking for the latest updates to click +Get real time alerts.
Disclosure: The author is long SERV. The author wrote this article themselves, and it expresses their own opinions. The author is not receiving compensation for it (other than from Seeking Alpha). The author has no business relationship with any company whose stock is mentioned in this article.