Gold is like the old ex that is still obsessed with you - you never really get around to calling her unless you're having one of those "end of the world" style nights where you're smashed out of your gourd and your life seems to be heading for the final flush with nothing you can do to stop it.
Those are the days that you crave comforting, no matter what she looks like, how obsessed she's been with you for the last 10 years, or whatever weird gift she insists on sending you every year for your birthday.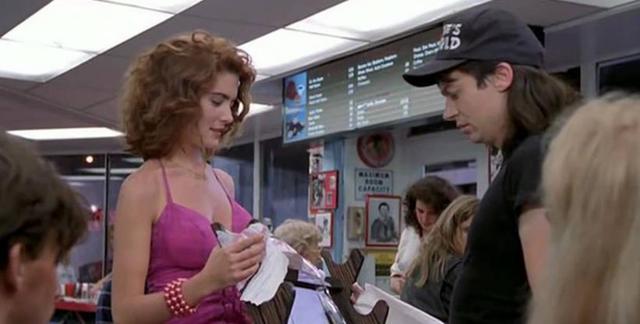 "A gun rack? I don't even own *a* gun, let alone several guns that would necessitate an entire rack. What am I going to do - with a gun rack?" (Wayne's World)
And, for those of you that read me regularly, you know that I'm a major supporter of gold. I'm basically a perpetual bull on the precious metal due to its finite availability, use as a hedge, and 5,000+ year history as a currency.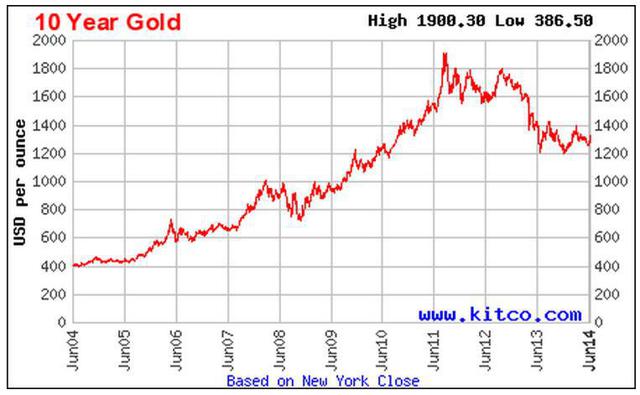 Additionally, I also feel the same about silver (NYSEARCA:SLV). Silver, on the other hand, also has a significant amount of usage in industry and manufacturing, as well as acting as a hedge in a similar fashion as gold. Both precious metals have been faring well of late - silver is in one of its biggest runs in years, up 12% in the last month alone.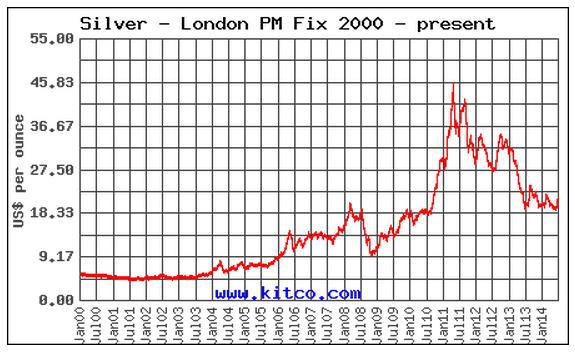 In the eloquent terms that Seeking Alpha used yesterday, gold has certainly "caught a bid":
Portugal's 4% decline today brings its 7-day dive to 11% as the parent of Banco Espirito Santo (OTC:ESFHF) reportedly is considering bankruptcy protection. Banco Espirito is off 17% today and more than 50% over the last month.
Spain's IBEX 35 is down 2.4% and Italy's FTSE MIB is lower by 2%.
Gold is higher by 1.5% to $1,344 per ounce and silver by 2.4% to $21.58.
In other news, India disappointed gold bulls by leaving in place recent increases in gold import taxes in its just-released annual budget. The previous government over the last two years had boosted the import tax to 10% from 2% and mandated that 20% of imports had to be re-exported.
This was already on top of an impressive 2014 for both of the metals: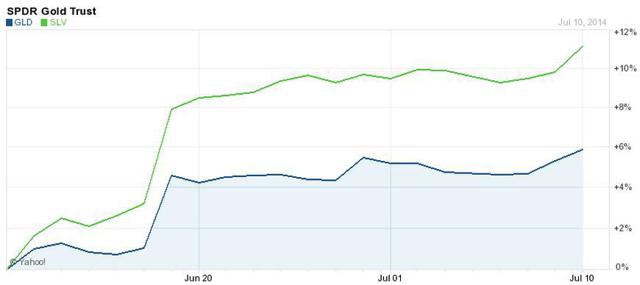 So, now they come crawling back to old faithful.
After analyst downgrades of gold that we've all heard over the last year, money is now pouring into the metal at the slightest bit of unease. I've made it clear that short-term analyst price targets on gold are for trading means only and that you'd be hard-pressed to find an analyst that doesn't think gold is going to continue to rise in the long-term picture:
The reason you have to look at gold for the long term only is simple: the price is manipulated in the short term. If you don't believe me, read about my beef with Goldman Sachs last year, and how they bought gold off of their own downgrade. Analysts and institutions don't care about gold itself, they use it as a vehicle for trading - they would use it the same way if it was a derivative and the underlying asset was 59 boxes of shelled walnuts. As long as there's liquidity, there's upgrades and downgrades to be issued.

The point of the matter is that analysts use the short term to simply trade gold - go long-short, short-long, etc. - and make money off of the volatility. Any serious analyst that tells you they don't think gold is going to rise over a ten-year period from now shouldn't be analyzing anything - with the exception of perhaps making sure the urinals in the men's room have fresh cakes in them.
So, if you're looking for the safe and comforting feeling, why not consider shoring up some capital and securing it in one of the precious metals? The nice thing is like that psycho ex, gold is always going to be there. As I said in a past piece:
It's no surprise to me that with a little turmoil, people are retreating to gold. It's instinctive, just like the same reason that gold is held in reserve by central banks. Need a reminder that gold is, in fact, currency? Take five minutes of your day and watch Ron Paul carefully pack up Ben Bernanke's manhood into a mason jar and carefully hand it back to him.
The great thing about having a change of heart and flocking to gold in a moment of panic? Unlike with your psycho ex, you're not likely to have a debacle on your hands the morning-after when you come to. As a matter of fact, you just may learn to fall in love yet again.
I remain long-term bullish on gold.
Best of luck to all investors.
Gold and silver ETFs: AGQ, IAU, USLV, SIVR, ZSL, SGOL,UGL,DGP, GLL, UGLD, DZZ, SLVO, GLDI, DSLV, DGL, DBS, DGZ, DGLD, AGOL, OUNZ, TBAR, USV, UBG, GYEN, GLDE, GLDL, GEUR, GGBP
Disclosure: The author has no positions in any stocks mentioned, and no plans to initiate any positions within the next 72 hours. The author wrote this article themselves, and it expresses their own opinions. The author is not receiving compensation for it (other than from Seeking Alpha). The author has no business relationship with any company whose stock is mentioned in this article.