Rex Energy (NASDAQ:REXX) is a compounding machine. With rapidly increasing revenue, production, and proven reserves, some investors might think Rex is an easy buy. But can the current price of $16.25 per share be justified? Read on to find out.
About Rex
Rex Energy is an independent oil and gas company with operations located in the northeast region of the United States. The company mainly operates in two locations: the Appalachian Basin (where Rex is focused on natural gas and natural gas liquids production) and the Illinois Basin (where Rex is focused on conventional oil well production).
As shown by the graphic below, most of Rex's focus is in the Appalachian Basin which is located in eastern Ohio and western Pennsylvania. 88% of the company's capital expenditures in 2014 will be located in the Application basin. Likewise most of Rex's reserves (94.3%) also lie in the Application Basin.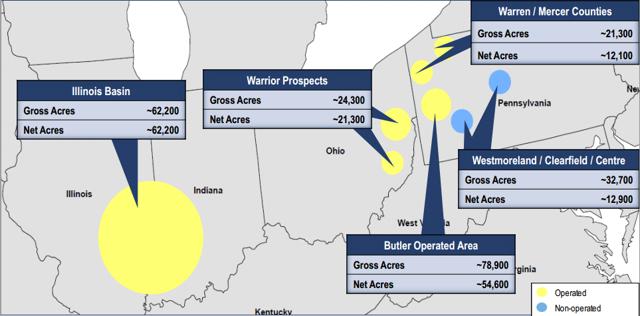 Source: June 2014 Investors Presentation
Growth of Production and Reserves
Production is the most important aspect of oil and gas companies. Without production growth, revenue and earnings will stagnate and the company will not create any value for its shareholders. Rex Energy has been growing production for the last 5 years at a very rapid pace. In 2009, the company produced 16,102 Mcfe per day on average. In 2013, that number grew to 92,744. Rex's production has grown at a compound annual growth rate (OTCPK:CAGR) of 41.93%. In the same vein, proven reserves have grown nicely over the same period from 125.2 Bcfe to 849.8. A CAGR of 46.67%.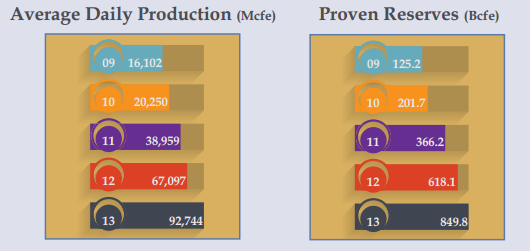 Source: Rex Energy's 2013 10-k
Minimizing Expenses
Along with increasing production and reserves, Rex has also been on a mission to decrease expenses. Over the past five years, Rex has been able to decrease both lease operating expense per Mcfe and general and administrative expense per Mcfe.
Lease operating expenses are expenses that relate to maintaining and operating property and equipment on an oil and gas lease. General and administrative expenses are basic company expenses like employee compensation, insurance costs, and other costs that don't directly relate to field operations. For the past five years, both of these costs have been going down in comparison to production meaning that it is costing Rex less to produce.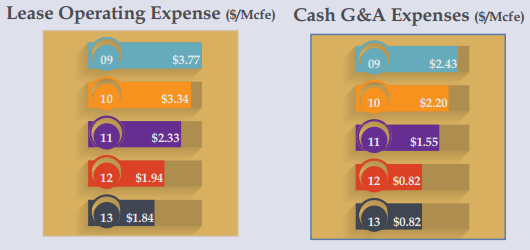 Source: Rex Energy's 2013 10-k
Revenue Growth
Much like growing production, Rex has also been increasing revenue year over year for the past 5 years. Revenue has increased from 48.5 million in 2009 to 213.9 million in 2013, a CAGR of 34.5%. Below is a look at revenue compared to net income.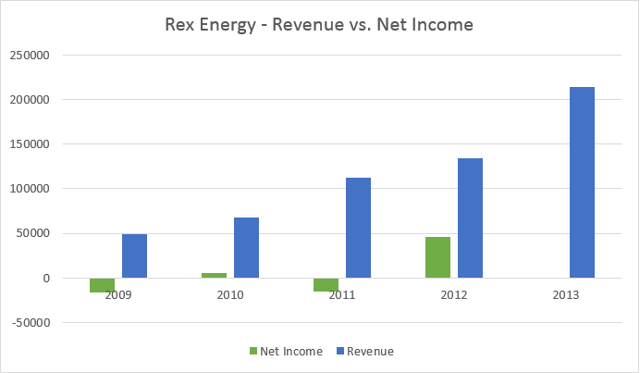 Source: data from Rex's 10-k, graph made by myself
If you were to show me this graph, my first question would be "why did Rex record its highest amount of revenue in 2013 but didn't make a profit?" There are a few reasons for this. Most have to do with the fact that Rex is attempting to expand as quickly as it can. A few reasons why a net loss was recorded in 2013 include:
A large increase in exploration expense. This line on Rex's income statement increased by 138.6% from 2012 to 2013. As Rex explores for more gas and oil, this expense will naturally increase. However, this increased more than normal when compared to revenue because of two dry holes drilled in areas of the Illinois Basin. Dry holes are wells that are drilled but don't produce oil in commercially worthwhile amounts. This accounted for approximately $3 million of the exploration expenses (26%).
A massive increase in interest expense. In 2013, Rex paid 22 million in interest expense which is a 253% increase from the prior year. This large increase was due to the company's outstanding senior notes. In December 2012, the company issued $250 million worth of senior notes which are being paid at a rate of 8.875%.
An increase in field service operating expenses. Another business that Rex is a part of besides oil and gas drilling is field service. In this part of the company's business, Rex services other companies with tasks that they need done in the field. The company claims the reason this expense increased by 110% was because of the additional services that the company is offering, namely water trucking and tank rentals.
The Search for Value
Right now, Rex might look a little expensive to investors while it is trading at a PE of 90. However, PE ratios usually aren't the best indicator of value for small oil and gas companies. Although PE ratios indicate the price per share compared to bottom line earnings per share, oil and gas companies that are expanding rapidly have a lot of factors in play that don't effect larger companies like Exxon and Chevron as much as smaller companies. Most notably, this includes large interest payments on debt to finance expansion and large capital expenditures to pay for all of the infrastructure needed to expand production.
Therefore, to value Rex, I will be comparing the company's enterprise value and market cap to EBITDAX. EBITDAX measures earnings before interest, taxes, depreciation, amortization, and exploration costs. It will enable us to compare Rex to other companies without regard to financial or capital structure. In the chart below you can see how Rex fairs when compared to other oil and gas companies like Exxon and Chevron. I also included a comparison of market cap to EBITDAX and price to earnings for those who prefer a more simplistic approach to valuation.

Source: data from most recent 10-Ks from all the companies listed, calculations done by myself
As you can see, Rex is expensive when looking through several different lenses. Whether comparing EBITDAX to enterprise value or market cap, Rex is trading at a premium compared to other oil and gas companies like Chevron and Exxon.
After Rex's share price increased over 44% in 2013, the company's shares are now overvalued. Although the company is solid in many aspects which I have already covered, I would suggest waiting for the price to drop before investing in Rex.
The Bottom Line
Rex Energy's fundamentals are strong. Production is increasing along with revenue while the company is decreasing its costs. However, for value investors, Rex is too expensive to justify buying at its current price.
Disclosure: The author has no positions in any stocks mentioned, and no plans to initiate any positions within the next 72 hours. The author wrote this article themselves, and it expresses their own opinions. The author is not receiving compensation for it (other than from Seeking Alpha). The author has no business relationship with any company whose stock is mentioned in this article.