The depression continues for US commercial real estate. Tuesday, Moody's reported that its Moodys/REAL Commercial Property Index declined 3.3% in August, which means prices have fallen back down to levels not seen since 2002. The index is now 45% off its all time high reached back in Oct. 2007.
Below is a chart which shows the performance of the index since 2001.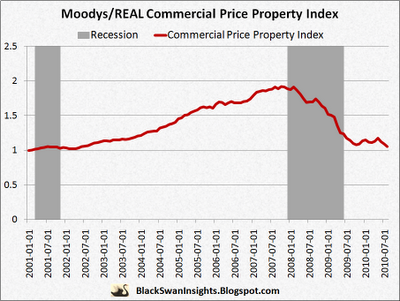 What is disturbing is how quickly the index has fallen over the last few months. The index is down almost 10% since the beginning of the year. It should be noted that the majority of transactions are distressed sales, which are largely responsible for the sharp decline. This is the major reason banks are not foreclosing on commercial properties. They don't want to be stuck with the losses when trying to resale the property. No wonder banks have been so willing to restructure and extend loan terms for commercial real estate. Extend and pretend is the name of the game right now.
Disclosure: None