There's been a huge increase in the popularity of America's new passion and no it's not the newest episode of "Who Wants to Marry Harry?" The US has been caught in the middle of a new market revolution, which is legalized marijuana. Some states go the medical route and others have found huge success by way of legalized recreational MJ. In fact, as of a few days ago, the Empire state became number 23 on the list of states approved to sell, dispense, and tax marijuana for medical purposes. Gov. Cuomo has signed the bill under the ruling that the drug is prescribed for use that does not involve actually smoking the plant. This means that companies that produce edibles, oils, waxes, and even vapor products can benefit in a large way from this decision.
Another state has entered into the legalized recreational field as of July 8, and it's surely going to be another guinea pig for the country to watch for the success or failure of the decision to do so. With more states seeing the immediate tax benefits of legalization from both forms; recreational & medicinal, this should build a solid framework for future plans of recreational opportunity. As more states like New York see the health benefits of a smokeless delivery method versus a traditional smoking method, businesses and corporations will begin perfecting ways of methods that do not involve directly inhaling a smoldering plant.
Digressing from sociopolitical views, the focus of this article in on ways investors can benefit from this newly popular and growing niche within a quickly expanding market. Most public companies up until this point have been mainly focused on cultivation methods anywhere from actually growing the plant to designing systems sold to these growers. Earlier this year, I had cited several PubCo's that were increasing their market share within the 'Farming' niche of this industry but as more companies pop up in the medical and recreational marijuana space, it's quickly become evident that a state like New York has basically given a blueprint on how future MJ companies can profit from the marijuana movement with the focus on being able to render the plant into a form that can be delivered without smoke inhalation.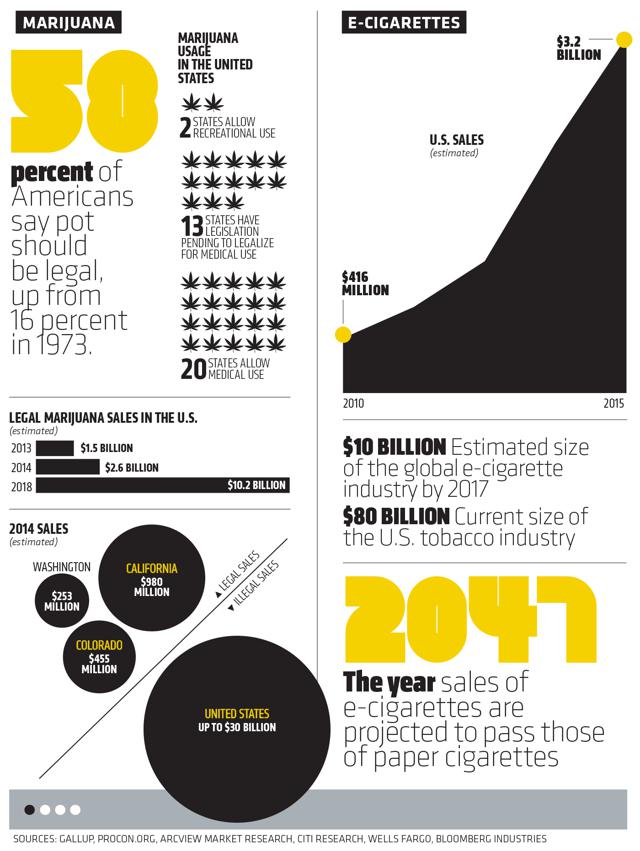 So who are some of the major market players in this emerging "Vape Industry"? Believe it or not, ECig companies are quickly gaining a presence and expanding the revenue models to include opportunity in the MJ arena. The technology is already there for making a smoke-free delivery system accessible to users of age (anywhere from gas stations to head-shops) and based on the size of the E-cig market as a whole, opportunity to simply convert the application to a different plant (IE Cannabis) shouldn't be a difficult switch. In all cases, this one would think that this should create multiple revenue streams for most of the larger E-Cig players in the space while opening doors for smaller companies to grab their piece of the pie as well.
NASDAQ's newly listed Vapor Corp (NASDAQ:VPCO) CEO Jeffrey Hollman rang the opening bell on June 10 of this year signaling VPCO's entry onto a higher exchange. This was once an OTC stock that made the move up to establish itself as a market leader in the e-cig and vaporizer space.
"Uplisting to NASDAQ represents a key milestone for Vapor Corp. We believe that trading on The NASDAQ Capital Market will provide us increased visibility in the market place, greater access to capital, a broader investor base and ultimately help us implement our growth initiatives and enhance shareholder value…We likewise believe the additional exposure and credibility that Vapor Corp. will receive from the investment community as a NASDAQ listed company will generate broader media and industry awareness of our business and brands."

-Jeff Holman, chairman, president and CEO of Vapor Corp
Currently VPCO has several brands under its umbrella including Krave, VaporX, Hookah Stix, Alternacig, EZ Smoker, Green Puffer, Americig, Fumaré, Smoke Star, and Fifty-One (known as Smoke 51) brands. According to Vapor Corp, the company "offers disposable electronic cigarettes in multiple sizes, puff counts, styles, flavors and nicotine strengths; rechargeable vaporizers for use with either e-liquid solutions or dry herbs or leaf; and rechargeable electronic cigarettes, which are available in either two or three part units, also known as Duo or TRIO products."
The recent filings show that VPCO hasn't had the easiest first quarter. Regulator uncertainty from the FDA regarding the use of e-cigs along with a major delay in product shipment from China bolstered much of the company's potential successes. Net Sales suffered a 25% decrease from $6.4M in Q1 '13 to $4.8M during the first quarter of this year. Additionally, gross margins in Q1 2014 decreased to 20%, compared with 42% for the same period in 2013 as a result of a short-term strategic increase in sales incentives and the change in the product mix, according to the company.
I feel that much of this change and more so, "growing pains" has to do with a larger amount of wholesale/distributor inventory compared to the direct sales that the company was doing previous to this. Additionally, the product mix has begun to shift as well from the result of the increasing prevalence of vaporizers, tanks and open system vapor products that are marginalizing the e-cigarette category. Since ringing the bell on June 9th, VCPO has declined 26% to lows on Wednesday (7-9) of $4.26. Hopefully the second quarter results will show a more positive light on the company's progress since moving to the NASDAQ but unfortunately since announcing the up-listing of the stock, Vapor Corp has not give any update to revenue, sales, or product information at all.
Moving on to a powerhouse potential merger between the second and third-largest U.S. tobacco makers, Reynolds American (NYSE:RAI) and Lorillard (NYSE:LO) are looking to gain a major foothold in the e-cig/vape space. RAI's appeal to this, specific to e-cigs, is to capture the major market share of the Blu and Skycig brands of LO which generate annual sales of more than $200 million. Reynolds' Vuse brand has only seen mass-market appeal in two states, Colorado (its state of release) and Utah so this merger would mean a huge expansion into the e-cig and vapor market for the company.
Both Lorillard and Reynolds have seen noticeable increases in stock price over the last quarter amidst speculation of their merger. LO jumped as much as 21.6% since opening April 1 at $53.77 and ran to a high on July 3 of $65.39. Reynold's has seen a more moderate spike having moved up about 18.5% from an April 1 open of $53.50 to this past Wednesday's (July 9) high of $63.39.
According to Bloomberg, post-merger, the companies would jointly take in more than $13 billion in annual sales, which should ensure it matches up better to Altria Group Inc's (NYSE:MO) annual revenues of $18 billion. Moreover, Altria, even though it's late to the vapor party, has acquired Green Smoke's e-vapor business this year, and is preparing a nationwide launch of its MarkTen e-cigs. With traditional cigarette sales in the US shrinking an average 3% per year, tobacco companies have come to view e-cigarettes as an opportunity to retain customers and expand opportunities into new markets such as marijuana.
Of course with major market leader like these vying for who's swinging the biggest market cap, as a small cap trader, I'm working to find a great undervalue play to make money off of at a significant discount compared to the market price of these larger companies. In the space there are many who attempt to enter but few actually establish themselves as real movers. M-Cig (OTCQB:MCIG) for example, fell from highs of $0.818 in March to a close of $0.486 the day before the Fourth of July.
Since then MCIG has in fact begun to rebound nearly 5%, which may have been a direct correlation to the company's latest expansion of its national media campaign. mCig, Inc. is a technology company "focused on two long-term secular trends sweeping the globe: (1) The decriminalization and legalization of marijuana for medicinal or recreational purposes, and (2) The adoption of electronic vaporizing cigarettes. Through this latest marketing plan, the company hopes to increase awareness for its VitaCig brand by reaching as many people as possible at sporting events, music concerts, and high foot-traffic areas."
According to MCIG, a well-regulated marijuana industry is emerging as more states follow the lead of Washington and Colorado in legalizing marijuana. A similar trend is developing within the eCig industry following the first acquisition of an electronic cigarette brand (Blu Cigs) by a traditional tobacco company Lorillard Inc. for $135 million followed by another acquisition in February 2014 by Altria Group Inc. of Green Smoke for $150 million.
Analyst Bonnie Herzog of Wells Fargo Securities said "conservative data" already indicates that sales of e-cigarettes this year have already reached $700 million from traditional retail outlets like convenience stores. Throw in estimated online sales of $500 million to $625 million and total year-to-date sales are above $1 billion.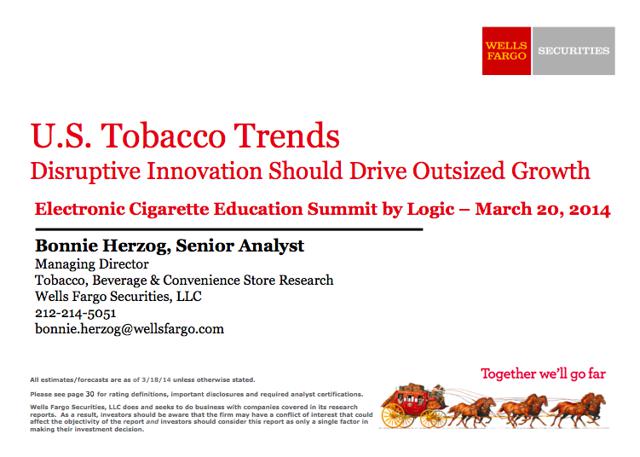 Another small cap, Vape Holdings (OTCQB:VAPE) took a major hit this year and falling almost 100% since mid-March moving from a high of $36.80 to a low of $1.08 on June 20th. In a valuation by Broker Bank Securities, the analyst applauds Vape for having a proven revenue of about $30K for the first quarter of 2014 but cites that VAPE "must generate substantial revenue within the next 4 months or so in order to make the business viable due to its current financial position."
In addition to this, I agree with the analyst comments that even thought the CEO states "VAPE is committed to keeping its shareholders informed when tangible events can be disclosed; it is not in the business of speculative press releases," it's hard to believe that the CEO is forthright about what he said because this letter is only thing you can find in VAPE's website.
Even after looking at the financials in depth, the letter about the $100k in sales from April is literally the only thing to be found on the website (Readers of this article may check for themselves). The letter to shareholders cited that "As set forth in the Company's most recent press release on April 24, 2014, the Company generated in excess of $100,000 in sales in the first few weeks of April alone. This is not included in the recent 10Q as it occurred after the quarter ended." So as shareholders I suppose the belief is that the Q2 filings should show this glaring detail so time can only tell at this point.
Based on the recent drop in share price, it appears that investors looking at VAPE as a long would seemingly be showing a very bearish sentiment at this point.
One company that I've found in the small cap space, which has recently popped up onto the "smokeless delivery" scene is Nhale, Inc. (OTCQB:NHLE). With a $20.4M market cap, this company is larger than nearly a third of all the marijuana companies listed on the MJX and looks to be working to create its own foothold in the market. Nhale's business model is focused on both the E-Cig industry as well as the legalized marijuana industry, which NHLE has quickly identified to be ripe with opportunity for successful entry.
Being a much newer company to the public space, I've read that management has already begun to target the MJ industry. Recently, Nhale's President and CEO Lance Williams returned from what he explains was a successful trip to the First Annual Cannabis Investor Conference in Denver, Colorado. Mr. Williams states "he made numerous connections with market leaders and is now exploring partnerships with several companies."
"The Cannabis Investor Conference was a great opportunity for Nhale to discuss growth in the space and the opportunities it offers. With the trend toward legalization evolving, it is clear this new and important industry will soon outpace the growth rates expected by even the more optimistic forecasters."

-Lance Williams, president & CEO, Nhale, Inc.
Furthermore, this week (Week of July 7th) the company also announced the first shipment of its multi-use vape pen kits has arrived for its pending launch in the U.S. Certainly as an emerging company in the space, it should be an exciting time for Nhale being that this will be the first step in implementing their revenue strategy. In fact, NHLE has increased in share price over the last 2 months from lows of $0.14 in may to recent highs of $0.71 this past Wednesday (7-9) which marked a 407% rally in less than 2 months. I believe this to be a direct result of the increased attention not only on the growth of the e-cig space but also on the current excitement surrounding the legalization of medical and recreational marijuana as it pertains to "vaping".
Moreover and even better for these companies is that shortly before adjourning the 2014 legislative session, Florida lawmakers passed a bill that will exempt a limited group of very sick people from criminal laws for using marijuana that is low in THC and high in CBD if certain requirements are met. Gov. Rick Scott signed the bill on June 16, 2014, which allows patients to administer the medicine via vaporization among other smokeless methods. This is obviously a very limited first step for the state but voters in Florida will have the opportunity to enact a comprehensive, workable medical marijuana law this November by voting yes on Amendment Two.
It's become more obvious that states are making a move on marijuana and deciding that smokeless is the way to go. Of course when considering most of these companies in my opinion, there are obvious risks involved with investing in such a young industry. First, stock price has been volatile within the space over the past few months particularly in this new marijuana marketplace. Additional risk factors imposed from federal regulation come to light based on the fact that even though states are taking in tax revenue, it still falls under Schedule I of the Controlled Substances Act making this federally illegal so these vape companies looking for an easy transition to take advantage of the green rush will need to adjust for this on the financial side; mainly on how they will separate MJ money from traditional e-cig or tobacco receivables. Despite these risks, the market may be offering just the right opportunity for these companies to capitalize.
Forbes contributor Robert Wood stated in an article earlier this year that not only has marijuana M&A arrived, "it's about the vapor machines that can obviate smoking and instead dispense the meds without even using a match (or a lighter for that matter)". He highlighted Medbox, Inc (OTCQB:MDBX) acquisition of Vaporfection International, which manufactures vaporizers and was featured on the cover of the LA Times business section. The facts continue to uphold a strong supporting argument for companies like these and the overall market potential especially in these early stages of such a young industry.
There's now an entire industry to take advantage of that reaches far beyond opening up a farm or sticking to the traditional "cigarette alternative". Companies have identified the need for not only a smokeless delivery system for tobacco but one for marijuana as well. It appears that there has now become a want by state officials to offer a solution that does not include 'smoking' as an approved delivery method. This industry has quickly begun to grow over the last 2 quarters not only through increased revenues, and new M&A, but also via new expansionary methods within the new states vying for a share of the legalized MJ space; particularly New York and Florida as of recent months. Even though the market is still young, there a lot of room left to grow and for investors looking at the right opportunity, it may be a matter of simply following the vapor trail.
Disclosure: The author has no positions in any stocks mentioned, and no plans to initiate any positions within the next 72 hours. The author wrote this article themselves, and it expresses their own opinions. The author is not receiving compensation for it. The author has no business relationship with any company whose stock is mentioned in this article.
Editor's Note: This article covers one or more stocks trading at less than $1 per share and/or with less than a $100 million market cap. Please be aware of the risks associated with these stocks.