Introduction
Motorola Solutions (NYSE:MSI) looks overvalued for three key reasons. First, the company, already struggling to generate growth in a mature industry, will become fully dependent on its government business after the sale of the Enterprise division to Zebra closes, later in 2014. We can hardly think of sales to local and federal governments as "high octane" enough to propel the business into a new phase of growth, as material revenue contribution from public LTE continues to be pushed off into the future. Management expects the government division, which expanded at a meager 1% in 2013 and declined sharply in 1Q14, to contract by low to mid single digits this year. Second, when cash (which we believe to be an important supporter of the stock) is set aside in our valuation analysis, what is left is a slow-growing government business valued at multiples well in excess of comparable industry averages. Compare ex-cash P/E of the going-concern vs. the industry median, and MSI looks to be 34% overvalued. Third, management has set an operating margin goal for 2014 that seems to be too aggressive. Even if the company were to deliver record margins in the next 3 quarters, we expect EPS would still fall short of current consensus expectations by 10%. Next earnings release, scheduled for August 5, could start to unveil the difficulties in meeting these 2014 margin targets.
What does Motorola Solutions do, and how does it make money?
Motorola Solutions is in the business of selling handheld devices to government and enterprise clients, from two-way radios to bar-code scanners. The company is currently undergoing an important business transformation. In April of this year, Zebra Technologies agreed to purchase MSI's Enterprise division (ex-iDEN) for $3.45B, the equivalent of 1.3x EV/sales or approximately 15x EV/Ebitda (using 2013 Op profits as a proxy), in a deal expected to close by end of this year. Representing roughly 1/3 of total 2013 sales, MSI's Enterprise segment markets "rugged and enterprise-grade mobile computers and tablets, laser/imaging/radio frequency identification based data capture products, wireless local area network and integrated digital enhanced network infrastructure", according to the company's 2013 10-K filing.
Nearly half of Enterprise's 2012 sales came from mobile computing, and a fifth from services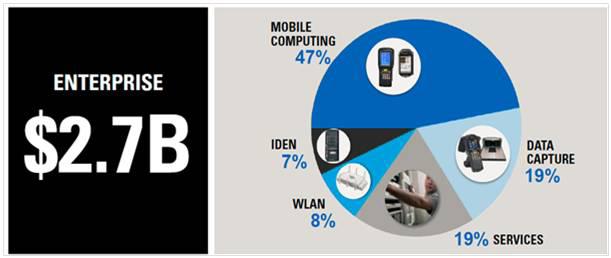 Source: Company Report
Although Enterprise will continue to be part of MSI for the remainder of 2014, as a going-concern the government business (approximately 2/3 of the company's 2013 revenues) will become the company's bread and butter in 2015 and beyond. According to Chairman and CEO Greg Brown in MSI's most recent earnings call, following the sale of Enterprise to Zebra, the "remaining business will be positioned as a singularly focused leader in mission-critical communications to public safety and commercial customers." The government division "includes public safety communications systems, professional and commercial two-way communication systems, and the devices, system software and applications that are associated with these products," according to the company's 2013 10-K filing. Customers include state and local governments, as well as federal government and agencies in the U.S. and around the world.
Over a third of government's 2012 sales came from public safety radios, and nearly another third from services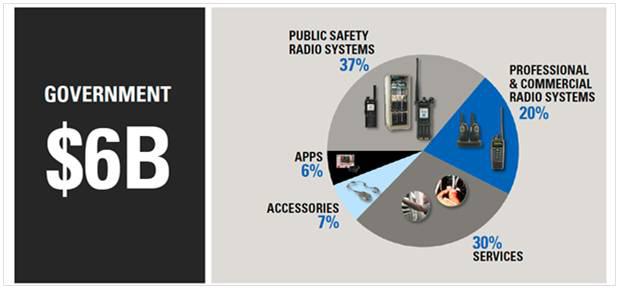 Source: Company Report
According to the company, in its May 2013 Analyst Day, MSI was exposed to a $27B market in 2012 that management expected to grow at a CAGR of 10% by 2015, to $36B. This total addressable market is made up of core enterprise, including mobile computing and data capture; core government, including radio systems; and "expansion," which includes public safety LTE, MSI's main potential source for accelerated growth for the past few years. Given MSI's lackluster top line growth in 2013 (flat year-on-year) and the expectations for an even tougher 2014, we believe these early 2013 estimates for growth into 2015 have started to look aggressive.
MSI's TAM was expected to reach $36B by 2015; MSI's actual growth rates seem to point to a rockier road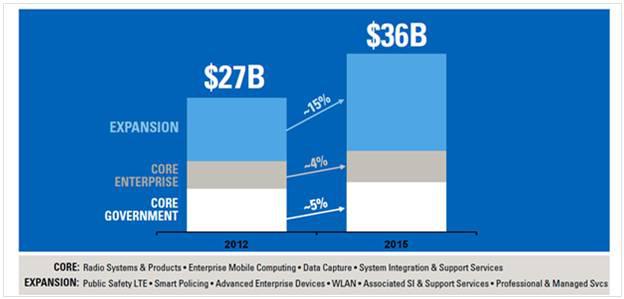 Source: Company Report
Government communication: what to reasonably expect from this mature business
The government segment is arguably MSI's most important division. For one, it represented the lion's share of the company's revenues in 2013, $6B of the total company's $8.7B. Second, it is the more profitable of MSI's two main businesses, with non-GAAP operating margins having reached 19.4% in 2013 vs. 13.4% for the Enterprise segment. And lastly, government will become MSI's sole generator of revenues, once the deal to sell Enterprise to Zebra is closed. Therefore, the health and success of the government business will largely dictate the success of the company as a whole, in the foreseeable future.
Management stated, in the most recent earnings call, that "the fundamentals of [the] government business remain strong. [The] pipeline remains robust and [the company] continues to grow multi-year services backlog in core business year-on-year while posting another quarter of services growth. These factors coupled with investments in growth such as areas as public safety LTE, geographic and vertical market expansion and smart public safety have [the company] positioned well for long-term growth."
However, coming off the 2012 and early 2013 upside in narrowbanding (government up 12% in 2012), MSI struggled to regain traction in the latter parts of 2013 and 2014. The government division of MSI started off 2014 slower than we had seen in prior quarters. 1Q14 sales of $1.2B accounted for a year-on-year drop of 11%, the largest quarterly contraction in the past several quarters. According to management, the softness was driven by a combination of low aged backlog (the portion of the pipeline that became revenues in the quarter); another in a sequence of challenging quarters in the federal government vertical; and lower subscriber orders. Operating margins within the segment also reached a record low of 11.7% in 1Q14, well below the 16.1% of a year ago and the 14.1% of two years ago. Now, the industry seems to be largely at a pause. According to CEO Greg Brown in the most recent earnings call, "narrowbanding had a greater impact than [management] originally thought," helping to drive the North America business down year-on-year in 1Q14 and very likely in 2014 as well, based on management projections.
For the future, public safety LTE is an identified growth opportunity that has been the subject of debate since at least 2012. However, this opportunity did not start to materialize (and did so modestly) until 2013, when MSI secured its first LTE contract. According to the company's 2013 10-K filing, MSI "experienced delays in public safety LTE opportunities and the deployment of LTE networks due to the finalization of standards. [Management] now expects to see an increase in public safety LTE revenues beginning in 2015 and beyond, led initially by international deployments." Even if late might sound better than never, the delays in the execution of public LTE have been a significant overhang in the company's ability to grow revenues in the past several quarters. Judging by how slow this opportunity has evolved in the past couple of years, we expect the overhang to remain in place for at least the next 4 quarters.
An analysis of why Motorola Solutions is likely worth significantly less than $67/share
In order to compare the value of MSI against those of peers of comparable size in the telecom equipment sector, we looked at 2015 P/E ex-cash. Two important considerations were taken into account when doing this analysis. First, MSI will be a significantly different company in 2015 and beyond. Therefore, looking at 2014 EPS estimates, which includes the Enterprise business, masks the true earnings potential of the company as a going concern. Second, MSI holds a significant amount of cash, and its balance sheet is expected to receive a $3.45B boost once the Zebra deal closes, late in 2014. As a result, MSI is able to pay a hefty dividend (1.8% yield, according to Yahoo Finance) and return cash lavishly via share buybacks. Because the value of each $1 in cash is worth exactly - surprise! - $1 and not more, a more meaningful calculation of relative value, in this case, should focus on businesses as generators of earnings, and not on how much cash held in the bank these companies can return to shareholders. We think of this methodology basically as a sum-of-the-parts valuation approach, in which cash accounts for part of the value of the stock, and the going-concern represents the other portion.
Given the considerations above, we applied the following valuation methodology to determine whether MSI is fairly valued against similar companies in the telecommunications space:
We calculated what we expect MSI to generate in EPS in 2015 in a best-case scenario. See all the assumptions detailed below.
We calculated how many multiples of earnings the company's current market price, adjusted for net cash (cash and equivalents minus debt), represents.
We finally compared this adjusted 2015 P/E valuation for MSI against the multiples of a peer group of tech companies of similar size ($10B in market cap or higher), also on an ex-net cash basis.
For this exercise, we assumed that, in 2015, MSI will be essentially a government business only. We intentionally choose to leave iDEN, the legacy Enterprise business that Zebra Technologies will not acquire, out of the analysis. iDEN is a relatively small segment (less than $200M in revenues in 2012) that we expect to continue its gradual phase out. iDEN earnings, therefore, should not be material to the company's valuation in 2015.
Our 2015, EPS projection and assumptions are as follows:
We estimate MSI's 2015 EPS to reach $3.28… a 2015 ex-cash P/E of 17.1x suggests over-valuation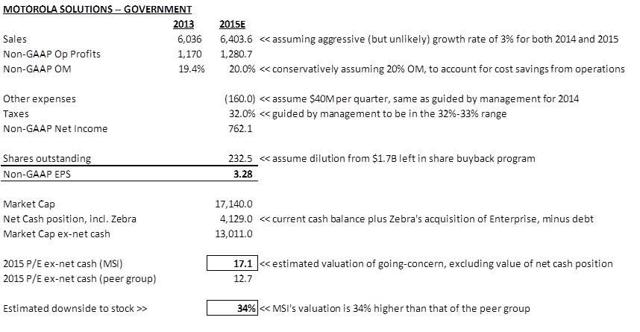 Source: G7 Research Group
Sales growth of 3% CAGR: On the revenue line, we give management substantial room to outperform what we believe would be more realistic growth rates of -2% to flat CAGR. In our best-case scenario, we assume that MSI can grow its government business by 3% per year until 2015. Considering management itself has revealed expectations for a low to mid single digit revenue contraction in this sector in 2014, we point out that our model may be unrealistically anticipating top-line growth of up to 12% in 2015. We stress test our 2015 EPS projections, however, by keeping revenue expectations purposely high.
Op margins of 20%: MSI has not generated annual 20% op margins in any of the recent years, whether in total or within the government segment alone. For 2015, management has anticipated that $100M of costs previously allocated to the Enterprise division will remain with government, providing headwinds to margins in the upcoming year. The company announced, however, that it plans to implement $200M in cost-reduction initiatives in the 18 to 24 months (assume 7 quarters at the midpoint) following the last earnings call, more than offsetting the decrease in margins from the inherited opex. On a net basis, the $140M in annual savings ($200M divided by 7 quarters times the 4 quarters in calendar 2015), offset by the $100M annual costs absorbed from Enterprise, should result, all else held constant, in a 60 bps year-on-year improvement in operating margin in 2015 ($40M per year savings over $6.4B in projected sales).
In our best-case estimates, we assume that the 19.4% operating margins achieved in 2013, when improved by 60 bps, would result in 20% op margins in 2015. We emphasize that, at a more aggressive and perhaps more realistic scenario, 2015 margins could fall significantly below these levels. We turn to the record-low 11.7% government operating margins in 1Q14 to argue that 20%+ profitability may not be easily achievable anytime soon. However, in our EPS best-case projections, we choose to give the company the benefit of the doubt.
Other expenses of $160M: Most of MSI's other expenses are driven by interest expenses. Because management has indicated its intentions to return most (if not all) of the $3.45B from the disposition of Enterprise to shareholders, we find it unlikely that the company will be able to significantly reduce debt and interest-related costs in the next several quarters. Since management has guided other expenses to $40M per quarter through the end of 2014, we assume in our projections that this run rate will remain unchanged through 2015.
Tax rate of 32%: MSI has guided a post-Enterprise disposition non-GAAP tax rate of 32%-33%. We are conservatively assuming the low end of the guidance in our model.
Share count of 232M: We expect management to continue to execute on its share repurchase program. Currently, MSI has $1.7B left in buy backs authorized, representing approximately 25M shares remaining at an average price of $67 (the stock's approximate current price). A 25M share reduction in share count from the current 258M levels would result in 232M in shares outstanding at the end of 2015. Although, in this exercise, we try to isolate the effect that MSI's cash reserves would have on the valuation of the stock, we model the dilutive impact of share repurchases in our 2015 EPS calculations.
The bottom line: Given the optimistic assumptions above, we believe MSI could generate $3.28 in EPS next year, or the equivalent of $762M in net income.
What this means to valuation: MSI is currently valued at approximately $17.1B, while the company's current net cash holdings amount to nearly $680M ($3.1B in gross cash minus $2.5B in debt). The disposition of the Enterprise business, once confirmed, will generate another $3.45B in cash to MSI, which we believe should already be reflected in the current stock price. We calculate, therefore, the going concern portion of MSI's current market value to be worth $13.0B ($17.1B in market cap adjusted by net cash), or $51 per share; and the cash portion of MSI's current market value, including proceeds from the Enterprise disposition to Zebra, to be worth $4.1B, or $16 per share.
MSI's 2015 P/E value ex-net cash is, therefore, 17.1x ($13.0B in total going-concern value divided by $762M in projected 2015 net income), approximately 34% higher than the 12.7x median for the peer group, also on an ex-net cash basis. A similar analysis of plain 2015 P/E, without any cash adjustment, suggests that this valuation mismatch between MSI and the peer group may actually be as high as 62% (22.5x P/E vs. peers' 13.9x). However, as previously discussed, we choose to give MSI the benefit of having a relatively stronger cash balance than most other large cap names in the sector.
Telecom sector 12.7x ex-cash P/E multiple suggests MSI, at 17.1x, may be overvalued by 34%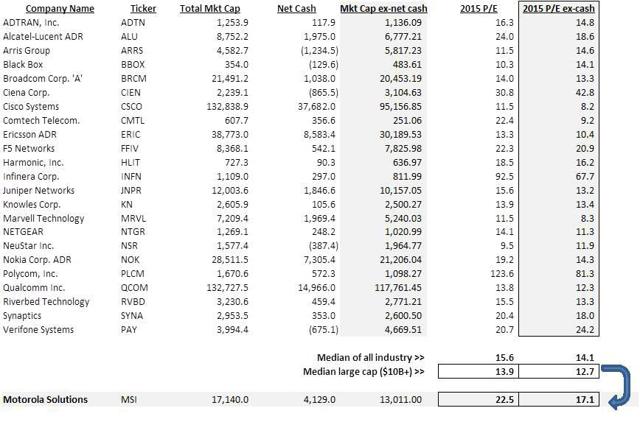 Source: Value Line and G7 Research Group
The analysis above helps to illustrate that, as a profit-generating business, MSI should be valued at much lower multiples of future earnings than it currently is. We suspect that the company's generous cash return policy may be helping investors to justify current valuations, but we do not believe this to be rationally sustainable in the long run. As MSI continues to struggle in the near- and mid-terms to generate revenue growth and create earnings to justify current valuation levels, we expect the stock price to converge to a more reasonable $42 (industry median ex-cash P/E of 12.7 times our 2015 best-case scenario EPS projection of $3.28).
Management sets an operating margin target that sounds too aggressive; next earnings release could be the catalyst that will unveil the difficulties.
MSI's management has shared its expectations for delivering 18.5% operating margin in 2014. The company, however, was off to a rocky start in 2014. Total company op margins in 1Q14 reached a recent record low of 11.8%, a sizable 230 bps lower than the same quarter last year.
In order for MSI to reach its 18.5% stated OM target in 2014, delivering record-high profitability in the remaining quarters of the year will not be enough. We calculate that achieving quarterly record (since 2011) op margins through December would result in full-year 2014 operating margins of 16.9% only - 161 bps short of management's goal.
We emphasize that management has laid out a plan to reduce $200M in opex by the end of 2015, to be partially offset by $100M in Enterprise expenses that will remain with government following the Zebra sale. However, only in a near-best case scenario, in which two thirds of the $200M savings are delivered in 2014 (roughly $130M in savings divided by $8.5B in revenues equals about 160 bps in op margin improvement) in addition to management achieving record-high profitability, could the 18.5% in op margins be delivered this year.
To reach 18.5% goal, management must deliver an unlikely 161 bps above record-high margins in 2Q14-4Q14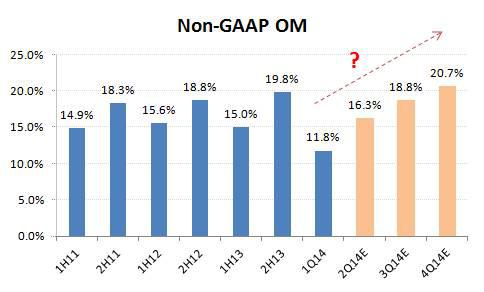 Source: G7 Research Group
Now assume for a moment that management is able to deliver what we consider to be an aggressive average 18.6% op margin in the next 3 quarters, at record levels, securing a full year op margin of 16.9%. The 161 bps gap to the targeted 18.5% would represent, based on our calculations, a $0.36 downside to EPS. Considering the current 2014 EPS Street consensus of $3.63, we estimate the downside to 2014 EPS consensus driven by the potential op margin target miss to be approximately 10%.
Even achieving record-high op margins in 2Q-4Q14 may not be enough… we see 2014 EPS downside of 10%

Source: G7 Research Group
With this op margin risk on the table, we believe MSI could be exposed to an earnings disappointment by year end. When the company reports 2Q14 earnings and 3Q14 outlook, on August 5, the investor community will have better visibility into whether MSI has a chance at delivering on the op margin promise. From where we stand right now, we find that probability to be low.
Risks to the thesis
Government backlog is robust, drives a large portion of revenues (i.e. a significant share of upcoming revenues have been largely secured in the pipeline), and only 32% of total backlog should be recognized as revenues in 2014, suggesting some downside protection. Still, MSI has just recently proven that revenues can be more volatile than previously expected. Traditionally, 80% of revenues at any given quarter are generated by either recurring revenues or backlog, leaving only 20% of sales left to be secured within the quarter. Even though this dynamic suggests that management should have good visibility into revenues, 1Q14 results still fell below guided expectations ($1.80B total sales versus guidance of $1.85B to $1.89B).
The current installed base that could be subject to upgrades seems to be sizable. According to CEO Brown in the company's most recent earnings call, management "still looks at the multi-billion dollar install base internationally as an addressable market opportunity to upgrade. There [are] about 10,000 plus systems, 16% more than 10 years old. When you look at the PCR radio business and that base 35 million or 40 million PCR radios worldwide, 90% analog, 10% digital."
In the case of a declining economy and a more risk-averse equities market, companies with healthier balance sheets and a more aggressive cash return policy could become a more attractive investment than companies perceived to be riskier. At a dividend yield of 1.8% and $1.7B (equivalent to $6.60/share) in cash left in the company's share buyback program, MSI may be considered by many a safe haven in which to park money in the face of a potential economic downturn.
Aggressive cost reduction initiatives in 2014 and 2015, if executed well, could result in more robust operating margins in the next few quarters than we anticipate in our best-case scenario EPS projections. Although we find it unlikely that the announced cost savings initiatives would push op margins above 20% in 2015 (our assumption in the best-case scenario model), we recognize that management's ability to over-deliver on the cost savings opportunities represents a downside to our thesis.
Conclusion
In summary, we see in MSI a slow growth company operating in a mature industry that seems to be about 34% overvalued vis-à-vis its earnings potential in 2015. We also see significant risks to the company reaching 2014 EPS expectations not only as a result of a low leverage from stagnant revenues, but largely due to the hard task that management has on its hands to deliver target op margins of 18.5% in the year. Our analysis suggests that $42 per share may be a much more realistic intrinsic value for the company, and we would not be surprised to see the stock price converge towards these price levels in the next 12 months.
Disclosure: The author has no positions in any stocks mentioned, and no plans to initiate any positions within the next 72 hours. The author wrote this article themselves, and it expresses their own opinions. The author is not receiving compensation for it (other than from Seeking Alpha). The author has no business relationship with any company whose stock is mentioned in this article.