The market shook off yesterday's early losses as buyers stepped into the market once again to "buy on the dip". It was a show of strength for the bull market, but more importantly, we think it also displays the lack of weakness in the banking sector in Europe. It appears that the Portuguese bank is fine, but the parent company, which has a myriad of assets, is the one who is really in trouble. As regulators and investors sift through the news this weekend and the market gets more color on the situation, we should get a better idea as to where the problems lie.
With more big M&A transactions rumored and companies confirming some of those rumored deals, we wanted to briefly hit on some of those headlines today.
Chart of the Day:
We did not finish at the highs of the day yesterday, as this 5-day chart of the S&P 500 shows, but the market made great progress in erasing much of the early losses caused by the fear that European banks might be facing financial issues moving forward.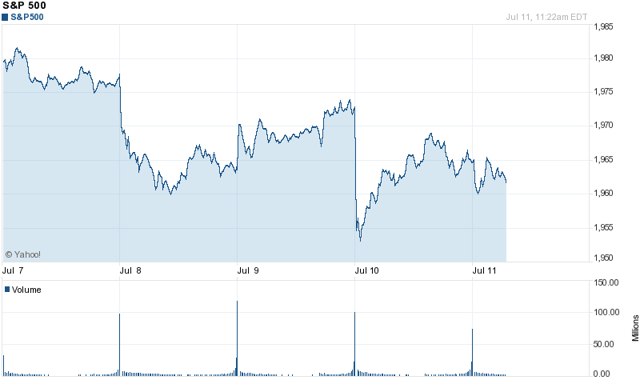 Source: Yahoo Finance
We have economic news today, and it is as follows:
Treasury Budget (2:00 p.m. EST): Est: $70.0 B
The Asian markets are mixed today:
All Ordinaries -- up 0.41%
Shanghai Composite -- up 0.42%
Nikkei 225 -- down 0.34%
NZSE 50 -- down 0.53%
Seoul Composite -- down 0.70%
In Europe, the markets are higher this morning:
CAC 40 -- up 0.29%
DAX -- down 0.06%
FTSE 100 -- up 0.12%
OSE -- up 0.21%
Upcoming M&A
Lorillard (NYSE:LO) and Reynolds American (NYSE:RAI) finally confirmed for investors that they are indeed engaged in talks for a possible merger, although no deal has been reached. This confirms reports which have been swirling for months now that the two were looking to combine and create a formidable competitor to Altria (NYSE:MO) in the US market.
With the potential for this transaction to change the landscape of the industry not only in the US but also in international markets with possible asset and brand divestitures, we could see an impact on Phillip Morris International (NYSE:PM). If the transaction does in fact go through, we see a situation developing where the entire industry gains further pricing power as fewer players are left and the big players look at maintaining market share rather than stealing from others. This entrenches the big players even further, and in no way is better for competition.
Since March of this year, M&A rumors have pushed shares of Lorillard higher, but today, the stock is rising on news that the company is in fact negotiating with Reynolds American.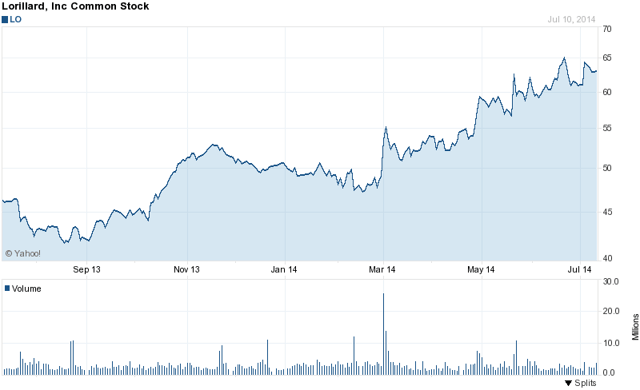 Source: Yahoo Finance
The recent news indicates that a deal is in the works, and depending on how far along the companies are in talks, investors could see a deal announced as soon as Monday.
Other Rumored M&A Deals In The Works
With the big-name media outlets having picked up on the news that Anheuser-Busch InBev (NYSE:BUD) is looking to strike a deal to take over SABMiller, and Altria's stock also rising on the news, we are willing to entertain the idea that a deal could be reached. It would be a large deal with a very big debt component, but as we look at the situation, it appears that Anheuser-Busch InBev could pull off a transaction so long as it is content with the idea of paying a premium for the entire beer company, while selling the US assets at a discount to its purchase price.
No one is going to be doing the company any favors as it looks to enter markets which are growing quickly and add brands which dominate these growth markets, so we doubt anyone offers a great price for the US assets. Further complicating the matter is that those US assets are already tied up in a joint venture, and that really only leaves one natural buyer; the joint venture partner.
Just as we were skeptical on the tobacco deal, we have a lot of questions about this potential blockbuster beer deal, but recognize that when one takes out the US assets, the rest of the rumored deal makes a good bit of sense.
Disclosure: The author has no positions in any stocks mentioned, and no plans to initiate any positions within the next 72 hours. The author wrote this article themselves, and it expresses their own opinions. The author is not receiving compensation for it (other than from Seeking Alpha). The author has no business relationship with any company whose stock is mentioned in this article. PM has previously been recommended.