Introduction: What happens when a stock that is basically a bond substitute, such as Verizon Communications Inc. (NYSE:VZ), meets a surprise decline in interest rates at the same time as it also surprises to the upside with its growth? Investors might now be seeing this scenario play out bullishly for VZ, which is why I am writing this article.
The news: On Thursday, July 10, Verizon put out a bullish press release:
Verizon Communications Inc. (NYSE, Nasdaq: VZ) delivered continued customer growth in the recently concluded quarter, according to comments made today by Chairman and CEO Lowell McAdam at the Allen & Company conference in Sun Valley, Idaho.

McAdam said Verizon Wireless expects to report a net of more than 1.4 million retail postpaid additions in second-quarter 2014. This includes strong smartphone additions, company-record tablet additions and net additions for handsets. He said Verizon would report very good retail postpaid churn in second-quarter 2014.

McAdam said Verizon also continues to see Wireless margins consistent with the last several quarters, with second-quarter 2014 Wireline margin improving compared with first-quarter 2014.

Verizon will report second-quarter 2014 results on Tuesday, July 22.
I was a VZ investor for income, but I added meaningfully to my holdings on the open today (as previously noted, I have raised cash very recently, but am beginning to concentrate in fewer names).
The context in which I see VZ relates first to the conceptual framework that Verizon is three companies. One is the leading U.S. wireless company, Verizon Wireless, which VZ owns 100% of now; this dominates for VZ stock considerations. A second is the large legacy Wireline ("land line") phone and data business. To a large extent, this is a cash cow. The transition from copper cables to fiber optic is essentially complete, so capital spending needs for this part of the business should revert to baseline. Operating margins must be huge. Conceptually, the third part of the business is everything else, the various advanced initiatives, the foreign businesses, etc., which is relatively minor compared to the immense first two businesses, but which have good growth potential.
Beyond concept, we have numbers, and they look good relative to the market. VZ is now at $50. Analysts' estimates have trended up a little bit, despite the Q1 miss to expectations:
EPS Trends
Current Qtr.
Jun 14
Next Qtr.
Sep 14
Current Year
Dec 14
Next Year
Dec 15
Current Estimate
0.91
0.93
3.54
3.85
7 Days Ago
0.91
0.93
3.54
3.86
30 Days Ago
0.91
0.93
3.54
3.85
60 Days Ago
0.92
0.93
3.54
3.84
90 Days Ago
0.90
0.93
3.51
3.83
Based on Thursday's press release, I would think that Q2 numbers are safe and likely will be exceeded. The current dividend yield is 4.3%, and the payout is not only secure but very likely to increase as usual in Q4, perhaps to 55 cents per share from the current 53 cents. So the forward dividend yield is about 4.4%. My view is that this is like a step-up bond, and is therefore attractive, even assuming a moderate rise in interest rates going forward.
Not that Value Line's analysis is correct or immutable, but their recent review of VZ projects an annual total return around 15% over the next 3-5 years. Their 3-5 year price target is $70-$85. They look at it as a bond substitute and actually draw their "value line" as if VZ should trade with a dividend yield that is below the yield of the 10-year T-note (which yield they expect to increase notably). While this is an out-of-consensus view, I actually think there is reasonable logic behind it. That is certainly not in the stock price now, but over time, it's a sort of black swan idea that, if it catches on, would give a huge boost to VZ shareholders, unless interest rates really go wild on the upside.
With Verizon, we have a seemingly stable company that has taken steps to deal with its pension issues. It is covering its total interest costs by 7X. Wireless is a growth area, and given its price premium for its premium services, it is, in my view, well-positioned to continue to profit mightily from this powerful secular trend. As the press release notes, Wireline is a cash cow with rising profit margins. Given call quality difference, I have not given up our land line and do not expect to do so. I think there are many individuals and businesses that feel the same way, so I think this is a great business to be in that gets little respect from Wall Street.
Given how much more VZ shares yield than even a 30-year Treasury bond, I think they may be well-insulated from a rise in interest rates. After all, a likely cause of rising rates will be rising nominal GDP growth. One would hope that would be from real growth rather than inflation, but either way, VZ's sales and profits should move along with nominal GDP growth. Should the economy slow or even suffer a recession, shareholders will be comforted by the sticky nature of Verizon's services. Most companies will be affected more, and so long as VZ's dividend is considered safe, downside economic surprises would tend to keep interest rates low or even on a further declining path, so the dividend would tend to support the share price. In other words, VZ is a defensive stock but it has growth characteristics.
Technical comments: VZ has been an up and down stock the past two years, greatly underperforming the S&P 500, even including VZ's higher dividend yield, as shown: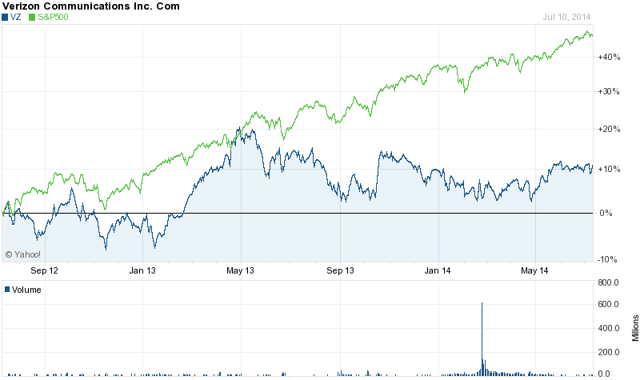 Given the positive pre-announcement today, I bought more VZ, making it the third-largest stockholding in our portfolio, hoping that this underperformance has a good chance of reversing.
Risks: It is sounding as though there are few integration risks from Verizon's January acquisition of the rest of Verizon Wireless from Vodafone (NASDAQ:VOD), but there are large debt costs, which pose a risk. Tough competition from the various wireless competitors could affect VZ more than I expect. The land line business could turn down faster than analysts project. The various other growth initiatives could fail to justify the investment in them. And of course, while VZ has a beta of only 0.70, it still tends to move in the same direction as the general market, so there are clearly macro market risks.
Many other short-term and longer-term risks are present, as with all very large companies with diverse operations, regulators to deal with, etc.
Conclusion: Verizon is a big, seemingly boring company that I think few investors have owned for appreciation. Worries have been rife that Verizon Wireless may show both declining subscriber growth and pressure on margins. Verizon's Wireline business has been largely ignored by investors. With widespread expectations for rising interest rates and the above concerns, VZ has been a major laggard in the bull run.
Today's announcement, coupled with the unexpected decline in longer-term interest rates this year may allow VZ to appreciate, so that its dividend yield goes well under 4% and possibly toward 3%. A stable interest rate environment from here would, in my view, tend to be good for the price of this equity. There are interest rate and operational risks in this investment, but overall, I like the risk-reward here.
Disclosure: The author is long VZ. The author wrote this article themselves, and it expresses their own opinions. The author is not receiving compensation for it (other than from Seeking Alpha). The author has no business relationship with any company whose stock is mentioned in this article.
Additional disclosure: Not investment advice. I am not an investment adviser.