It's time to own gold stocks.
As regular Growth Stock Wire readers know, the sector is rallying...
The problem is, gold stocks are extremely dangerous for the average investor. Just about every belief most investors have about gold stocks is wrong. If you share these beliefs, you're going to lose a lot of money.
So today, I'm going to cover one of the biggest mistakes investors make with gold stocks...
First, let me show you why I'm even considering the idea of buying gold stocks... Below is a three-year chart of gold. You can see it crashed from late 2011 to mid-2013. It bounced, fell, bounced again, and fell again. Now, it's working on new short-term highs.
In other words, it's "hammering out" a bottom.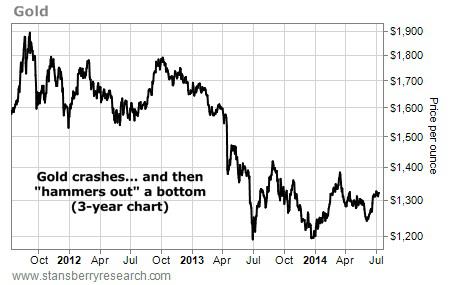 This bullish price action is being driven by the massive "E-Z Credit" programs being carried out by the U.S. Federal Reserve, the European Central Bank, and the Bank of Japan. Any economic weakness in those major economies will trigger massive "E-Z Credit" stimulus, which will push the price of gold higher.
Given this fundamental backdrop, it's no wonder that when gold trades near recent lows, investors see value and step back in to buy. That's a bullish development for gold.
Here's the thing: When folks are bullish on gold, they invest in gold mining stocks.
That's a mistake.
Gold mining is a terrible business... It's not scalable. It requires huge upfront and ongoing capital expenditures. Even when times are good, the profit margins are razor-thin. And times are terrible... and getting worse.
According to Brent Cook, who writes the excellent Exploration Insights newsletter, the amount of time it takes to build a mine has doubled since 2004 – from 10 years to 20. It's harder than ever to clear the social, political, environmental, and technical hurdles.
And it takes a lot more money, too. Brent noted that major miner Barrick Gold (NYSE:ABX) estimated a high-profile project would cost $600 million. It ended up costing $9 billion... and the mine still isn't producing.
Plus, most potential projects these days are lower-quality. They contain less gold – down from 3.5 grams of gold per tonne of ore in 2005 to less than 2.5. Miners are concentrating on the higher-grade areas of their deposits. But that's just going to make it harder to mine what's left.
Of course, the biggest problem right now is they can't really make any money mining gold. Brent says the average all-in cost of gold mining is about $1,500 an ounce. Gold trades at $1,320. So miners are cutting costs... They're spending less to maintain equipment, they're cutting staff, and they're reducing development. That's going to hurt them down the road.
Does that mean you should never buy shares of a gold miner?
Not necessarily... You can definitely make money trading gold stocks. My colleague Jeff Clark is absolutely right that the Market Vectors Gold Miners ETF (NYSEARCA:GDX), the big gold-stock fund, is back in bull mode.
GDX will also give you big leverage to the gold price. The fund is already up around 17% in the last month, compared to 5% for gold. And it could still make for a great trade...
But "trade" is the important word. The gold mining business will always be hard. And the trends of higher mining costs and lower-quality deposits aren't going to go away. While gold miners might give you short-term gains, they're not going to make for great long-term investments.
I'm going to repeat that idea, because I've seen even smart, well-respected investment advisors get this wrong: Gold stocks are terrible long-term investments.
You can see it in the chart below. Over the last 10 years, gold is up 225%. Gold stocks, as measured by the major gold-stock index (the "HUI"), are up 20%.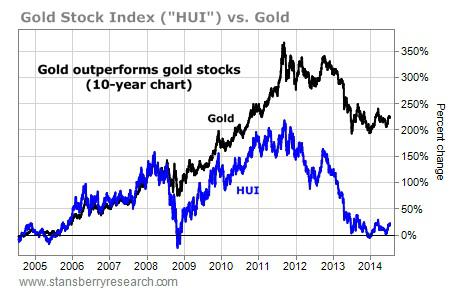 Gold outperformed gold miners over the last 15 years (400% vs. 260%) – and over the last five years (40% vs. -20%), too.
In the short term, if gold prices rise, gold stocks will do well. But they'll give up a lot more in a downturn, too.
So if you want to trade them, go ahead. But don't make the mistake a lot of folks make when they get bullish on gold. Don't fall in love. Don't make a long-term investment.
Disclosure: None.