The timing is not great, but the reality is that the prescription numbers this week showed an expected dip because they included the 4th of July Holiday. That is little consolation for longs that saw the equity suffer a 10% dip when the announcement of the sale of shares by CEO Jack Lief was made on July 3rd. Essentially, shareholders have been hit with a double-whammy. On top of that, seasonality is also coming into play (peak sales so far this year were the week ending June 6th) and we have yet to see a clear signal that sales can get to levels that would bring about $125 million this year. Currently sales are still pacing to $100 million.
As time passes, more modest sales figures begin to impact the company in more ways than one. The cash position of the company should be looked at closely by investors. Initially the hope was that sales would be much more substantial. If that was the case, the cash situation would be less of a concern. As it stands, Arena (NASDAQ:ARNA), will see a bit of a hit to the cash line with the return of $19.3 million to Eisai (OTCPK:ESALY). The reason that Arena needs to return $19.3 million is that Eisai initially paid Arena based on gross sales estimates in the neighborhood of $150 million between launch and March 31st of 2014. That payment was about $28 million, but sales came in at about $45 million. Out of the $28 million, Arena recognized about $8.7 million. That means that an overpayment of about $19.3 million was made. The contract states that over-payment or underpayment will be reconciled within 15 days of the closing of Eisai's fiscal year which is March 31st. Putting the numbers together we get:
$150 million in gross sales = between $82,500,000 and $90,000,000 in net sales, which equals between $26 million to $28 million in Arena's share. Eisai fronted about $28 million of which about $8.7 million was recognized as revenue and $19.3 million was overpaid.
This week the sales numbers, as expected, were down from the previous week. The 4th of July was on Friday, so sales were likely impacted by Thursday, July 3rd as well, as it was an opportunity for a very long weekend. That being said, the dip this week at (-8.7%) was more modest than the dip on Memorial Day (-10.15%) which could be a testament to increased advertising to raise awareness and helping to offset the seasonality. The data this week represents the first week of a new commercial year in terms of Belviq sales. It also featured additional sales reps and what has been the biggest push in television advertising since the ads began airing in April. However, ads seem to have tapered down once again with ads this week pacing less than half of what aired last week. On the positive side, the commercial airings seem to have included a modest uptick in prime time ads and we saw a shift to some better time slots.

Chart Source - iSpot.tv
As I have been saying for quite some time, sales levels are of extreme importance to the valuation of this equity. We have not yet seen the sales level indicate an upward inflection that can deliver the type of revenue that can ease the Street's concerns over cash or the need for cash. Until that happens, this equity will be challenged to rise substantially. Yes, I am well aware that a pipeline exists as well as studies that may allow Belviq to get added indications. The pipeline costs money to develop and the goal is to see revenue from Belviq fuel that growth. If Belviq can fuel the pipeline the equity can appreciate very quickly. We have yet to see a demonstration that Belviq can fuel the pipeline and the next milestones for Belviq are triggered by getting net sales to $250 million, which would mean at least $450 million in gross sales.
This week sales of Belviq saw a dip of about 8.67% according to industry tracker IMS Health. This decrease is more modest than one might have expected, which gives hope that the seasonality can be combated by more robust marketing. Overall the pace is now just below the $100 million line for 2014 but essentially it is still intact. With this week's numbers at just above 8,900, we are still below the June 6th peak at just above 9,900. This means that we have been flat to down for a month now.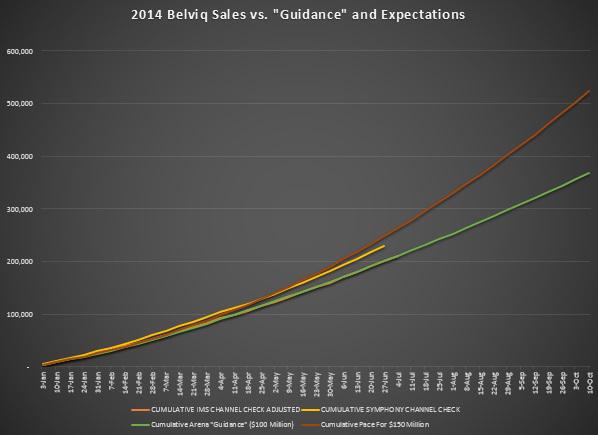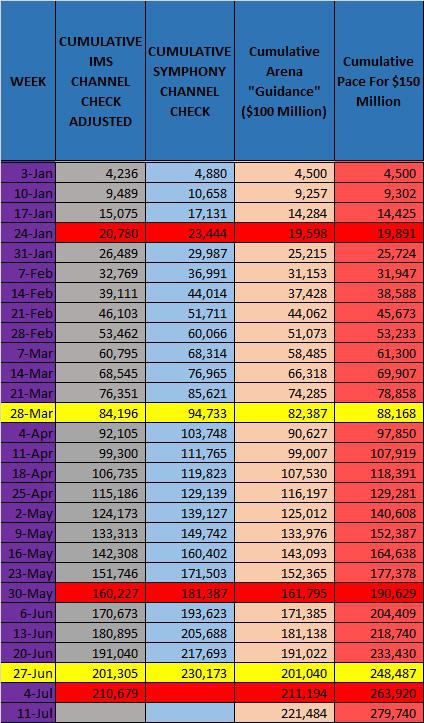 Chart Source - Spencer Osborne
For the first time we as investors will be able to see not only the quarter over quarter growth but now year over year. Belviq started being marketed in June of 2013, but the first full quarter of sales was Q3 of that year. From Q3 to Q4 of 2013, we saw sales ramp up by 33%. From Q4 of 2013 to Q1 of 2014, we saw sales ramp up 34%. From Q1 of this year to Q2 of this year the ramp was 44%. With the current quarter starting off with a holiday, the pace is less than desirable with a 23% rise, but it is still quite early. Investors need to remember that the current quarter will include two major holidays (July 4th and Labor Day) within its 13 weeks.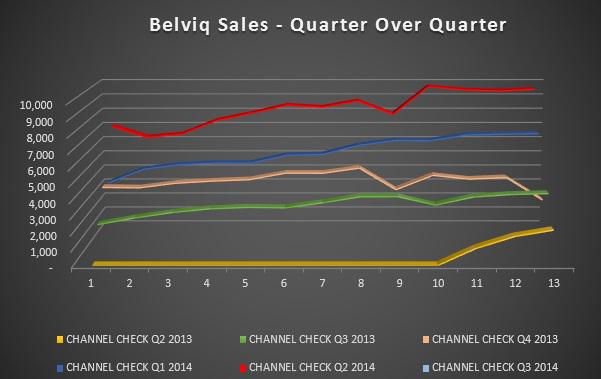 Chart Source - Spencer Osborne
Looking at the financial side of sales we have some interesting data points to consider. Weekly gross sales have dipped back below the $2 million mark while the Arena share of 2014 net sales has now gone above the $7 million mark. The annualized sales rate this past week also dipped below the $100 million mark. One thing we always look for are trends. Of key note is that the average growth rate over the last four weeks has gone negative (see highlighted area in second chart below). The past four weeks represents the first time in 2014 that the average growth rate has been in negative territory. As an investor you want to see this trend stop sooner rather than later.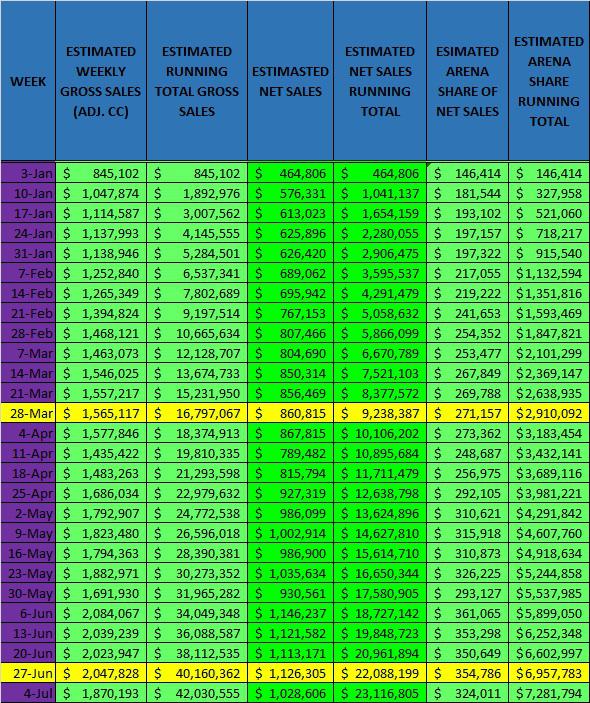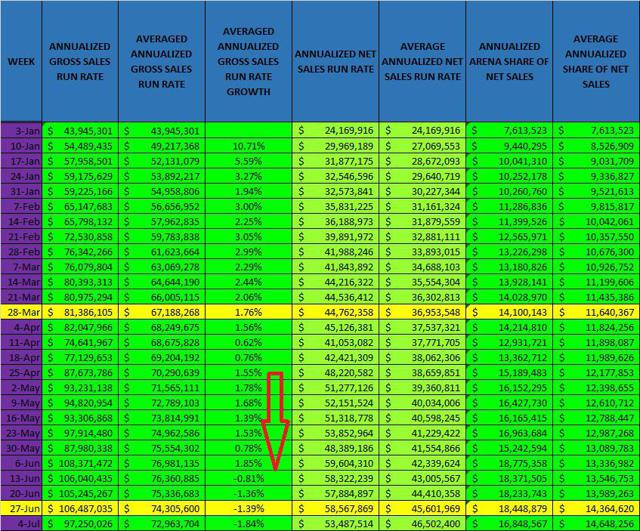 Chart Source - Spencer Osborne
Summary
Seasonality is real in the weight loss sector. Marketing, combined with where Belviq is in its growth phase can combine to mitigate the more substantial drops that longer term anti-obesity players may face. With that being said, reaching better sales figures gains importance with each passing week. Reaching $100 million in sales in 2014 is pretty much in the bag. Reaching beyond that to levels like $125 million or $150 million are still question marks given the number of weeks left in the year, the number of holidays, and the possible entrance of another competitor if Orexigen (NASDAQ:OREX) garners approval for Contrave. With Arena trading just over $5.00 on this dip in sales, it is a pretty decent signal that a bottom is in place. The key now is keeping the pressure on Eisai to market this drug as strongly as possible. Stay Tuned!
Disclosure: The author is long ARNA. The author wrote this article themselves, and it expresses their own opinions. The author is not receiving compensation for it (other than from Seeking Alpha). The author has no business relationship with any company whose stock is mentioned in this article.
Additional disclosure: I have no position in Eisai or Orexigen
Editor's Note: This article discusses one or more securities that do not trade on a major U.S. exchange. Please be aware of the risks associated with these stocks.