[Originally published on 6/9/2014]
Markets work...
That was the lesson we heard from CEO of Sprott U.S. Holdings, Rick Rule. Rick is a master resource investor. He has made many millions for himself and his clients. And last month, he gave one of the best presentations at the Stansberry Society Natural Resources Conference.
My publisher Porter Stansberry – who hosted the event – had challenged him to talk about the world's most-hated commodity. As Rick noted, that's a "target-rich environment."
Many commodities have been in multiyear bear markets. Very few are popular these days.
But there's one commodity more hated than all the others...
Rick considered talking about water... He considered agricultural minerals... He considered platinum-group metals... He considered coal... But he settled on uranium, which fuels nuclear power plants.
"People HATE uranium," he said.
And it feels familiar...
During the uranium bear market of the 1990s, Rick was bullish. And after his speeches, folks would call him "despicable." They couldn't believe someone would want to make money on the asset associated with the nuclear disasters of Chernobyl and Three Mile Island.
But at the time, uranium cost $20 a pound to mine... and it sold for $10 – a negative 50% operating margin. That can't last. And it didn't...
From 2000 to 2007, uranium shot from $10 to $130.
And then it crashed... Prices are down to about $28 a pound today. But it now costs an average of $70 per pound to mine. And the public sentiment is terrible. The March 2011 disaster at Japan's Fukushima nuclear power plant is still fresh.
This situation won't last, either... It's basic economics. When mines are losing money on every pound of uranium, eventually they'll stop mining it. Supply will contract. Meanwhile, demand is assured...
Folks might not like the idea of nuclear power, but they need it. It generates about 20% of the U.S. electricity supply. In France, it's more than 70%. And fast-growing emerging markets need to add to their capacity. As Rick said, either we use nuclear power... or the lights go out.
Eventually the low supply and steady or growing demand will push prices higher. That's how markets work. And in resources, markets work "in spades."
Uranium prices won't just move to the cost of production... They'll overshoot it, just like they did in the early 2000s. "When you get this right," Rick said, the gains you can make are "truly stupid."
The problem, of course, is the timing.
Back in November, I wrote a bullish piece on uranium.
It doesn't take great news to double the price of a cheap, hated asset... things just need to go from "bad to less bad." And it looks like that's starting to happen in uranium.
As you can see from the chart of Uranium Participation Corp. (OTCPK:URPTF) – which rises and falls with the price of uranium – that rally continued for a few more months... then reversed all the way back to the previous lows.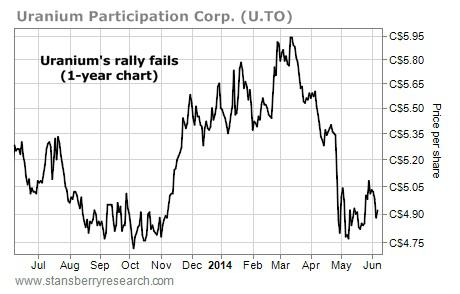 Taking a look at the longer-term chart, you can see uranium has been grinding out a bottom for years now.
It could take another year or two before it's ready to turn.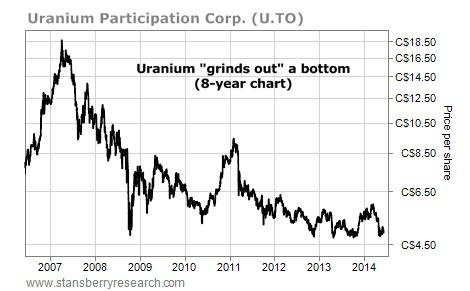 Eventually, though, prices here have to rise. And in a rip-roaring bull market, they could rise three- or four-fold.
When that happens, Rick said, "the fact that you were bored or scared or early doesn't matter." In other words, you need to be patient... and willing to take a few small losses along the way.
A new uranium bull market might not begin for a while. It might not be "imminent," Rick said... but it's "inevitable." Remember, markets work.
Editor's Note: This article discusses one or more securities that do not trade on a major U.S. exchange. Please be aware of the risks associated with these stocks.