I must admit, I am still getting used to seeing Apple (NASDAQ:AAPL) trading at under $100 a share after its recent seven-to-one stock split. Luckily for long-term holdings of this tech titan, I don't see the shares staying below this level for long. I have a year-end price target of $105 a share on Apple. That is a little above a ten percent climb from current levels, but still enough to keep my "Slightly Overweight" rating on the stock, as I see the overall market being up no more than five percent by year-end. My concerns are about the overall market, including the Federal Reserve ending its latest easing program by the end of October and growing credit worries in Europe.
There are several reasons I believe Apple will go higher from here, despite my tepid outlook on the overall market.
Sentiment:
Unlike a year ago, when it was harder to find a raging bull on Apple than finding an atheist in a foxhole, sentiment is extremely positive on the shares. Not only has Apple pasted the S&P 500 over the past year, it has been a rock of stability as the market has gotten quite a bit more volatile over the past five trading sessions. Similar action can be seen in Gilead Sciences (NASDAQ:GILD), as money is migrating to large blue chip growth companies as investors start to flee small cap and momentum stocks.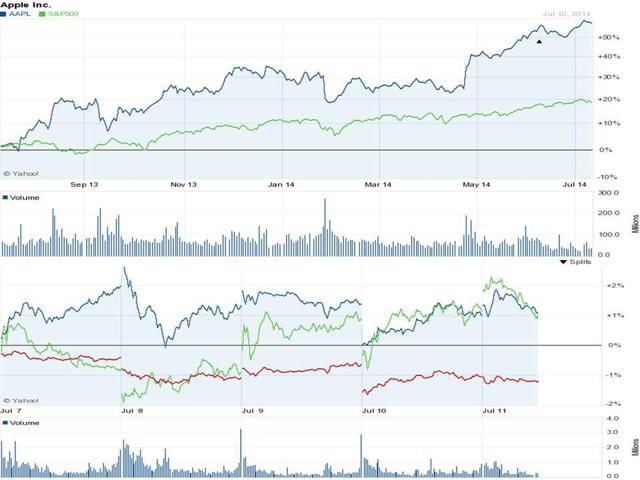 Momentum is a fickle beast. It always carries a quality stock much lower than it should be on the downside, and does the opposite when the winds change. Right now, Apple has the "Big Mo", and I see that continuing through to at least year-end.
Valuation:
The second quality I like with Apple is its valuation. Even after its better-than-60% rise over the past year, the shares are still offering good value at these levels. The overall market is selling at 15 to 17 times earnings (depending on what S&P 500 estimate you go with for 2014), and the S&P 500 is projected to have just a 3% to 4% revenue increase year-over-year in 2014. In contrast, Apple goes for 15 times forward earnings, and should post a sales gain of 6% to 8% this year.
Apple is much cheaper if one considers its huge cash hoard on the balance sheet, which still stands at over $150B, despite over $40B in stock buybacks and several dividend increases over the past year. Equating for net cash, Apple sells at under 12 times forward earnings and also yields 2.1%.
Catalysts:
Finally, Apple has several visible positive catalysts in the near-term future. First and foremost is the upcoming iPhone 6 launch. This version of the iconic franchise will have bigger screens (most welcome by the old eyes of this author, who currently owns a Samsung for that reason only), which should power additional sales. A report that came out this morning stated Apple has pre-ordered 68mm of these devices, 20% more than that for its iPhone 5 launches (5C/5S).
Second, a launch of a product in the wearable technology category is all but certain by end of the year. Most credible reports have centered around an iWatch with an initial run rate of 3mm to 5mm to launch early in the fourth quarter. This should generate significant buzz and has the potential to open a new product category Apple can dominate.
Finally, the next time the Dow Jones Industrial Average is rebalanced to include new names, Apple should be at the top of the list for inclusion. There was a reason the company chose to split seven-to-one. It was the perfect split to be the perfect fit for this price-weighted index. Given Apple is largest company by market capitalization in the world; it is hard to see it not getting the most well-known index in the world.
In summary, although Apple is not the pound-the-table screaming buy it was a year ago; the shares still have solid upside from current levels. With a valuation under that of the overall market, a huge cash hoard, upcoming catalysts and momentum behind it; the shares should reach $105 a share by end of the year. This would put the valuation of Apple right in line with the overall market multiple, not accounting for its Fort Knox balance sheet.
Disclosure: The author is long AAPL. The author wrote this article themselves, and it expresses their own opinions. The author is not receiving compensation for it (other than from Seeking Alpha). The author has no business relationship with any company whose stock is mentioned in this article.