Shares of TRW Automotive (NYSE:TRW) have surged higher following reports that German auto parts maker ZF Friedrichshafen is preparing a bid for TRW. While TRW shares have already moved up a lot on the news, I believe more upside remains.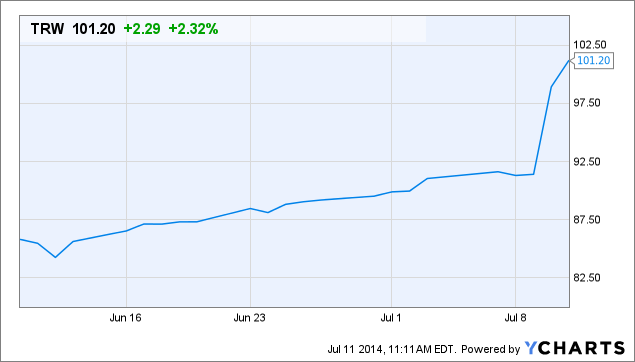 TRW data by YCharts
TRW Valuation
One of the main reasons why I believe TRW has more upside is its cheap valuation. As shown by the charts below, even after TRW shares have moved up on buyout speculation, the company continues to trade at a discount to its peers, such as American Axle (NYSE:AXL), Delphi Automotive (NYSE:DLPH), and BorgWarner (NYSE:BWA). In my view, TRW's cheap valuation means that the company can push for a significantly higher buyout price than its current stock price, which is hovering around $101. RBC has said that it believes a deal could get done at $110-$115 per share. Even if a deal does not get done, I believe there is an argument that TRW should, based on current valuations, continue to trade at current levels.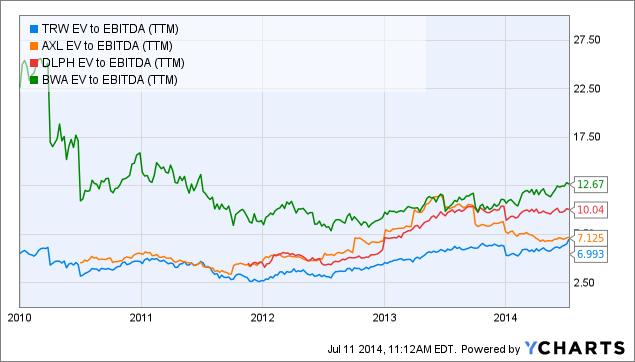 TRW EV to EBITDA (TTM) data by YCharts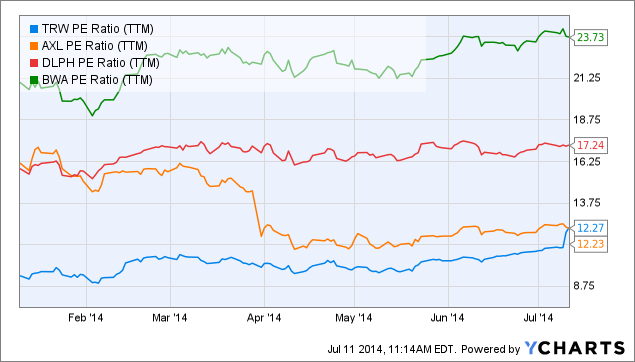 TRW PE Ratio (TTM) data by YCharts
Other Possible Bidders
Due to TRW's cheap valuation, I believe it is possible that other bidders will emerge. TRW was previously owned by a group led by Blackstone. While Blackstone has been selling its ownership interest in TRW, it is possible that another private equity player shows interest in the company. However, I believe a more likely bidder is another automotive parts company, such as Delphi.
Conclusion
Despite significant gains in recent days, I believe significant upside remains for TRW. I have expressed my bullish views by buying in-the-money call options on TRW, a leveraged way to play a potential increase in the share price. Given the company's current valuation, I believe ZF Friedrichshafen will be forced to pay a premium to the current price to get a deal done. An argument could be made that TRW is worth significantly more to ZF Friedrichshafen or other strategic buyers based on savings due to synergies. In addition to what seems like a likely bid from ZF Friedrichshafen, there is potential for another bidder to emerge.
Disclosure: The author is long TRW. The author wrote this article themselves, and it expresses their own opinions. The author is not receiving compensation for it (other than from Seeking Alpha). The author has no business relationship with any company whose stock is mentioned in this article.
Additional disclosure: Long TRW call options.